Featured
Salinas High grad aiming to break world speed record in solar-powered car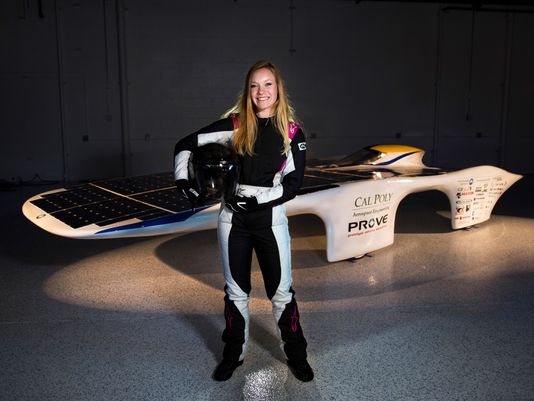 By Ayrton Ostly
Salinas Californian
July 10, 2018 — Salinas, CA
(Photo above: Salinas High alum Lacey Davis, a member of the Cal Poly Prototype Vehicles (PROVE) laboratory, was chosen earlier this year to drive "Dawn," the student-designed solar-powered vehicle. Credit: PROVE Lab.)
"This is something that hasn't been built before." — Lacey Davis
Powering a solar-powered car is challenging to begin with. With no batteries or energy storage, the car relies solely on solar energy. Two kilowatts of energy to be exact—roughly the same amount used to turn on a hair dryer.
Dawn is powered by commercial-grade solar cells similar to that of solar panels used on an average roof. The car is made of carbon fiber composites that are four times stronger than steel but light enough that two people could lift it. That low weight makes it easier to achieve high speeds projected to exceed 60 mph by the PROVE Lab team.
With a car this rigid and light to make freeway speeds, it needs a small driver with the knowledge of how it all works.
The perfect pilot
Davis, a 2016 Salinas High graduate and aerospace engineering major at Cal Poly, knew what she was getting into with becoming the project's driver.
"One of (the reasons) was obviously packing," she said in a statement. "And they wanted somebody who's very passionate about the project."
Continue reading article here: https://www.thecalifornian.com/story/sports/2018/07/10/salinas-high-alum-aiming-break-world-record-solar-powered-car/772690002/
###
Tagged Salinas