Companies
Q&A: Augean Robotics wins THRIVE Innovation Award at Forbes Agtech Summit 2018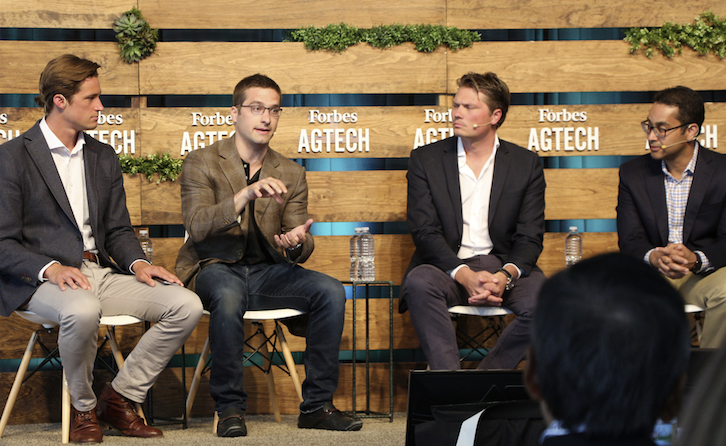 By Jan Janes
Special to Santa Cruz Tech Beat
July 2, 2018 — Salinas, CA
(Photo above: Augean Robotics CEO Charlie Anderson, second from left, completed the THRIVE accelerator program, pitched at the Western Growers Association / Radicle Growth competition presented during the Forbes Ag Tech Summit panel, Global Advancements in Ag Robotics and was awarded the 2018 THRIVE Innovation. Credit: Jan Janes Media)
Charlie Andersen, CEO Augean Robotics, took time to talk with Santa Cruz Tech Beat about the company's beginnings, vision and future plans.
Jan Janes/Santa Cruz Tech Beat: What were some of the jobs, growing up on a farm, you identified as the ones to outsource to a robot?
Charlie Andersen/Augean Robotics: Growing up on a fruit and vegetable family farm, we had a little bit of everything: sweet corn to blueberries to wine grapes. Not acres of corn or soybeans, where you can do everything by machine. We used the tractor for tillage, weeding, picking, pruning. It was common to get out of the cab and do the tedious tasks, walking around weeding or picking. I thought they should be done autonomously. The other aspect of many family farms is they are not all flat, the lighting changes, constant dust, which makes automation really tricky. Small farms, specialty industries, don't scale: if you add an acre, you need another two people. On a 500 acre farm you might need 1200 people, a huge concentration. Farmers are having trouble getting workers. The tasks, long days in the hot sun, are repetitive and tedious. In 2018, we can do better.
JJ/SCTB: Which crops did you initially envision where workers could benefit and utilize robotics?
CA: Specifically to the development of Burro, we identified table grapes, blueberries, blackberries and raspberries, ground zero for us to focus on. Asparagus growers have expressed interest in trying it out. As those crops are produced and harvested, 10-30% of employee time is running back and forth A person with a wheelbarrow or cart traverses 600-800 feet up and down rows 8 to 10 times a day. Employees are picking, then depositing the crop into some sort of bucket, tub or container, then moving back and forth repetitively.
These are fields with fixed crops, fixed row spacing. The Burro, at 26″ wide, fits a doorway in a house or packing facility and between the rows of most of the crops we're focused on.
JJ/SCTB: Did you try out other names besides Burro?
CA: We floated a few names among a group colleagues, and Burro made the most sense. A Spanish term for donkey, it connotes what we're trying to do. When we introduce it near pickers, they roll the r's and conjure up the image quickly. The name gives it some personality. The key to our success is having something people like working with, making a collaborative robot.
JJ/SCTB: How does an employee train the device? Is it intuitive, creating the pathways and stops?
CA: At the moment, the Burro is programmed using four buttons on a touch panel. You turn it on, activate the follow button, activate the reverse button, activate the learn path button and the retrace button. The employee walks it out in a loop path, says retrace, then watches as it runs the path. Imagine digitally laying train tracks and watching the Burro follow the path.
As we talk with growers, they are requesting more pictorial icons, so employees understand what to do.
JJ/SCTB: What were some of the tech features of initial prototypes?
CA: We started with 2D LiDAR, which we found virtually useless for our purposes. LiDAR, on most of self driving cars, samples the world on a single plane. That works with cars, to direct it to stop if something is in the way. But it is difficult to use building around something in the three-dimensional world.
We shifted to cameras. The downside is, at 20 MB per second, it consumes a lot of memory, following, learning patterns, plus seeing where people, disease and weeds are. Currently we are using 3D cameras, alternating between a few different RGB D IR stereo cameras.
JJ/SCTB: What field trials on the Central Coast were you able to set up during the Forbes summit?
CA: Just recently we ran one trial in the field with the largest blueberry grower in the world. We were testing the autonomous behaviors, getting it ready to run for an entire season. We're trying to offer large growers a robot for one to two months, so it can gather the data.
At almost any farm there is a mix of ATVs, people, boxes, trays, fields, pathways to a packing house. Growers have echoed the need for a robotic conveyor belt to automate tasks. Imagine the Burro carrying the newly picked produce from the rows back to the packing plants. Imagine replacing backpack spraying tools with automated spraying.
These tasks all entail installing some sort of sensor, and driving up and down the rows, and automating data gathering tasks at ground level with autonomous vehicles. The initial functionality gives payback in one to two years. Each grower can discover other uses as well.
We are predicting in years one through five, differentiation, how does this roll out. Then what's the evolutionary path to automation of labor. Robots are one of the very few things people can buy. This is the logical first step, first iteration, sampling low value tasks no person wants to do. This will lead to discovering the tasks, not the nonthinking tasks but higher end tasks, that people are better suited for.
Think of the rumba vs. a vacuum. The small Burro, running all the time, can make farmers more productive.
JJ/SCTB: How did you get involved in the THRIVE accelerator?
CA: I've always known about THRIVE, one of or the best to get in front of growers and investors and customers in the space. We applied in fall last year. I also had a former boss with a tractor company who mentioned THRIVE and said we should really take a look at them. So chance, luck, perseverance.
JJ/SCTB: What were the benefits to Augean during the 10 week program?
CA: The program is perfect. As a benefit, in the sequence in events, early in spring, we went to Salinas, met growers, saw their field operations. This opening up from the field to the packing house to the truck was extremely helpful for our understanding. THRIVE also provides funding, extremely helpful to hardware start up companies.
Every week we were in calls with key industry corporations. For us, it put us in front of the biggest and best customers, we were getting a lot of feedback from promoters and good investors in the space, and the THRIVE team was helpful in coaching and iterations of what we're doing.
If tech is going to be developed for a lot of farms directly involved with robotics and ag, working with THRIVE in Salinas, California is the place to be.
JJ/SCTB: How did the company get its name?
CA: From the Greek myth about Augean stables and demanding Hercules's labors. He was ordered to clean out a stable. But he solved doing a distasteful task in a clever way, and we are solving what people do in a new way. For the company we use AGR with logo, but the name has a deeper meaning at other levels.
JJ/SCTB: What are your plans for the summer trials?
CA: We will provide machines on multiple Driscoll's growers' operations and at the largest blueberry grower in the world. At all locations we will gather data and learn what other functions the growers would like to have.
JJ/SCTB: Do you have a west coast office?
CA: We have an office in WGA and are looking forward to the newly announced THRIVE building complex. We need to have an office and a really strong service presence, positive customer experience about it as we talk about scaling up, to have boots on the ground. [Editor's note: The Western Grower Center for Innovation & Technology (WGA-CIT) is located in Salinas.]
JJ/SCTB: What is Augean Robotics vision moving forward?
CA: What we are doing is collaborative robotics. Specifically in robotics and ag, nobody has done it, very few exist. Right now there's a real labor issue and industry needs all sorts of autonomous solutions. You have to be a pioneer. Every farmer is saying labor, labor, labor. But the investors find it hard to point to huge successes in robotics.
To all the tech entrepreneurs out there, we want to see 50 companies solving real problems in ag with automation.
###
Jan Janes, Communications Director, Web Publisher, Television & Radio Producer, Photojournalist, Social Media Architect, can be reached on LinkedIn.
###
If you wish to republish this article, please follow our Terms of Use.
###
Tagged agtech, Forbes, Salinas, Western Growers