Companies
Digital NEST & Salinas Public Library Launch Youth Tech Program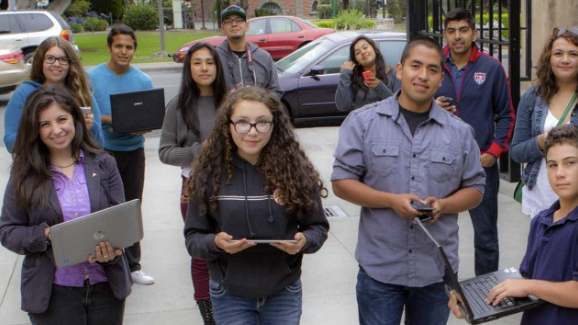 (Contributed)
(Photo source: Digital NEST website)
December 22, 2016 — Salinas, CA
Digital NEST, a technology workspace that nurtures innovation among under-served young people, is establishing a pilot program at the Cesar Chavez Branch Library in Salinas.
Modeled after successful tech companies, Digital NEST provides high schoolers and young adults, aged 14 to 24, with free access to computers, software, Wi-Fi, other state-of-the-art digital tools and tech education workshops, mentoring and support. NEST stands for "Nurturing Entrepreneurial Skills with Technology."
"Through training, peer collaboration, project-based learning, on-the-job experiences, and professional mentorship, NEST Members master the technical and "soft" skills they need to pursue higher education, launch careers, and start businesses," said Digital NEST Executive Director Jacob Martinez. "Their success will strengthen their local economies and in turn strengthen their communities."
Mr. Martinez founded Digital NEST in 2014 in Watsonville, where it now serves more than 900 young people. It has earned national recognition, including an invitation to the first White House Tech Meetup in 2015.
"This is another example of ways that the City is partnering with other groups to help ensure that our youth will have the technical skills needed to compete for jobs in the 21st century economy," said Andy Myrick, Economic Development Manager for the City of Salinas. "We're excited to be able to help bring Digital NEST to Salinas and look forward to continuing these types of partnerships as a part of our efforts to develop the AgTech cluster."
Participants in the new Salinas program will meet in the Chavez Library's BHC Room, named for Building Healthy Communities. Other community groups will continue to use the room as well.
"We're very excited about the potential of this partnership with Digital NEST," said Library and Community Services Director Cary Ann Siegfried. "Public libraries throughout the country are becoming hubs for valuable programming offered by community partners. Digital NEST will help us fulfill our mission of connecting citizens to learning opportunities that can boost their career prospects, all the more so given the City's focus on agtech-oriented economic development."
Digital NEST will begin serving young Salinans in Spring 2017.
Funding for the project will come from the City of Salinas, local foundations, agricultural companies, and individual donors.
###
Tagged Digital Nest, Salinas