Companies
Salinas: The World's Agriculture Technology Capital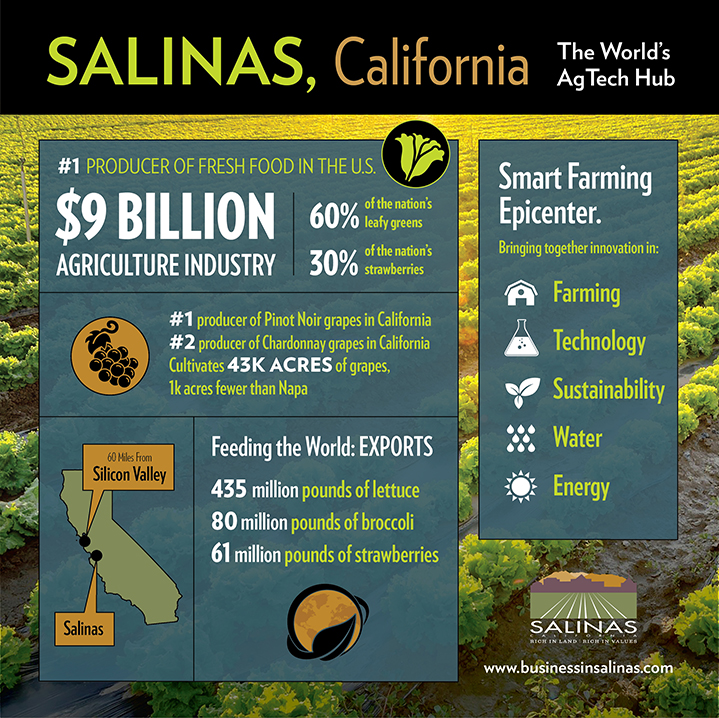 (Source: City of Salinas Economic Development)
May 27, 2016 — Salinas, CA
California's Salinas Valley is poised to become the world's next agriculture technology hub. Located just 60 miles south of Silicon Valley, the region is home to a more than $8 billion agriculture industry.
With the global population expected to surpass 9 billion people, global food production needs to increase 70 percent by 2050. As a result, Salinas and Silicon Valley leaders are incorporating high-tech solutions into farming – from big data and sensor technology to the Internet of Things and drones.
Forbes AgTech Summit
On July 13 and 14, 2016, all eyes will be on Salinas as the city hosts the Forbes AgTech Summit for the second consecutive year. The event will bring together over 500 of the smartest minds in Silicon Valley and global agriculture to tackle some of the world's most critical challenges.
At the 36th Annual California Association for Local Economic Development (CALED) Conference April 26th – April 28th in South San Francisco, the City was invited to make a presentation regarding its work in developing an AgTech Ecosystem.  City Manager Ray Corpuz and Economic Development Manager Andrew Myrick gave a presentation to several dozen Economic Developers from around the State. The CALED presentation can be found in under the More Information section, located in the top right hand corner of the page.
The City also has received the 2015 Helen Putnam Award for Excellence from the League of California Cities for its efforts in developing an AgTech Ecosystem.
In 2012, the City of Salinas, in partnership with local leaders in industry and education, launched the Steinbeck Innovation Foundation, a public-private partnership with the goal of connecting the Salinas Valley to Silicon Valley in an effort to create high-tech jobs and help solve some of the most pressing global issues in water, sustainability, food safety, precision agriculture and more. The City has also partnered with The Western Growers Association and the Thrive Accelerator to promote entrepreneurism in the AgTech space. The City is also partnering with the National Resource Network, a technical assistance provider affiliated with the White House's "Strong Cities, Strong Communities" program, to enhance the development of Career Pathways in AgTech, to ensure that businesses have access to the skilled workers they need.
Read on to learn more about Salinas' ecosystem to drive collaboration and innovation in agriculture in these areas:
Farming & Technology Innovation
AgTech Accelerator & Venture Capital
Strategic Corporate Partnerships
Farming & Technology Innovation
The City of Salinas is helping entrepreneurs in the agriculture technology industry turn their ideas into businesses with mentorship programs, work spaces and education programs.
Western Growers Association Innovation Center
The Western Growers Association (WGA), in partnership with Silicon Valley Global Partners (SVG Partners), opened an innovation center in the summer of 2015, at Taylor Farms' new downtown Salinas headquarters. It has been used for all commodities in the regions where WGA members operate and gives entrepreneurs and innovators access to Western Growers mentors and office space. WGA's members in Arizona, California and Colorado produce approximately half the fresh produce in the country.
Kauffman Foundation Entrepreneurial Trainings
The eight-week Steinbeck Innovation FastTrac® NewVenture™ Program has trained more than 50 entrepreneurs in Salinas on how to take their idea, grow it into a business and compete for funding.
One of the graduates, Patrick Zelaya, who left John Deere after more than a decade in tractor sales, launched Heavy Connect, an AgTech startup that works with big data to provide farmers and farm managers with a variety of information about their crops. The company employs a team of Salinas-based software engineers and designers who understand the complexity of field operations and the agriculture industry.
Read more in the Salinas Californian.
CoderDojo Steinbeck Country
Run in partnership with Salinas' Hartnell College, this free, volunteer-run program teaches children ages 8 to 17 how to make web pages and apps, and how to produce content, games and more. Hundreds of Salinas-area youth have participated in the program so far – developing the building blocks to take advantage of jobs that require technological skills, such as those in the AgTech industry.
2+2 Degree in Agricultural Business
California State University, Monterey Bay (CSUMB) and Hartnell College are working with the agriculture industry to develop a "2+2" bachelor's degree in agricultural business, where students spend two years at Hartnell College and two years at CSUMB to earn their degree.
CSUMB and Hartnell also boast a unique program called CSin3, which allows students to earn a computer science degree in three years, two of which are spent at the junior college level.
AgTech Accelerator & Venture Capital
Read more about Salinas' Thrive Accelerator program, opportunities for mentorship with some of the country's biggest agriculture companies, and opportunities for venture capital and investment.
Startup Accelerator
The Thrive Accelerator provides support, mentorship and access to investment for innovators in the rapidly expanding AgTech sector. Entrepreneurs receive access to mentors from major agriculture and technology players such as Verizon, Western Growers Association, Smith Group, Taylor Farms, Chiquita, Dole and JV Smith Companies.
Participating startups have the potential opportunity to receive up to $5 million in funding. The program also helps entrepreneurs connect with top universities, such as UC Davis, which boasts the No. 1 agriculture and environmental sciences program in the country.
Forbes Reinventing America: The Ag Tech Summit, July 8-9, 2015, highlighted startups from across the world which had participated in the Thrive Accelerator. Click here for a list of the companies.
Venture Capital & Investment
The Steinbeck Innovation Fund is a growing Venture Capital Fund dedicated solely to funding AgTech businesses, with a goal of $100 million in venture capital funding available.
Donations have been received from several major investors, including $4 million from the Western Growers Association.
Strategic Corporate Engagement
Last July, Salinas hosted "Forbes Reinventing America: The AgTech Summit," which brought together entrepreneurs, high-level executives, venture capitalists, researchers and other leaders in Silicon Valley and global agriculture in the Salinas Valley to tackle some of the world's most critical challenges.
From biotech and precision farming to big data's role in feeding a planet of eight billion people, "Forbes Reinventing America: The AgTech Summit" explored topics at the core of this vital trend.
Click here for more information about the summit.

This article was originally published here: http://www.businessinsalinas.com/Key-Industries/The-Worlds-Agriculture-Technology-Capital.aspx
###