Companies
Community Foundation secures $500K for Landed to help local teachers with home ownership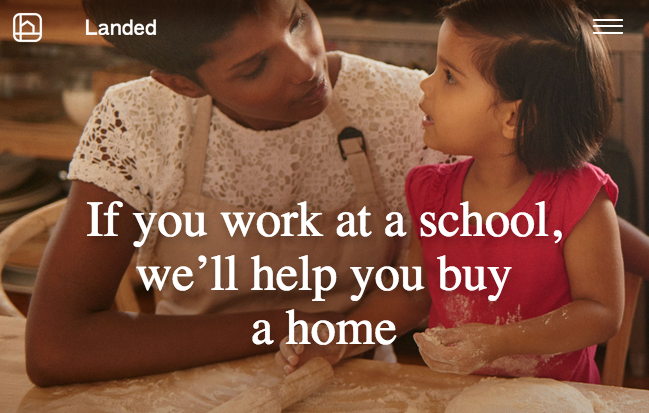 (Contributed)
April 10, 2018 — Santa Cruz, CA
Community Foundation steps up as first local investor securing $500K to help teachers with their down payment as part of Landed home buying program in Santa Cruz County
[Editor's note: Read our past articles about Landed:  Landed launches in Santa Cruz County to help K-12 employees buy a home (11/15/17),  Landed Lands $5M from Chan Zuckerberg Institute (6/15/17), Landed: "If you work at a school, we'll help you buy a home" (3/30/17).]
Community Foundation Santa Cruz County announces the launch of its new $500,000 investment in more affordable housing as part of a partnership with San Francisco-based startup Landed, Inc. Four local teachers have already had offers accepted on homes and received down payment assistance through Landed's program in Santa Cruz County.
"At times the housing crisis can appear overwhelming but partnerships like the one with Landed are proof we're moving toward highly creative solutions that have real impact on people's lives in our community," said Community Foundation Santa Cruz County CEO Susan True. "The Community Foundation will continue to search and invest in affordable housing options that help our local workforce lay roots in this community and build a stronger, more vibrant Santa Cruz County for us all."

The early investment of half a million dollars from the Community Foundation, will establish a Landed fund open to other investors who step forward to invest in affordable housing for local educators. This investment, structured as a PRI, comes as an increasing number of community foundations consider ways to use impact investments, in addition to traditional philanthropic grants, to further their social impact in the community. The Community Foundation and Landed estimate the average amount invested in each of the Santa Cruz County homes so far to be about $70,000. A $500,000 investment like the one secured by Community Foundation hasl the initial capacity to help six to eight educators with down payments for their homes. Any gains from this assistance will be re-invested to support an ever- growing number of educators in the county.
"With escalating prices of real estate, we partnered with Landed and were able to purchase the home we've been renting for the last year in Capitola," said Soquel Union Elementary School teacher Christina Canavan, Landed's first Santa Cruz County Schools homebuyer. "It's truly a blessing and we are very appreciative that this program is helping families like ours afford to live in the communities we serve," she said.
Landed lowers barriers to home ownership by giving educators half of the down payment on a home (up to $120,000.00 per family). In exchange, homeowners give a portion of the appreciation or depreciation of the home's value when it is sold. Landed's payment support is currently available to all teachers, administrators, and staff in Santa Cruz County who have worked for a public school or district in the county for at least two years.
While results are still early, Landed cites improved educator retention, better school quality for students, financial well-being for teachers and less strain on the environment as a few of the key program outcomes. For many teachers in Santa Cruz County and the Bay Area, Landed has the potential to serve as a life-line in the midst of a seemingly endless housing crisis.
"We are thrilled that we have already been able to support several teachers in Santa Cruz County and that this new investment will help more local educators access home ownership," said Landed Director of Partnerships, Ian Magruder, a former Student Representative on the Santa Cruz City Schools Board of Trustees whose mother and sister are both local teachers.
Since its founding in 2015, Landed has already helped educators purchase homes in San Jose, Oakland, San Francisco, Santa Clara, and other cities across the Bay Area. In 2017, Landed also received a $5 million investment from the Chan Zuckerberg Initiative to help educators in three public school districts on the Peninsula buy homes.
Additional information
Community Foundation Santa Cruz County makes Santa Cruz County a better place to live, now and in the future by inspiring people to invest in our community.
The Santa Cruz County Office of Education provides a wide array of educational programs and services throughout Santa Cruz County supporting infants through adults.
Interested educators can apply for Landed's down payment support at www.landed.com.
###