Companies
Landed: "If you work at a school, we'll help you buy a home"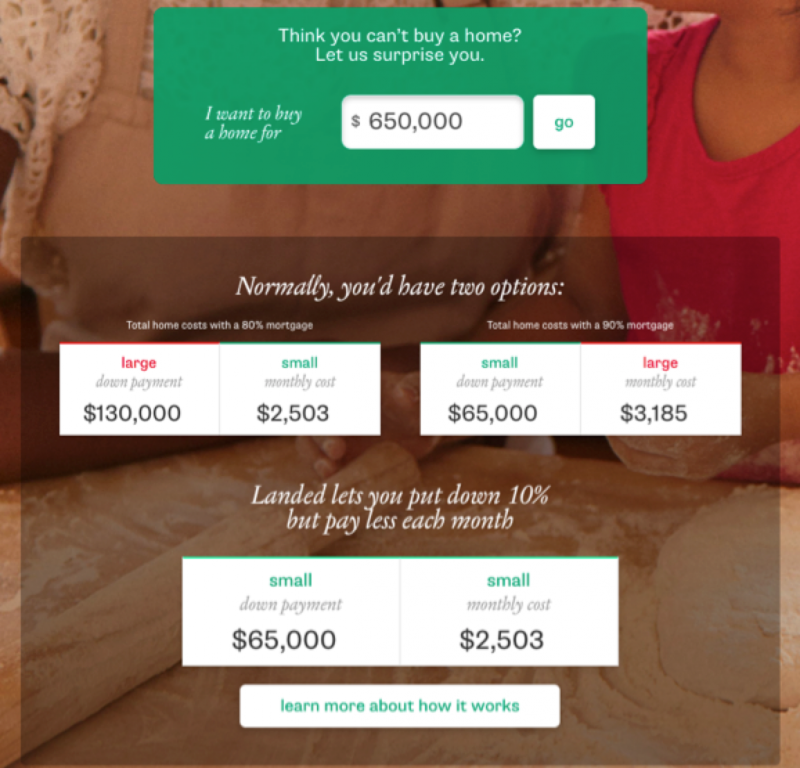 By Ian Magruder
Director of Partnerships at Landed
Special to Santa Cruz Tech Beat
March 30, 2017 — Santa Cruz, CA
(Image above: A homebuying calculator on demonstrates housing cost options using Landed's equity financing program on the Landed homepage: www.landed.com. Credit: Ian Magruder)
For too many families in Santa Cruz and the Central Coast, simply finding a way to afford to live in the community they love has become increasingly challenging. This is particularly true of teachers and school staff, who are pillars in the community, passing knowledge from one generation to the next and ensuring the health, well-being, and potential of our youth.
The biggest barrier for many young teachers to buying a home and finding a permanent place to live in Santa Cruz is simply getting the down payment. Even families with two stable incomes that could afford to pay monthly mortgage payments, often have a hard time saving because so much of their income goes to paying rent. Young educators who find themselves trapped renting for years, and in some cases decades, eventually feel forced to leave Santa Cruz to find more affordable areas, hurting our local schools and community in the process.
Landed
This challenge is why we created Landed, a startup that helps teachers buy homes in the communities they serve through community-based equity home financing. We partner with schools and districts to build a fund that is supported by community investors (parents, alumni, local real estate investors, community foundations, or local businesses). These funds then provide up to half of an educators' down payment in exchange for a share of the appreciation (or depreciation) in the value of the home. As homes are sold and refinanced, the community investors are paid back and the educators become full owners in their homes.
Technology plays a role is enabling Landed's product. The advent of the internet has changed the role of 'platforms' in our economy. Google is the platform between information and people. Uber is the platform between transportation and people. AirBnB is the platform between owners and renters. In our space, there already exist platforms between homebuyers and savers (Banks) and a platform between real estate investors and real estate assets (Real Estate Investment Trusts – REITs). What doesn't exist is a platform between those real estate investors and homebuyers — no technology exists to bring them together. It doesn't exist because most of the things required by such a transaction involve complicated financial and informational flows that only the internet allows. Whether that's managing a geographically disperse set of customers, inspectors, realtors, lenders and investors, or seamlessly handling all of the hand-offs between them, this is only possible with today's technology. If down payments weren't so inaccessible, and real estate had not become such an institutionalized asset class, there'd be no reason to develop so much new technology. The existing platforms would be more than good enough.
Our story (including $2M venture funding)
Landed was founded two years ago by two Stanford business school graduates, Alex Lofton and Jonathan Asmis, who themselves didn't know if they would be able to buy homes in the Bay Area given the severity of the housing crisis and lack of viable programs to help first time homeowners. Stanford offers a similar shared appreciation program that has allowed the university to recruit world class faculty from all over the country and support them in purchasing homes in Palo Alto, a model that Alex and Jonathan saw had potential to help communities across the country. Since Landed's founding, we were selected to participate in the highly-competitive Y Combinator startup accelerator and raised a $2 million seed round in venture funding with backing of Ulu Ventures, Ovo Fund, Comcast Ventures, and the DRK Foundation. Landed has also successfully established teacher housing funds in partnership with Los Altos School District, Ravenswood School District, The Nueva School, Mountain View Los Altos School District, and other schools and districts across the Bay Area.
Building a fund in Santa Cruz
Now we're focused on building a fund in Santa Cruz and are already working with school administrators and supporters of public education to identify potential accredited community investors. These investors believe that Santa Cruz real estate is a good long-term investment and perhaps more importantly, believe that helping teachers purchase homes in the region is a social benefit to the local community.
I grew up in Santa Cruz, served as Student Representative on the Santa Cruz City Schools board in high school, and come from a family of educators that have felt the pinch of the housing crisis firsthand. Both my mom and sister are public school teachers. My sister just purchased a beautiful little house last year on Emeline Ave after barely being able to scrape together the minimum needed for a down payment with the support of family. But not every young teacher is so fortunate and for too many school employees home ownership seems impossibly out of reach. We have an opportunity to make Santa Cruz a more livable community by expanding access to home ownership and we hope you will join us to become a part of the solution.
###
Ian Magruder is Director of Partnerships at Landed, a San Francisco-based startup helping teachers buy homes in the communities they serve. He is a Santa Cruz native.
###
If you wish to republish this article, please follow our Terms of Use.
###
Tagged Landed