Featured
Landed launches in Santa Cruz County to help K-12 employees buy a home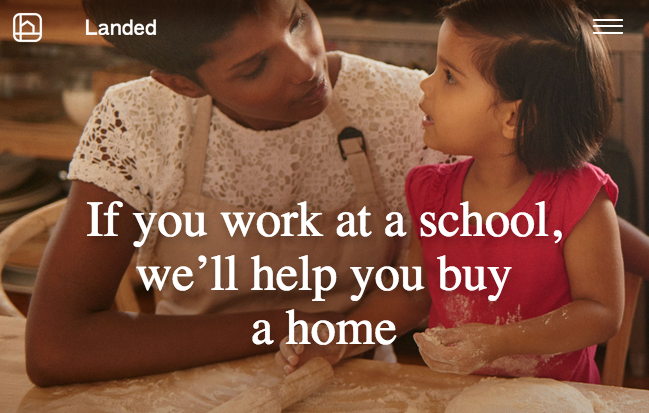 (Contributed)
November 15, 2017 — Santa Cruz, CA
[Editor's note: Santa Cruz Tech Beat published Landed: "If you work at a school, we'll help you buy a home" (3/30/17) and Landed Lands $5M from Chan Zuckerberg Institute (6/15/17).]
Program to provide half of the down payment (up to $120K) on a home
The Santa Cruz County Office of Education has partnered with a San Francisco-based startup, Landed Inc., to provide down payment assistance to support Santa Cruz County public school teachers and staff with the purchase of a home.
The program provides half of the down payment on a home, up to $120,000.00 per family, in exchange for a portion of the appreciation or depreciation in the value of the home when the home is sold. The goal is, that any gains from this assistance, will be re-invested to support an ever-growing number of educators in the county. Landed's down payment support will be available to all teachers, administrators, and staff who have worked for a public school or district in the county for at least two years.
"As the cost of housing in Santa Cruz County continues to rise, too many of our educators are feeling the squeeze" said County Superintendent of Schools Michael Watkins. "We believe Landed will be a valuable solution to help improve school recruitment and retention by providing educators with a new option to help make homeownership more accessible" Watkins added.
Earlier this year, Landed received a $5 million investment from the Chan Zuckerberg Initiative to help educators in three public school districts on the Peninsula buy homes. Since its founding in 2015, Landed has already helped educators purchase homes in San Jose, Oakland, San Francisco, Santa Clara, and other cities across the Bay Area.
"As a proud product of Santa Cruz City Schools, I couldn't be more thrilled to help provide teachers in Santa Cruz County new support to help access homeownership and feel more rooted in their community," said Landed Director of Partnerships, Ian Magruder, a former Student Representative on the Santa Cruz City Schools Board of Trustees whose mother and sister are both local teachers.
The Santa Cruz County Office of Education provides a wide array of educational programs and services throughout Santa Cruz County supporting infants through adults (www.santacruzcoe.org)
Interested educators can apply for Landed support beginning on November 16, 2017 at www.landed.com.
###
Tagged Landed