Companies
Wraps off Google exec's secret Hollister flying machine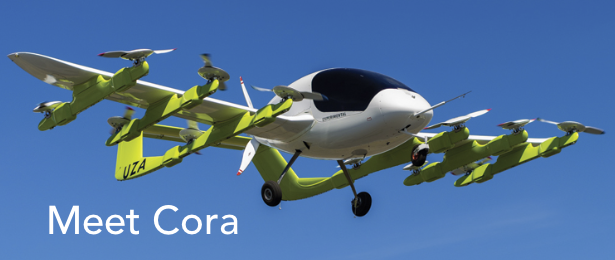 By Jack Foley
BenitoLink
March 20, 2018 — Hollister, CA
(Photo above: Cora can take off and land like a helicopter. Source: cora.aero)
"Meet Cora, Kitty Hawk's prototype air taxi that was designed and built to bring the freedom of flight to our everyday lives."
Google co-founder Larry Page has pulled the covers off his secretive Hollister-based project to build what is now known to be a sleek, high-tech, self-piloted air taxi.
It will first be put into service in New Zealand but all signs point to the strong possibility that it will be manufactured in a new plant at Hollister Airport by a workforce of up to 200 people.
Page's Mountain View-based firm, Kitty Hawk, which is negotiating with the city to expand its leased facilities at the airport, launched a revamped website late Monday night that shows the first official videos of the aircraft, called Cora, along with a fact sheet and other details.
Here's how it describes the revolutionary aircraft, which is operated by a pilot on the ground and carries two passengers:
"Cora is an air taxi designed and built by Kitty Hawk. It combines electric power, self-piloting software and vertical take-off to pioneer an entirely new way to fly. Cora is the beginning of a journey toward everyday flight, where air travel will be woven into our daily lives."
Here's more from the firm about its fancy new flight machine:
Cora rises like a helicopter and flies like a plane, eliminating the need for a runway and creating the possibility of taking off from places like rooftops.
Cora will use self-flying software combined with human oversight to make flying possible for people without training.
Cora is powered by the same kind of technology that helps electric cars contribute to a more sustainable world.
The aircraft will not be sold to the public; it will be "part of a service similar to an airline or a rideshare," according to the Kitty Hawk fact sheet.
Continue reading article here: https://benitolink.com/news/wrap's-google-exec's-secret-hollister-flying-machine
###