Companies
Looker/Google in the news beyond Santa Cruz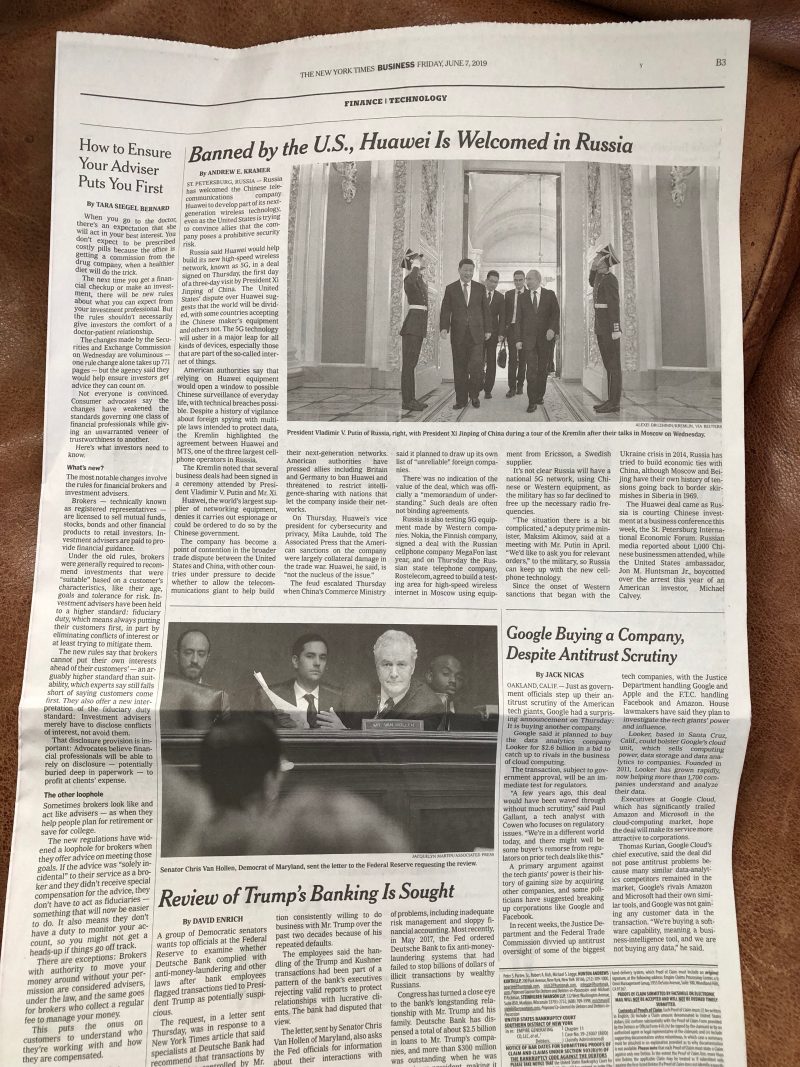 By Sara Isenberg
Founder, Publisher, Editor-in-Chief
Santa Cruz Tech Beat
June 11, 2019 — Santa Cruz, CA
Unless you've been living under a rock, you know that Google acquired Looker for $2.6 Billion on June 6.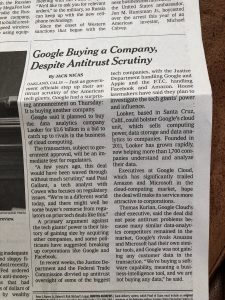 Here's a sampling of some of the news from outside of Santa Cruz on the Google/Looker story.
New York Times
Google to Buy Data Analytics Company Despite New Antitrust Scrutiny (6/6/19)
Just as government officials step up their antitrust scrutiny of the American tech giants, Google had a surprising announcement on Thursday: It is buying another company. Google said it planned to buy the data analytics company Looker for $2.6 billion in a bid to catch up to rivals in the business of cloud computing.
CNBC
Google's $2.6 billion Looker deal gives it a base in Santa Cruz, a beach town with lots of tech talent (6/10/19)
With a $2.6 billion proposal to buy Looker, Google will be getting more than just data analytics. It's the first major acquisition under Google Cloud CEO Thomas Kurian, who is looking to make his mark six months into the job. But Google is not only gaining a new component for its cloud business. It's also also getting easier access to tech talent on a remote edge of Silicon Valley, and a location in one of the few San Francisco Bay Area locations where it has no presence: Santa Cruz.
Forbes
Google To Buy Data Firm Looker For $2.6 Billion To Boost Cloud Offerings (6/6/19)
Google plans to acquire the data platform Looker in a $2.6 billion all-cash deal to bolster its Google Cloud offerings, the company announced Thursday. "The combination of Google Cloud and Looker will enable customers to harness data in new ways to drive their digital transformation," Google Cloud CEO Thomas Kurian, said in a statement.
Forbes
4 Reasons Google Bought Looker (6/7/19)
On June 6, Alphabet (Google's parent) announced that it plans to pay $2.6 billion in cash for data analytics tool maker Looker. I've interviewed Looker CEO Frank Bien three times in the last couple of years and I see four reasons why Google is making this move.
Forbes
Looker + Google: How The Deal Will Rock The BI World (6/9/19)
Even with heavy investments and continued innovation, Google's cloud business remains a disappointing No. 3 in the market. But the new head of the division, Thomas Kurian, is making a bold step to change things up – that is, shelling out $2.6 billion for Looker. This is actually Google's third largest acquisition in its history.
Silicon Valley Business Journal
Google's seventh $1B-plus buy comes as it faces increased antitrust scrutiny (6/6/19)
Google's plan to buy Santa Cruz-based Looker Data Sciences Inc. would be only the seventh time in the company's history that it has spent $1 billion or more on an acquisition.
TechCrunch
Google to acquire analytics startups for $2.6 billiion (6/6/19)
Google made a big splash this morning when it announced it's going to acquire Looker, a hot analytics startup that's raised more than $280 million. It's paying $2.6 billion for the privilege and adding the company to Google Cloud.
Market Realist
Here's What Looker is Bringing to Google's Table (6/11/19)
Alphabet's (GOOGL) Google is acquiring Looker, a business intelligence software and data analytics provider, for $2.6 billion. The transaction is expected to close in the coming months, upon which Looker will become a part of Google's cloud computing business. Looker's software helps businesses to work with multiple cloud services in what the industry calls a multi-cloud strategy.
###
Tagged Google, Google Cloud, Looker