Companies
Bringing Gender Equity to the Coworking Movement: A Q&A with the Founders of Women Who Cowork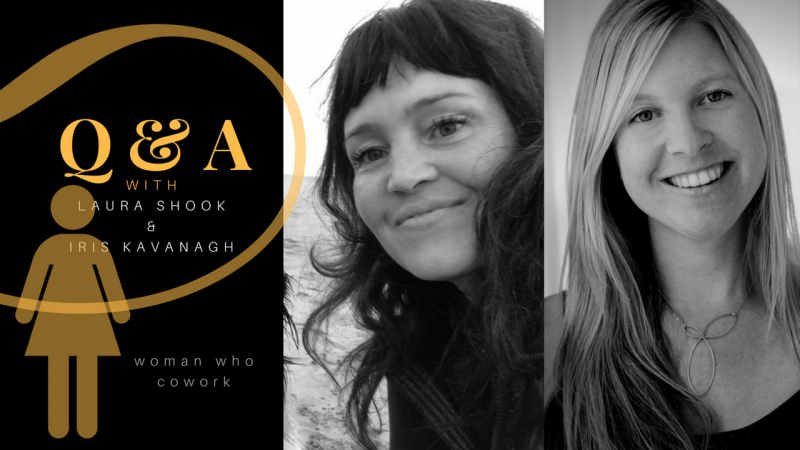 By Cat Johnson
Allwork.space
February 27, 2018 — Austin, TX
(Photo above: Women Who Cowork is a global alliance of 400 female coworking space operators and managers, founded by Iris Kavanagh, left, and Laura Shook Guzman. Source: allwork.space)
[Editor's note: This article was originally published just before the Women Who Cowork Leadership Retreat held on February 23-25, 2018, in Austin, Texas.]
Women Who Cowork officially became a professional group in 2017 by hosting its first meetup at GCUC USA in New York City
Women Who Cowork was founded by Iris Kavanagh and Laura Shook Guzman in order to bring visibility to the women powering the coworking movement, and support female founders in creating successful, sustainable coworking spaces
The organization will host its first leadership retreat this weekend in Austin
In 2008, Laura Shook Guzman opened Soma Vida, the first coworking space in Austin, Texas. Eight years later, she was building a directory of women-owned coworking spaces when she connected with Iris Kavanagh, the founding community manager for NextSpace and coworking consultant at Coworking with Iris. Passionate advocates for female entrepreneurship and gender equity, Shook Guzman and Kavanagh created Women Who Cowork, an international alliance with 400 members around the world.
Allwork.space chatted with Shook Guzman and Kavanagh about the need to create a space for female founders and managers of coworking spaces, how women have shaped the coworking movement from the start, and the Women Who Cowork Leadership Retreat February 23-25, 2018, in Austin, Texas. Here are the highlights of that conversation.
Allwork.Space: Let's start at the beginning. What was the inspiration for the Women Who Cowork?
Laura Shook Guzman: In 2016, right before the International Coworking Day celebration, I went online to look at Deskmag's Coworking Timeline to see some of their historical pieces of coworking.
At the time, I was looking for more female founders of coworking spaces. I wanted to know what the other women were up to, and I wanted to know how to find out which spaces were female founded. I thought maybe I could discover that from looking at the Coworking Wiki, looking at the Coworking Visa program and looking at the Deskmag timeline.
After going through Deskmag's history markers of coworking, I realized it's a very strong his-story and there wasn't a lot of her-story. I knew the women were doing incredible work, but I didn't know who they were and how to find them. That inspired me to find out where we were on that timeline. I put a message out on the Coworking Google Group and asked any female founders to contact me because I wanted to do a blog post and put them all in it. People started responding and it blew my mind how many of us were out there.
Allwork.Space: I remember that initial post and the big response you got. It seemed like women founders were hungry for representation and connection. As soon as you put the word out, it was like a magnet.
And it wasn't women just naming themselves. There were male coworking space owners and operators naming women-owned spaces. That support was awesome. Iris reached out to me to say she was excited that I was compiling the list and wanted to talk about it. She wanted to feature me on her podcast, Coworking with Iris.
Allwork.Space: Did you two know each other before that?
Iris Kavanagh: Laura and I think it's possible that we met at the very first coworking unconference that was hosted by Loosecubes in Austin in 2010. But this was our first true connection. I thought Conjunctured, which has since closed, was the first coworking space in Austin. If I had known that Conjunctured was not the first coworking space in Austin, I would have known that Laura's was.
LSG: Liz Elam [founder of Link Coworking and producer of the Global Coworking Unconference Conference (GCUC)] calls Soma Vida the Austin original coworking space. We opened in June of 2008 and Conjunctured opened in July of 2008. Any of us that were formed between 2008 and 2010 call ourselves the Austin original spaces. I'm the longest operating coworking space in Austin and I recently realized that I'm the first female founder in Texas.
Allwork.Space: Iris, what was it about Laura's search to find and connect female founders that appealed to you?
IK: My own story is that I was the woman who propped up men in their companies for so many years. I helped so many men build their startups and always as the second-in-command—always the woman behind the man running the show. At NextSpace, we had an amazing culture that was led by women because we had an employer that believed in giving women an opportunity. But, again, that was a man giving women an opportunity.
The majority of the people in our company who ran the coworking spaces, and the people who were best suited to run the spaces, were women. I found that incredibly fascinating and I loved that we were a majority female-led company.
When I was fired by NextSpace, by a man whose company I had built, I left with nothing but my experience and a small severance package. I told myself that was the last time that would happen to me. I put everything aside for the company, including my kids' lives, and I walked away with nothing but the experience on my back.
[Editor's note: In 2017, Pacific Workplaces acquired NextSpace and has partnered with Kavanagh, who is managing the transition in the Berkeley NextSpace and helping create a hybrid model bridging NextSpace coworking and traditional Pacific Workplaces offerings.]
Allwork.Space: So shining a light on the women who were driving the coworking movement resonated pretty deeply with you. I know you were already featuring women founders and coworking pioneers on your podcast at the time you connected with Laura.
IK: The first three interviews I did were with women. When I got to Felina Hansen from Hera Hub, I realized that it's women who are propelling the coworking movement forward in this way. I really wanted to highlight the stories of the female coworking space owners.
I told my business consultant I wanted to do a sub-series within my podcast series about the women running their own spaces, and women-focused coworking spaces. He said, "No, I don't think you need to do that. Don't water it down too much. That's really niche." He convinced me not to retitle the show, but I knew there was something there.
Around that time, I was talking to a friend who had been an early member at NextSpace. She told me what a boy's club it had been there in the beginning, and how important it was for female entrepreneurs to have access to tools and resources.
All this was happening in June and July of 2016. Then I saw Laura's post in the Coworking Google Group and I knew I had to interview her. In that first conversation with Laura I was like, "Will you be my friend? I want to do this with you."
LSG: I remember Iris asking me what my future plan was for the project and my response was basically that we should do something together.
Allwork.Space: How did Women Who Cowork grow from an idea and a loose community of female founders and space owners into something more organized?
Continue reading article here: https://allwork.space/2018/02/bringing-gender-equity-to-the-coworking-movement-a-qa-with-the-founders-of-women-who-cowork/
###
Tagged Coworking, Iris Kavanagh, Women Who Cowork