Companies
Analytics for All: A Smarter Way to Work with Data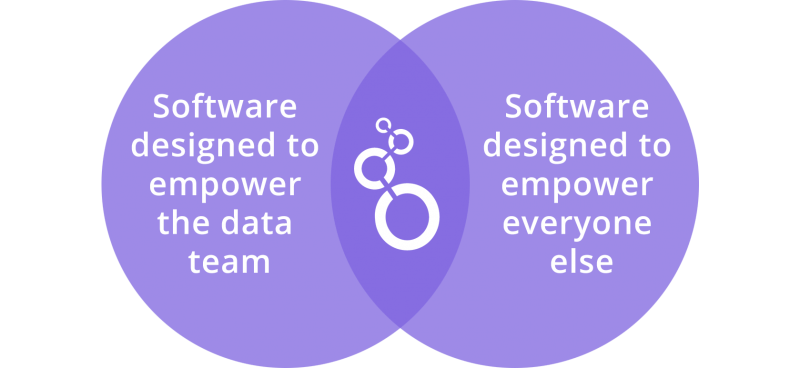 By Kenny Cunanan
Product Marketing Manager, Looker
February 13, 2018 — Santa Cruz, CA
Today, Looker is announcing the availability of new features that will make it easy for everyone in an organization to have access to the freshest data in order to get rapid, clear answers to nearly any question.
Historically, businesses have struggled to get value out of their data. In a 2015 report,"Digital Insights are the new Currency of Business", Forrester found that only 29% of businesses are connecting analysis to action.
How are organizations today missing out on getting the full advantage of the insights hidden in their data?
There's a general understanding that data hides information of great value, but collecting data is only half of the equation.
In order to get better answers, you need to ask better questions. The best questions are asked by people with deep experience with the business — and while these people are frequently experts in their area, they're not usually experts in analytics. So, who are they?
The answer is simple: they're the data consumers in your company.
Everyone is a data consumer
Data pervades our everyday lives so much that we sometimes forget that we're pretty good at understanding data already.
We all consume data from many sources including:
The smartwatches on our wrists that show us how far we've walked
The speedometers in our cars that help us monitor how fast we're driving
The scores for our favorite sports teams that allows us to see how they're performing
Data allows us to understand things about ourselves that were previously hard to know, such as if we're getting healthier or lazier, if we're following the rules of the road, or if we should cheer or cry after a sporting event.
And when we understand the answers hidden in data, we want to ask more questions.
For example…
If you've been counting your steps for a while, you might also start to monitor your eating habits or sleep patterns
If you're interested in travel time, you might also invest in a GPS that tells you precisely when you'll reach your destination
If you really like sports statistics, you just might start to read sports analyses like this
And ultimately the more questions you ask of your data, the better answers you get. The better answers you get, the more information you have to improve your life.
How do we better focus on business data?
The question remains: if it's so simple to get more out of your data, why are companies still struggling to get value out of the massive amount of data they've been collecting?
Continue reading article here: https://looker.com/blog/analytics-for-all
###
Tagged Looker