Companies
Looker Expands the Power of Its Data Platform with Sales Analytics Application and Powerful Third-Party Developer Features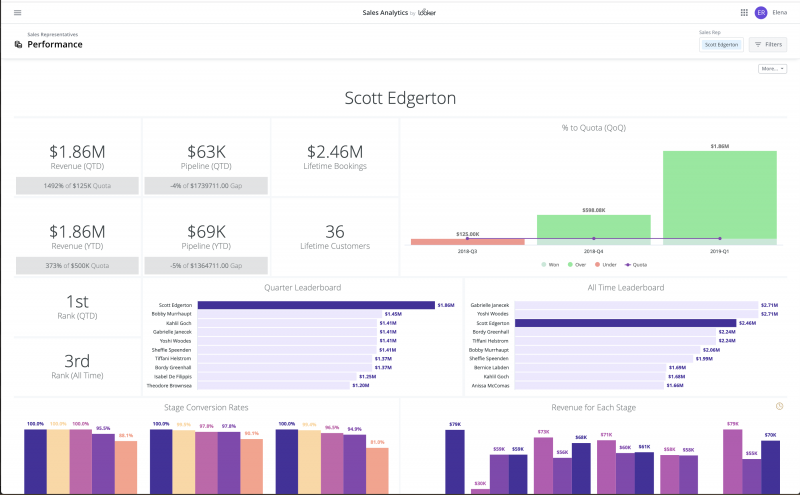 (Contributed)
April 9, 2019 — Santa Cruz, CA and London, UK
(Image above: Looker Sales Anatyics example. Contributed)
Unveils Purpose-Built, End-to-End Sales Analytics Application to Maximize Pipeline and Boost Conversions

Releases Suite of Developer Tools for Building Data Applications
Today at JOIN: The Tour London, Looker's annual global roadshow, the company announced a significant addition to its cloud- based, modern data platform product offering with a new application, Looker for Sales Analytics, designed to deliver comprehensive insights to sales organizations to drive revenue. This expands its suite of purpose-built applications to address the analytical needs of sales teams alongside its current offering of Looker for Digital Marketing and Looker for Web Analytics applications. In addition to this new purpose-built application, the company is announcing a significant expansion of support and tools for the developer ecosystem to build the next-generation of data experiences.
"The power of a data platform is measured by its ability to deliver actionable information and

insights into the hands of every employee when they need it," said Nick Caldwell, Chief Product Officer at Looker. "This announcement deepens our promise to empower every employee with dependable data by introducing new purpose built experiences along with third party developer features that pave the way for the availability of a suite of data applications on the Looker platform."
Today's workforce is demanding more access to data than ever before. Combining that pressure with the proliferation of business-critical SaaS applications has created massive amounts of data in software silos and it has been difficult, if not impossible, for legacy Business Intelligence (BI) offerings to keep up. Looker's platform approach is uniquely different in that it not only eliminates these SaaS data silos and allows for a unified view of the business, it also breaks the mold of traditional BI by delivering data and insights into the operational workflow of employees at the exact moment that the information is necessary for a decision. Now, with new developer tools and purpose-built applications, companies can benefit from data-driven experiences designed to meet the unique needs of every department and every employee in the business.
Purpose-Built Applications
Looker applications are specific data-driven experiences tailored to the unique needs of critical business functions in the business. The plug-and-play Looker for Sales Analytics application provides the entire sales team with a single console to track and take action on pipeline management, quota attainment, and sales efficiency.
Sales representatives now have a clear, complete view into quota attainment and pipeline health to easily identify the most promising opportunities.
Sales managers and leaders can now get a 360o view into what makes a top rep successful and identify strategic opportunities in new segments and regions.
Sales operations leaders now have a highly-customizable, unified view into all sales data to make each function within sales more effective and efficient while also allowing reps and managers to self-serve with pre-built reports.
"We're already big fans of Looker because of the huge impact it's had across the sales organization," said Steven Lucas, Head of Customer Experience at Receipt Bank. "We rely on massive CRM data sets to understand our customers. With Looker, each member of the sales team is emailed their Looker CRM dashboard in the morning allowing them to quickly prioritize their day, and we can measure the effect these actionable insights have made by the afternoon. The results of this type of access and actions have allowed us to reduce monthly involuntary churn by 92% in just two months."
Building on the Platform
In addition to Looker built applications, the company is announcing several significant tools to empower the developer community to build their own applications and data-driven experiences. New visualization tools are also being introduced to provide customers with even more flexibility to present data in whatever way will be most comprehensible to their audience.
JavaScript Embed SDK: Laying the foundation for developers to create third-party Looker applications, the JavaScript Embed SDK delivers more control when building an interactive data experience. Creating a more seamless analytics experience that is more accessible to less technical users, this feature enables functionality and workflows not previously available.
Open Source Tools: The Looker Open Source tools underscore the value of the platform for developers to fulfill any use case supported by the Looker API.
New Visualizations: Adding to its current library, Looker is introducing four new visualizations options — waterfall, box plot, trellis and word cloud — to ensure its customers can visualize what is happening in their business in a number of different ways. Waterfall is particularly useful for sales and financial use cases, box plot is ideal for statistical analysis, trellis is a powerful way to break a single chart into a series of smaller charts to easily compare complex data and word cloud is a useful way to visualize free form text.
"As business users contributed more to our LookML repository, we found that our Data Engineering team was spending more and more time reviewing stylistic elements in addition to focusing on core reporting business logic," said Ryan Tuck, senior data engineer at Warby Parker. "We built upon the functionality of lookml-parser, a tool built at Looker, to create our open-source lookmint library and automate most of the stylistic checks run on our codebase. Since we've automated these routine checks, we've streamlined our pull request process and have improved the quality of our codebase. Pull request reviews now primarily focus on the overall business strategy and why features are being implemented, rather than smaller details."
The Looker for Sales Analytics application is available today in beta. The previously announced Looker for Digital Marketing and Looker for Web Analytics applications are out of beta today and are now generally available. The Looker open source tools are available today, with the JavaScript Embed SDK expected to be available at the end of April and the new visualizations rolling out by June 30, 2019.
###
Tagged Looker