Companies
NASA begins testing on Joby Aviation-designed cruise motors for all-electric x-plane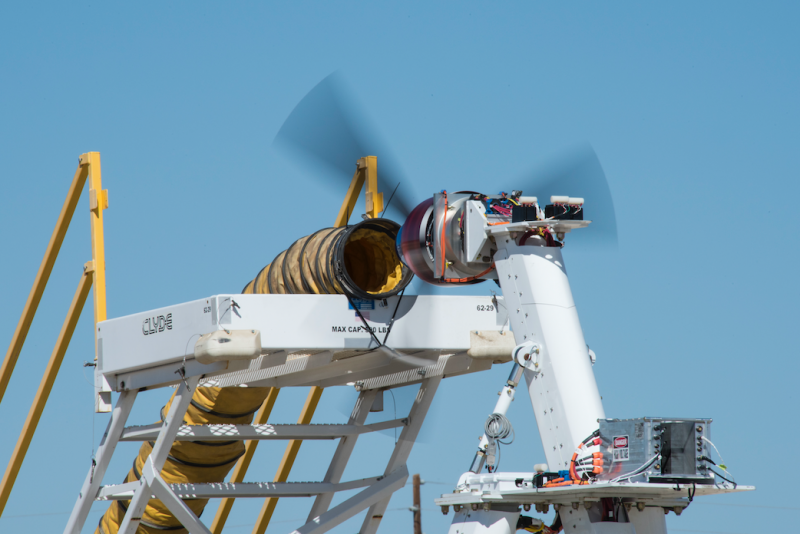 (Source: Nasa.com)
January 30, 2018 — Santa Cruz, CA
(Photo above: A JM-X57 cruise motor undergoes testing on the Airvolt stand at NASA's Armstrong Flight Research Center in California. The Airvolt stand is instrumented to measure system voltage, current, temperature, vibration, torque and thrust. Credits: NASA / Lauren Hughes.)
The cruise motors that will power NASA's first fully-electric X-plane to the skies have begun endurance testing on the ground.
Using a test stand called Airvolt, engineers at NASA's Armstrong Flight Research Center in California are testing the motors and their motor controllers, collecting data to help verify that the experimental electric propulsion system is ready to be deemed flightworthy. If successful, the motors, along with their controllers and propellers, can then be integrated into what will become NASA's first all-electric experimental airplane, or X-plane – the X-57 Maxwell.
X-57 is a highly modified Tecnam P2006T aircraft that features the replacement of traditional combustion engines and wing with an experimental distributed electric propulsion system, and endeavors to demonstrate the potential to achieve high efficiency, reduced carbon emissions, and lower the operating costs for aircraft. The X-plane, which will be NASA's first manned experimental airplane in two decades, will undergo several modifications, conducting flight tests with each stage.
Before such an experimental system can be used for flight, however, it needs to undergo extensive testing to validate its safety and functionality in order to be deemed flightworthy according to NASA's flight qualification process.
"We want to confirm that the motor system is as safe as possible before X-57 begins flight testing. The testing is important at this stage because X-57 is a manned test research project, meaning the aircraft will have a pilot onboard," Airvolt Lead Systems Engineer Yohan Lin said. "Previous electric propulsion projects have been conducted using unmanned aircraft, and at a smaller scale, but with a pilot onboard, the level of risk is higher."
NASA Armstrong will receive a total of five JM-X57 cruise motors, designed and built by Joby Aviation in Santa Cruz, California. The team plans to use two of these electric motors in place of the standard Rotax 912 S3 piston engines for the first flight tests of the X-57's first modification, known as Mod II. While additional motors are currently being tested as spares, the idea would be to use the same two motors from Mod II as the primary propulsion system for the aircraft's later modifications, according to X-57 Principal Investigator Sean Clarke.
Continue reading here: https://www.nasa.gov/centers/armstrong/feature/All-electric_X-57_Cruise_Motors_Begin_Testing.html
###
Tagged Joby Aviation