Companies
An Epic Walk in the Cloud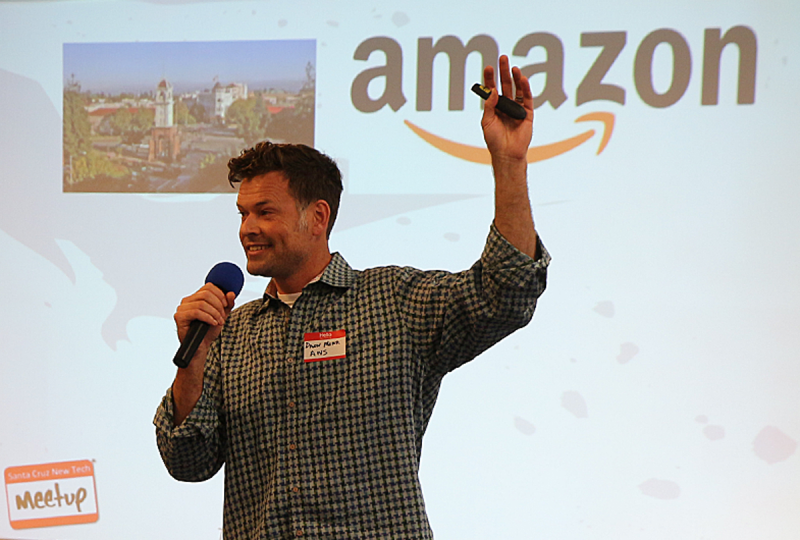 By Jan Janes
Special to Santa Cruz Tech Beat
June 4, 2016 — Santa Cruz, CA
[Editor's note: I heard the word "epic" more than a few times at last Wednesday's Santa Cruz New Tech Meetup. In this photo essay, Jan Janes captures some of the images from the event, held at Amazon's Santa Cruz headquarters on Pacific Avenue and Cooper St. For more about this Amazon-focused meetup, watch Why is Amazon here in Santa Cruz. By the way, even the food was epic.]
[All images by Jan Janes Media.]
"Who's in the cloud?" Drew Meyer, above, asked the crowd. "Heard of S3, did you like it? All right!" As product marketing manager with the Santa Cruz office of Amazon Web Services (AWS), Meyer described Amazon's arrival in town a year ago, embracing the area's talent pool, the brain trust up on the hill at the university, and tapping into the access to funding through Central Coast venture capital partners. His colleague, Rich Cowper, a solutions architect, outlined the customer-centric services and technologies available to startups and mobile developers using cloud services.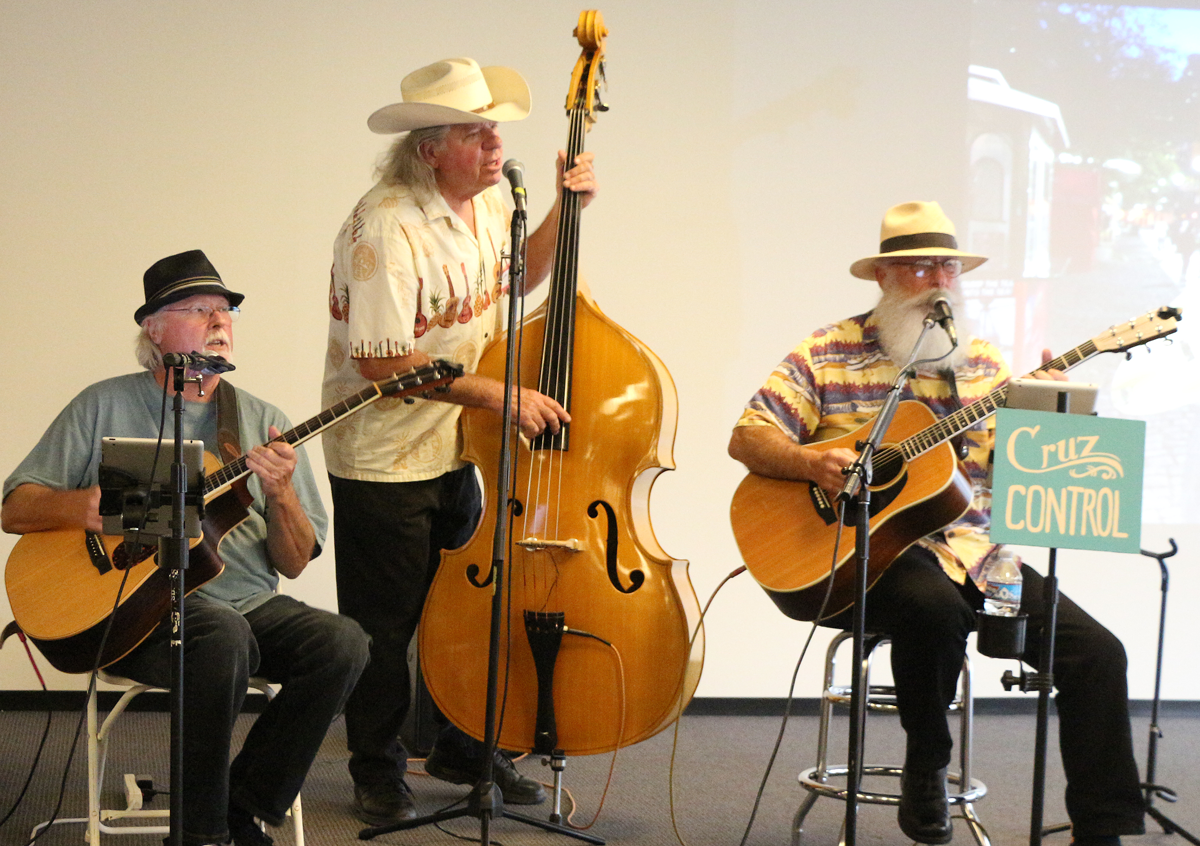 Cruz Control, (above, l-r Stan Parola, Gary Cunningham, Vince Tuzzi) a fixture at Santa Cruz New Tech meetups, provided 70's music for the arriving guests. The SCNTM chapter founded in 2008 is approaching 3000 in membership, the eighth largest in the US. Wednesday evening 350 people converged on the 3rd floor of the Cooper House in downtown Santa Cruz to hear local companies tell their stories about how they are using AWS services.

The crowd got into the action as Amanda Rotella (above), economic development coordinator with City of Santa Cruz, and Doug Erickson, SCNT founder, conducted a fast paced SCNT Meetup edition of Jeopardy. This month's categories included School's Out for Summer and Gotta Have Your Gear, with questions inspired by Santa Cruz Tech Beat articles published by Sara Isenberg.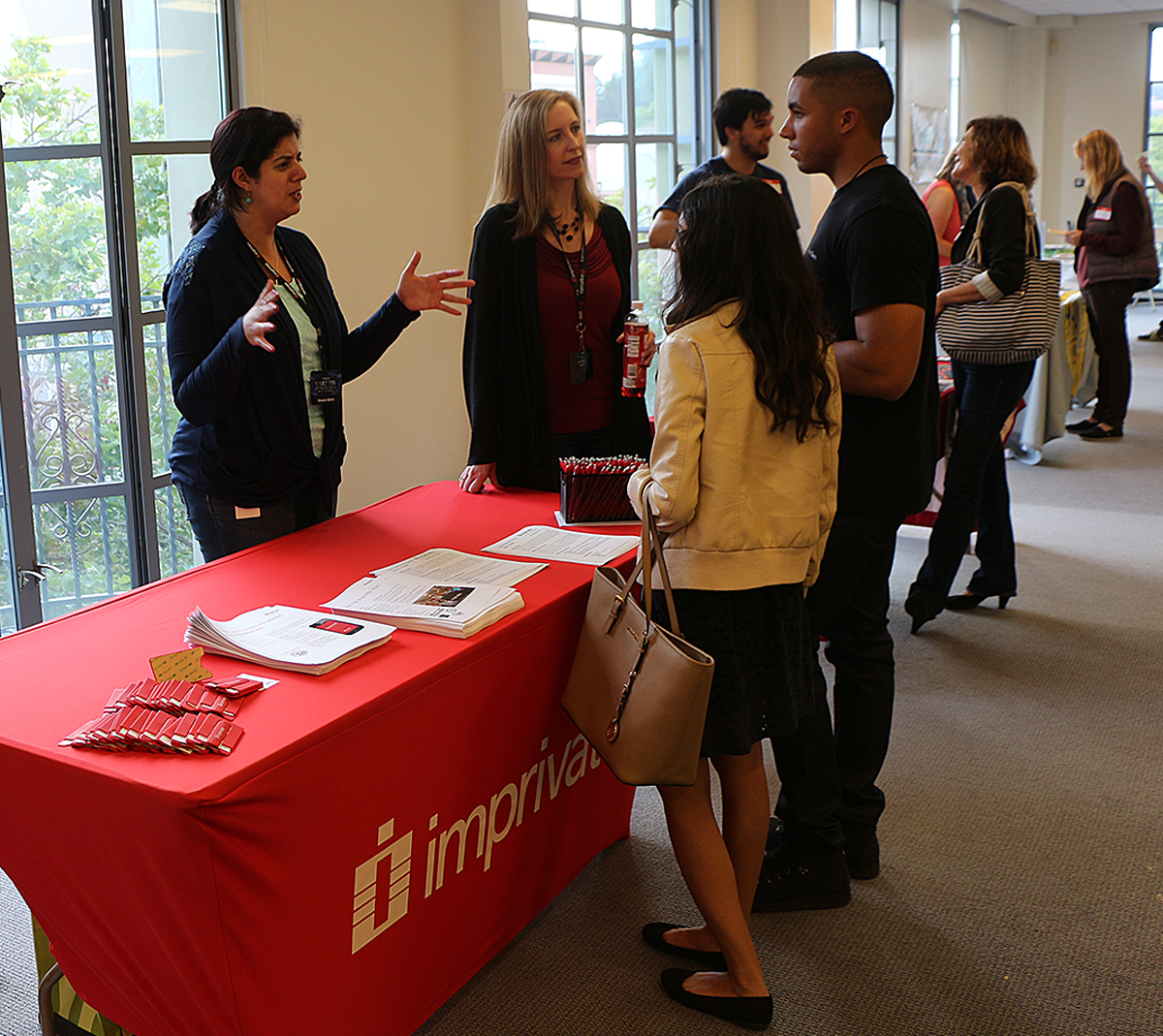 Presenters for the meetup also had staff tabling during the SCNT meetup. During his presentation, Imprivata CMO Ed Gaudet detailed the range of AWS products the company uses to build a program enabling medical and healthcare professionals to communicate, access information, authenticate access and simplify navigating through the healthcare system.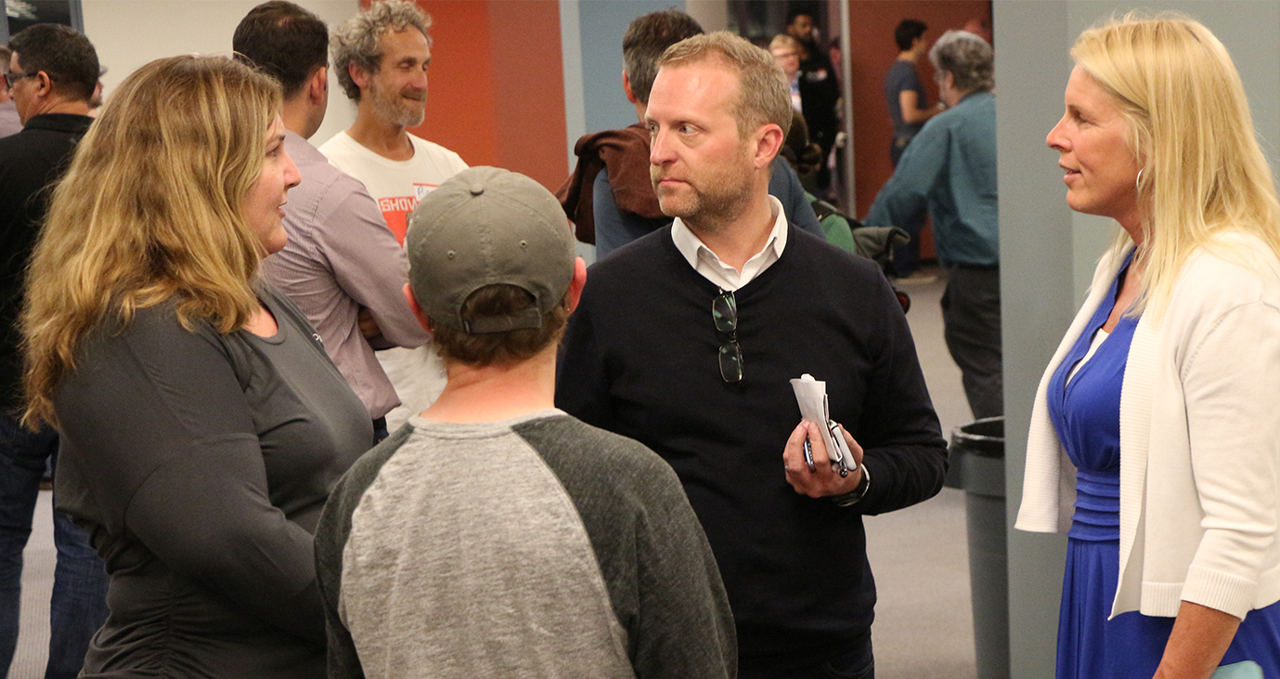 Calliope CEO Keri Waters (left) and CMO Hilary Bryant (right) answer questions about the company's products. Calliope offers Buoy, the world's first whole-house water controller, that monitors how and where household water is used, sends alerts about leaks and shuts off water in an emergency. Calliope pairs this new product with an app that gathers water flow information. The information is hosted on AWS, and customers will be able to monitor water usage on a minute-by-minute, gallon-by-gallon basis.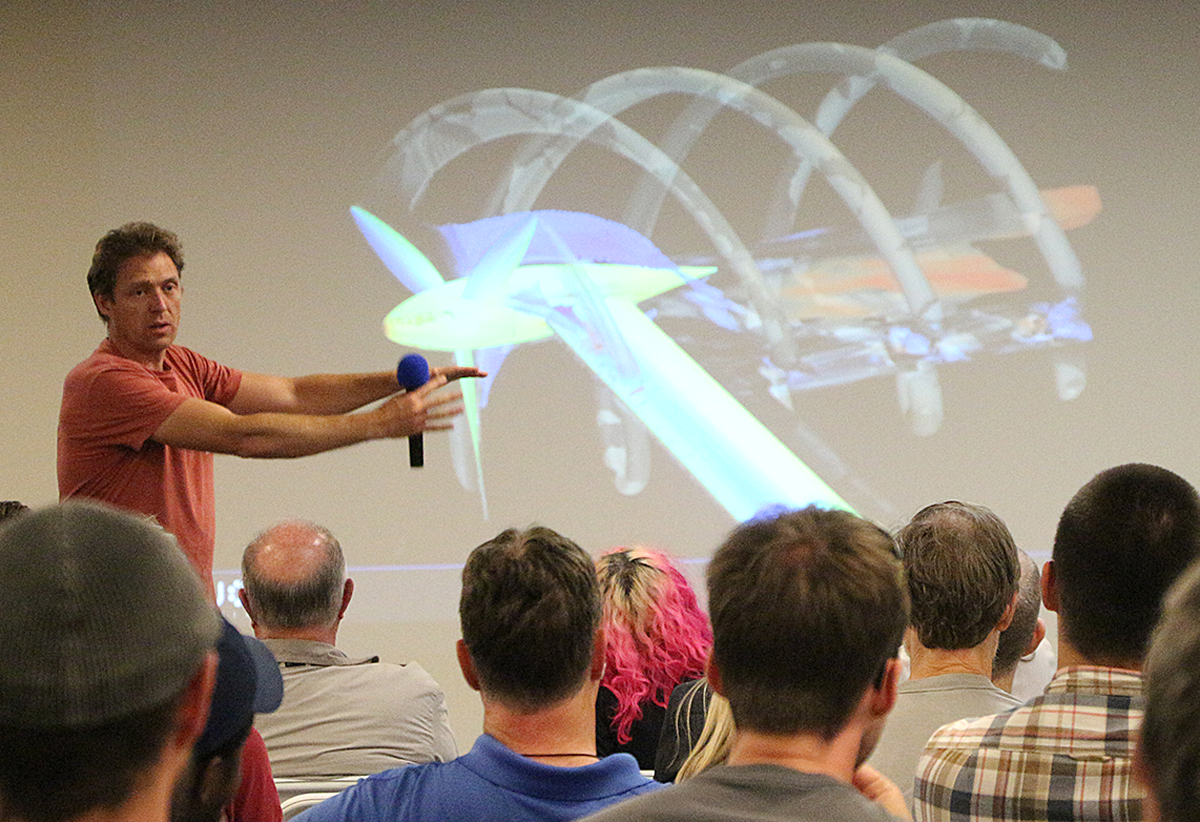 JoeBen Bevirt (above) is founder of Joby Aviation, a company working on changing the way people move. World congestion is a growing problem the infrastructure can't keep up with. Instead of driving, they are using the third dimension and designing vertical take off and landing aircraft. At Joby Aviation, they use AWS and EC2 cloud computing to perform simulations and scientific computing to analyze very complex aerodynamics.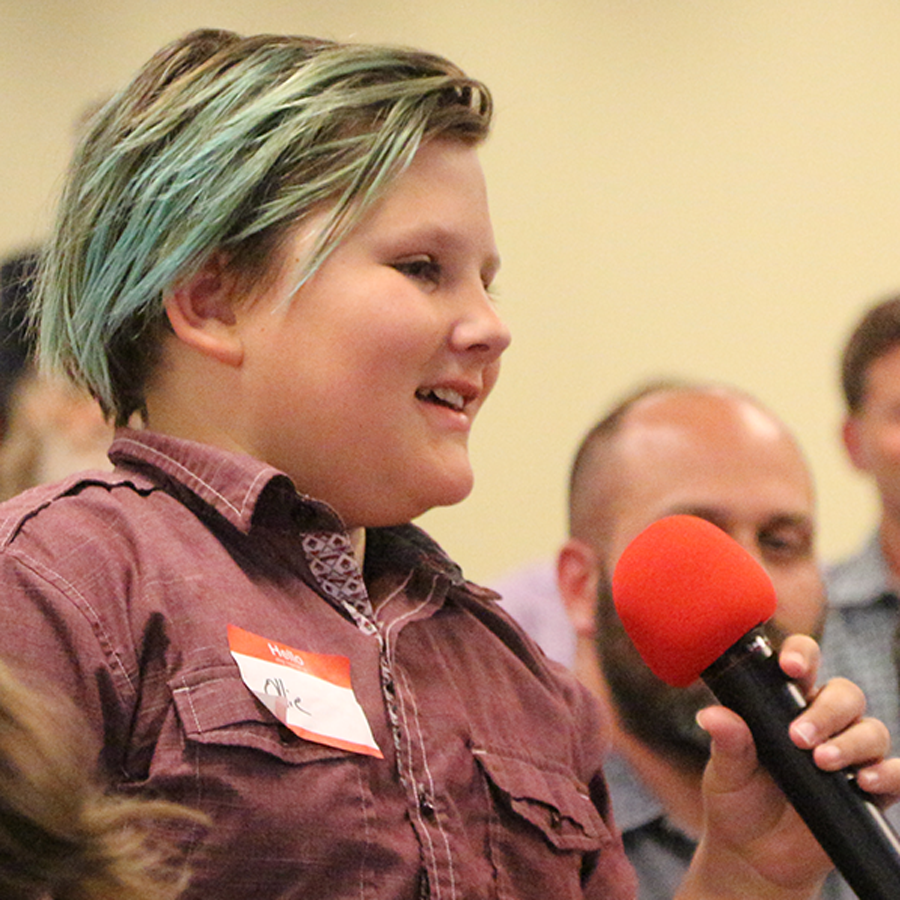 During the Q & A session, Ollie (above) asked JoeBen Bevirt, founder of Joby Aviation how many watt hours the onboard battery would need to have to effectively power all the rotors of a four-passenger aircraft designed for vertical take off and landing that can travel 200 miles at 200 mph. A: 136 kilowatt hour battery, just a bit less that twice the size of a Tesla Model S battery.
Local companies X2CRM, with John Roberts; InspecTools, with Paul Bingaman; PredPol, with Denis Haskin, and Crank Logic, with Justin Laing also presented ways their companies use AWS services.
###
Jan Janes, Communications Director, Web Publisher, Television & Radio Producer, Photojournalist, Social Media Architect, can be reached on LinkedIn.
###
If you wish to republish this article, please follow our Terms of Use.
###
Tagged Amazon, Calliope Waterworks, Imprivata, Joby Aviation, Santa Cruz New Tech Meetup