Events
In its 5th Year, CruzHacks Continues to Inspire Innovation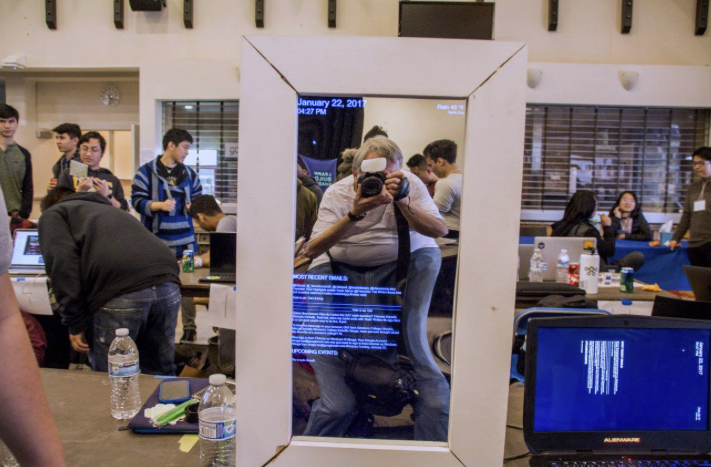 By Sarah Ali & Alexis Camanga
CruzHacks
January 10, 2018 — Santa Cruz, CA
(Photo above: The Virtual Smart Mirror project gives a demonstration to the judges at last year's 2017 UCSC Hackathon. Credit: Stephen Louis Marino)
CruzHacks 2018 is fast approaching!
Going into its 5th year of operation, CruzHacks (previously Hack UCSC) is anticipated to be one of the largest and successful collegiate hackathons Santa Cruz has ever seen. For the 2nd consecutive year, 1000+ students have applied to partake in this free and student-run event.
CruzHacks kicks off with opening ceremonies on Friday, January 19, 2018, at 10 p.m. with speakers Jeremy Britton and Tobey Corey. Britton is the head of design at Santa Cruz based company Looker who also helped pioneer UCSC's Media and Electronics program, and Corey has previously been a Tesla and SolarCity executive, as well as co-founder of USWeb. Hacking then officially begins on Saturday, January 20 at 12 a.m. at Porter College on UC Santa Cruz campus!
Participants will be coding and designing projects that can then be entered to compete for cash prizes in the primary categories of 'Innovation' and 'Tech Cares.' Additional sponsored awards are included in categories by Google, Microsoft, TokBox, Choose Santa Cruz, Project YX, UCSC Student Union Assembly, UCSC Arts Division, and others.
Throughout the duration of the hackathon, mentors from sponsoring companies will be present to advise coders and answer any questions about their sponsored categories.
CruzHacks will draw to an end on Sunday, January 21, with a code freeze at 12 p.m. followed by lunch. The first round of judging will begin at 1 p.m. and will then be followed by a guest speaker at 2:30 p.m, and second round judging at 3 p.m. Closing speeches and winner announcements will be made at 4:30 p.m, and a concluding awards ceremony will follow at 5:30 p.m.
The closing speakers are Guy Kawasaki and UC Santa Cruz Chancellor, George Blumenthal. Kawasaki is currently the chief evangelist of Canva, an online graphic design tool, and an executive fellow of the UC Berkeley Haas School of Business. He was also the chief evangelist of Apple and a trustee of the Wikimedia Foundation. Blumenthal is currently a board member of Joint Venture Silicon Valley and the Silicon Valley Leadership Group.
See you there, Hackers!
Sponsors for CruzHacks include Google, Microsoft, Project YX, South Swell Ventures, UC Santa Cruz Center for Innovation and Entrepreneurial Development (CIED), TokBox, UC Santa Cruz Foundation, UC Santa Cruz Baskin School of Engineering (BSOE), Big Data Federation, UC Santa Cruz Genomics Institute, Santa Cruz Tech Beat, Choose Santa Cruz, Whole Foods Market, Panda Express, Domino's Pizza, Santa Cruz New Tech Meetup, UC Santa Cruz Student Union Assembly (SUA), Brereton Law Office, Seghetti Waxler, UC Santa Cruz Sustainability Office, UC Santa Cruz Arts Division, the UC Santa Cruz Division of Graduate Studies, Pacific Cookie Company, and more.
###
If you wish to republish this article, please follow our Terms of Use.
###
Tagged CruzHacks, UC Santa Cruz