Companies
Here's the December lineup for Santa Cruz New Tech Meetup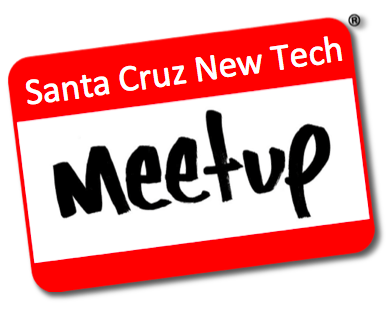 (Contributed)
Let's celebrate the close of a successful year with a number of activities and company presentations
Santa Cruz New Tech Meetup
Wed Dec 6, 2017
Doors open at 6pm, presentations start at 7pm.
Cruzio Building, 877 Cedar St, Santa Cruz
$10 if you pay online by 12pm noon 12/6, $15 at the door, $5 for students w. valid ID
RSVP here.
Here's the lineup
• 2018 Report on State of Santa Cruz Tech: commissioned by Workforce Development Board Santa Cruz County will be presented by Christopher Thornberg of Beacon Economics. Chris will give an overview on the growth trajectory of our local tech sector: employment, wages, companies, how education is serving local tech workforce needs, what kinds of skillsets are in high demand locally, constraints on growth, and what the future looks like for tech in Santa Cruz County.
• Winners of 2017 Santa Cruz New Tech MeetUp Survey: we will announce the winners of the Survey. Some lucky participants will experience early holiday gifts. Participate in this survey before 9pm PT Monday December 4 if you want the chance to win.
• 2018 Predictions: will Looker and Amazon build a moat around Santa Cruz to keep great tech talent from commuting The Hill? Will there be a downtown aero-stop for Joby Aviation? Can we expect to see an Apple store in Santa Cruz anytime soon? Humorous predictions for 2018 Santa Cruz tech.
• MapBox / Marc Prioleau: this company is changing the way people move around cities and understand our planet. Find out why SoftBank dropped $164M recently into this company.
• BlueFox / Marc Divilla: mobile phone sensing tech that enables clients to engage with people on their phones.
• Koder / Nicholas Ivanecky: Koder is a monthly subscription service that brings together crowdsourced teams of elite developers, designers, CTOs and Product Managers to deliver results.
• Evaline / Jethro Naude: got an electric car but not sure how you can make it long distance to the next charging station? Evaline is fixing that!
• 2ndNature / Nicole Beck: a Santa Cruz company having a statewide impact on urban water quality and supplies.
Learn about hot new technologies and mingle with 300+ fellow entrepreneurs, investors, bloggers, and tech enthusiasts. Doors open at 6:00pm, presentations start at 7:00pm. Purchase your tickets in advance. Entry fee is $10 if you pay online by 12pm noon Wednesday, December 6, $15 at the door, and $5 for students with valid ID, and includes food, beverage, and live music by Cruz Control.
###
Tagged Santa Cruz New Tech Meetup