Events
Q&A: Wit and wisdom of Guy Kawasaki on display at "The Art of Social Media" November Tech MeetUp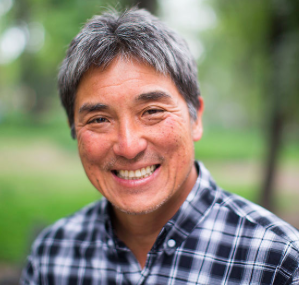 By Jan Janes
Special to Santa Cruz Tech Beat
October 14, 2016 – Santa Cruz, CA
[10/21/16 Update: Per SCNTM organizer Doug Erickson: This event has moved to Hotel Paradox to allow for more seats available. The way to register to attend is to RSVP at Santa Cruz New Tech MeetUp, and then pay at the door.]
[10/18/16 Update: Per SCNTM organizer Doug Erickson: The way to register to attend is to RSVP at Santa Cruz New Tech MeetUp. The meetup is now full so if you have not already registered to attend, you will be put on the waiting list. We are attempting to find a larger venue, but worst case, you can view the event via Facebook Live.]
Guy Kawasaki, chief evangelist of Canva, brings his legendary insights to the Santa Cruz New Tech MeetUp in Santa Cruz on November 2 at 6pm. He will cover The Art of Social Media and focus on power tactics to make social media an effective marketing tool. The audience can expect wry Kawasaki humor as he demonstrates how he posts and comments on social media to show "how the sausage is made."
He generously took the time to answer a few advance questions.
JJ: You've written 14 books. What was your motivation for writing this new book, The Art of Social Media: Power Tips for Power Users?
GK: Royalty.
JJ: How does social media marketing fit into the overall sales and marketing plan of a company?
GK: More and more, social media is marketing, particularly for companies with limited resources, which is every small company and startup. PR, press conferences, the old analog of sucking up to the press is a subset of the overall social media effort. It used to be the opposite.
JJ: Can nonprofits use the same techniques, or are there different rules of the road for them?
GK: The rules are more similar than they are different. Social media, basically, is a platform. You earn your right to promote by providing value–think of NPR and Wikipedia with their pledge drives. It's the same concept.
JJ: For companies already using social media to market, what do you see as the biggest mistakes?
GK: The biggest mistake is not using social media enough. For example, companies should repeat their posts to reach as many people as possible. If some people aren't complaining, you're not using social media right.
I'm not saying that companies should simply promote themselves more. I'm saying that they should add more value and then earn the right to promote more. NPR adds value to people's lives every day of the year, twenty-four hours per day. Think like NPR!
JJ: What tools do you use/recommend to track success or failure of social media campaigns?
GK: I'm not a big analytics guy. I just post what I think people will find interesting and never look back. Admittedly, most companies can't take this kind of cavalier attitude, but it works for me. My brand is to be enigmatic.
JJ: How much time each day should a company spend developing social media messaging?
GK: Tough to say. Depends on the size of the company, nature of business, and location of customers. But let me reiterate that social media is marketing today. It's not an experiment or diversion.
Generally speaking, whatever a company is doing should be doubled. And it's important not to abdicate social media to an intern or an agency. That's stupid and cowardly. Social media is core to success.
JJ: What's your favorite activity or moment/s in social media marketing?
GK: I love to post stuff that supports Hillary Clinton and hurts Donald Trump. The kinds of comments, positive and negative, are highly entertaining. I'm going to be bored when the election is over. I'm going to be depressed if Trump wins.
###
Join Kawasaki at the Santa Cruz New Tech MeetUp on November 2, 2016 at 6pm at Hotel Paradox, tickets $15 at the door. Erik Mansur of Nanigans will MC and conduct a Q&A at the end of the presentation.
###
If you wish to republish this article, please follow our Terms of Use.
###