Companies
Forbes AgTech Summit Returns to Salinas in June 2018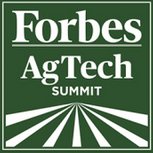 (Contributed)
November 14, 2017 — Salinas, CA
Fourth annual Forbes AgTech Summit will return to Salinas June 26-28, 2018
Forbes announced today during its Forbes AgTech Launch event in New York that the fourth annual Forbes AgTech Summit will return to Salinas, California June 26-28, 2018. In addition, it will be launching the first-ever Forbes AgTech– Indianapolis September 26-27, 2018. Forbes also announced that it will host its second Forbes Mixing Bowl NYC event in New York City on March 22, 2018.
"Forbes is excited to be highlighting one of the most important and electrifying phenomenon's of our times— the intersection of high tech and agriculture, which promises to overcome the daunting challenge of feeding the planet's growing population and doing so in a sustainable way," said Steve Forbes, Chairman and Editor-in-Chief of Forbes Media.
Forbes AgTech—Salinas
This three-day, invitation-only event on June 26-28, 2018, in Salinas Valley, California, will bring together more than 600 of the most entrepreneurial minds in global agriculture with those from the Silicon Valley to tackle some of the world's most critical challenges. Held again in the heart of the Salinas Valley, the fourth Forbes AgTech Summit—Salinas provides participants with a fully immersive experience into the burgeoning world of agricultural technology, from tours of state-of-the art processing plants to hands-on demonstrations of cutting-edge, in-field technologies. The summit is designed to foster an energetic debate and generate rich networking opportunities while showcasing the latest innovation for farmers, investors and stakeholders of the global agricultural ecosystem. In 2018, Forbes will expand its innovation showcase to feature up to 75 startups. Past speakers have included: Janet Napolitano, President of University of California, Former Secretary of Homeland Security; Bruce Taylor, Chairman & CEO of Taylor Farms; Kip Tom, Chairman of Tom Farms; Mike Teel, Owner & Chief Executive Officer of Raley's; Neal Gutterson, Ph.D., Vice President, Research & Development of DuPont Pioneer; Robert T. Fraley, Ph.D., Executive Vice President & Chief Technology Officer of Monsanto; and Steve Forbes, Chairman & Editor-In-Chief of Forbes Media.
"As a global hub for the fresh produce and AgTech industries, Salinas has been proud to host the Forbes AgTech Summit for the past three years," said The Honorable Joe Gunter, Mayor, City of Salinas. "We are excited to once again welcome Forbes to showcase our region's industry and look forward to another fantastic event with the great weather, great food and great people of Salinas."
The City of Salinas is the host partner. For more information, please visit https://www.forbes.com/forbes-live/event/agtech-summit-2018/.
Forbes AgTech—Indianapolis
The Forbes AgTech Summit—Indianapolis will take place over two days Wednesday, September 26 and Thursday, September 27, 2018. It will include all the hallmarks of Forbes' signature AgTech events including plant tours, field demos and an Innovation Showcase highlighting the most compelling AgTech start-ups— all with a hands-on focus on innovation.
Whereas the Forbes AgTech Summit—Salinas is hosted in the Salad Bowl of the World and has always had fresh produce at its core, the Forbes AgTech Summit—Indianapolis will be the perfect setting to more deeply explore innovation in the growing, harvesting and distribution of Midwestern crops like corn, wheat, soybeans and others.
"Indiana's roots in agriculture and agribusiness run deep, and we continue to see the industry grow and evolve across the state as it intersects with advancements in technology," said Elaine Bedel, president of the Indiana Economic Development Corporation (IEDC). "I look forward to convening great minds in Indiana, showcasing our latest developments and innovative leaders while discussing ways to propel agribusiness into the 21st century to serve farmers, producers and consumers across the world."
"Innovation like what we are seeing in ag tech today is no longer advanced in isolation," said Beth Bechdol, president and CEO of AgriNovus Indiana. "The real impact of today's ag tech innovation comes when it is leveraged with advances in other sectors such as tech, the life sciences and advanced manufacturing. Indiana's leadership in the agbiosciences and these other industries makes the state the perfect next destination for a Forbes AgTech Summit."
The IEDC and AgriNovus Indiana, the state's food and agriculture innovation initiative, are the host partners.
Forbes Mixing Bowl NYC
Forbes, in partnership with the Mixing Bowl, will host its annual Forbes Mixing Bowl event on March 22, 2018, at Forbes on Fifth (24 Fifth Avenue) in NYC. The event will bring together food and ag thought leaders, startups, key industry players, investors and representatives from leading global food and agriculture innovation hubs to discuss food and AgTech challenges and solutions in an innovative and interactive forum.  This year's event will focus on the full stack digital development of the food and Ag industry, working to identify meaningful opportunities and short-term "sprint" developments which address challenges in adoption, implementation and engagement across the digitally-enabled food and agriculture landscape.
For more information, follow the conversation on Twitter via #ForbesAgTech.
###