Companies
Calling all AgTech Startups for THRIVE Accelerator (deadline Jan 12)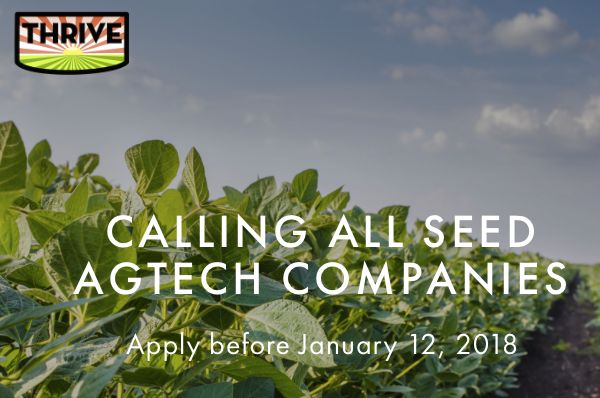 (Source: Thrive AgTech website)
January 3, 2017 — Salinas, CA
THRIVE Accelerator is a mentorship & investment program for startups with technologies focused in agtech and foodtech.
The application period for our accelerator beginning this spring closes January 12, 2018. Know of or are a company looking for unparalleled mentorship, investment, field trial and corporate partnership opportunities? The THRIVE Accelerator is looking for pre-series A startups with technologies focusing in midstream/supply chain management, biotechnology, big data & analytics, and robotics & automation.
Throughout the the program on an ongoing basis, companies will have one-on-one mentorship and engagement with top tier industry leaders in agriculture and technology, take advantage of field and value chain deployment opportunities, access investment opportunities, and incubation services.
THRIVE applicants come from all over the globe. Selected companies benefit from a 10-week acceleration program that provides mentorship from top leaders across industries, direct access to the largest agriculture companies located in the Salinas and Central California growing regions, and seed stage investment.
THRIVE and its growing ecosystem of partners are committed to identifying, connecting, and accelerating technologies with the potential for system-wide transformation. Launched out of the the Silicon and Salinas Valleys in 2014, the THRIVE Accelerator supports startups from all areas of the value chain whose technologies drive us towards a more efficiently operated, environmentally minded, and accessible agriculture future.
Accelerator Benefits:
Silicon Valley Global: 10-week intensive business coaching program- onsite & virtually
Investment: Up to $100K per company (our companies have raised $100M in funding)
Mentorship: Learn from top leaders in tech, agriculture & investment
Connections to Customers: Fortune 500 food & ag companies, growers, and field trials
Global Stage & Events: Forbes AgTech Summit and THRIVE events with investors & customers
Back Office Perks: Dedicated legal, marketing, technical counsel provided by Orrick, AWS and office space
Accelerator Timeline:
March 2018: Pitch Day for startup finalists: Virtual
Late March 2018: 10 Startup Companies Selected- Meet your cohort, mentors, and THRIVE program managers in Salinas, CA
April-May 2018: 8-week accelerator program: Virtual
June 2018: Demo Day at Forbes AgTech Summit: Salinas, CA
###
Tagged agtech, SVG Partners, Thrive Accelerator