Companies
Solar greenhouses generate electricity and grow crops at the same time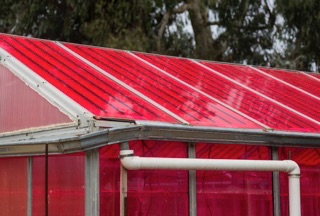 By Jennifer McNulty
UC Santa Cruz
November 9, 2017 — Santa Cruz, CA
(Photo above: Plants grown in this "smart" greenhouse fared as well or better than plants grown in conventional greenhouses. Credit: Nick Gonzales)
[Editor's note: Santa Cruz Tech Beat published a related article, New Breed of Solar Panels Fine-Tunes Light for Crops (3/19/15).]
The first crops of tomatoes and cucumbers grown inside electricity-generating solar greenhouses were as healthy as those raised in conventional greenhouses, signaling that "smart" greenhouses hold great promise for dual-use farming and renewable electricity production.
"We have demonstrated that 'smart greenhouses' can capture solar energy for electricity without reducing plant growth, which is pretty exciting," said Michael Loik, professor of environmental studies at the University of California, Santa Cruz, and lead author on a paper that appears in the current issue of the American Geophysical Union's journal Earth's Future.
Electricity-generating solar greenhouses utilize Wavelength-Selective Photovoltaic Systems (WSPVs), a novel technology that generates electricity more efficiently and at less cost than traditional photovoltaic systems. These greenhouses are outfitted with transparent roof panels embedded with a bright magenta luminescent dye that absorbs light and transfers energy to narrow photovoltaic strips, where electricity is produced. WSPVs absorb some of the blue and green wavelengths of light but let the rest through, allowing the plants to grow. WSPV technology was developed by coauthors Sue Carter and Glenn Alers, both professors of physics at UC Santa Cruz, who founded Soliculture in 2012 to bring the technology to market.
Loik's team monitored photosynthesis and fruit production across 20 varieties of tomatoes, cucumbers, lemons, limes, peppers, strawberries, and basil grown in magenta glasshouses at two locations on campus and one in Watsonville, California.
Continue reading article here: https://news.ucsc.edu/2017/11/loik-greenhouse.html
###
Tagged UC Santa Cruz