Featured
NCI Cloud Pilot program to boost cancer genomics data sharing, accessibility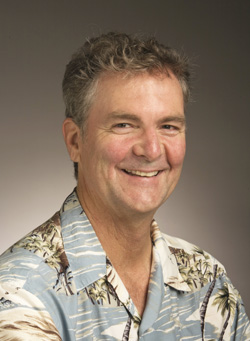 By Tim Stephens
UC Santa Cruz
(Photo above: David Haussler, Director of the UC Santa Cruz Genomics Institute. Photo contributed.)
UC Santa Cruz and UC Berkeley partner with Broad Institute to build a cloud computing environment for large-scale analysis of cancer genomics data
The UC Santa Cruz Genomics Institute is part of a team led by the Broad Institute of Harvard and MIT that was awarded one of three National Cancer Institute (NCI) Cancer Genomics Cloud Pilot contracts. The goal of the project, which also involves scientists at UC Berkeley, is to build a system that will enable large-scale analysis of The Cancer Genome Atlas (TCGA) and other datasets by co-locating the data and the required computing resources in one cloud environment.
This co-location will enable researchers across institutions to bring their analytical tools and methods to use on data in an efficient, cost-effective manner, thereby promoting democratization and collaboration across the cancer genomics community. Seven Bridges Genomics and The Institute of Systems Biology, in collaboration with Google, are the two other awardees in the NCI Cloud Pilot program.
"Putting genomic data on the cloud for analysis and sharing is a great direction to go in," said David Haussler, professor of biomolecular engineering at UC Santa Cruz and director of the UCSC Genomics Institute.
CGHub Experience
Gad Getz of the Broad Institute is the lead principal investigator of the Broad-University of California Cloud Pilot (BUCCP) and will be leading the Broad team together with Matthew Trunnell and Anthony Philipakis. Haussler brings to the project the UC Santa Cruz team's experience in building and operating NCI's Cancer Genomics Hub, a secure repository for storing and accessing cancer genomic data from TCGA and related projects. The BUCCP also leverages the work of UC Berkeley researchers led by David Patterson to develop tools for efficient computing over genomics data. Patterson is also partnering with Haussler in the recently funded Center for Big Data in Translational Genomics led by UC Santa Cruz.
The Cancer Genomics Cloud Pilot effort is firmly rooted in the data-sharing principles set forth by the Global Alliance for Genomics and Health (GA4GH), of which Haussler, Patterson, Getz, and Philipakis are working group members, making it both technically-driven and mission-driven from its incipience. The pilot awardees will collaborate with each other and with the NCI Genomics Data Commons (GDC) at the University of Chicago, where the data will be hosted, as well as with the NCI staff and leadership towards a shared vision of a cohesive data and analysis infrastructure to advance the understanding and treatment of cancer.
"We will be working with the Broad Institute and the other two cloud pilot operations and the GDC as part of the Global Alliance for Genomics and Health, which strongly endorses the cloud pilots," said Haussler, who cofounded GA4GH and co-chairs its Data Working Group.
Continue reading full article here: http://news.ucsc.edu/2014/11/cloud-pilot.html
###
Tagged genomics, UC Santa Cruz