Featured
Reincarnating UCSC's Entrepreneurship Center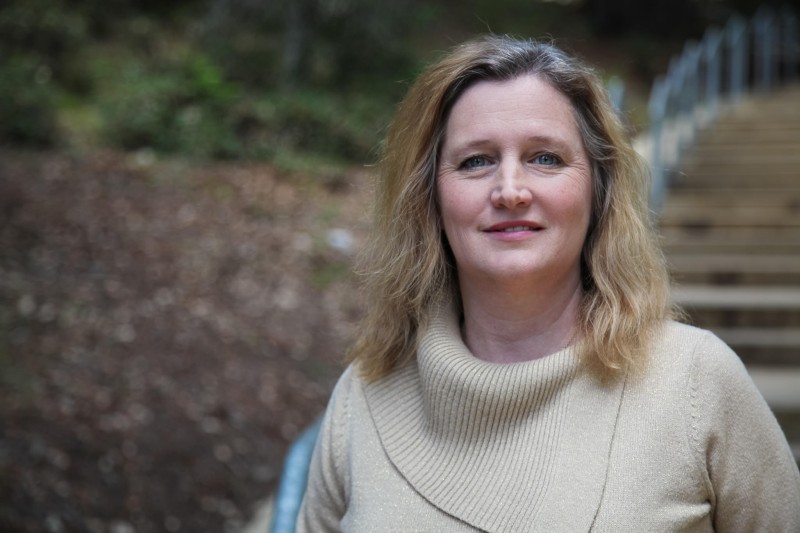 By Kara Guzman
Special to Santa Cruz Tech Beat
[Photo above: Sue Carter is the director of UC Santa Cruz's Center for Innovation and Entrepreneurial Development (CIED) and associate professor of physics. Credit: Carolyn Lagattute]
October 7, 2015 — Santa Cruz, CA
Sue Carter, director of UC Santa Cruz's new Center for Innovation and Entrepreneurial Development (CIED), is no stranger to tech startups.
Carter, a UCSC associate physics professor, took a three-year sabbatical from teaching in 2012 to found two companies: Soliculture, which makes greenhouse panels and IRIS Science Academy, a youth education program.
Carter returned to campus this year to lead its new business center, CIED, the latest reincarnation of UCSC's Center for Entrepreneurship (C4E), helping develop research innovations into marketable products. The C4E was known for launching a well-attended annual business design showcase and hackathon.
CIED plans to not only continue C4E's programs, but also add an entrepreneurship academy for undergraduate and graduate students, to help them turn inventions into business models. Unlike C4E, which was housed in the Baskin School of Engineering, the new center will be part of UCSC's graduate division, allowing more students and broader support, said Carter.
"Most schools have business schools or law schools and we have neither," said Carter. "Since we have nothing, it means I have to reinvent everything basically from scratch."
Carter, who has founded four companies in the last decade, said she's excited about the opportunity.
"What does a business curriculum look like in the 21st century for today's entrepreneurs? That's basically what we're trying to create."
She said she wants to teach students to talk to customers to figure out what they really want and need.
"They basically need to get out of their lab, out of the academic world and into the real world," Carter said.
She's tired of people saying they can't talk about their idea because they fear it will be stolen.
"It's the implementation and not the idea. The first idea usually never survives the light of day," Carter said.
Everyone wants to be the CEO of their own startup, but that requires experience. For a startup to succeed, the founder often has to assume a different role, Carter said. She urges students not to worry about their job title, and instead focus on implementation and perseverance.
When UCSC launched C4E in 2011, the campus had $125,000 in licensing income, 0.1 percent of the $114.6 million generated across UC campuses. UCSC doubled the figure in 2012.
Carter said the rise in income likely isn't tied to the center's success. "Licensing income to me is not a metric, primarily because it takes many years to go from an idea to licensing income," she said.
A better measure of success is CIED's record membership, she said. The center has 200 students on its mailing list and the annual hackathon is at maximum capacity. Each year, more students attend local tech events such as the Santa Cruz New Tech Meetup and intern at local companies through the center's partnership with the City of Santa Cruz Economic Development office.
Carter said she aims to continue that trend.
"The number one goal is to build that community this year," Carter said.
Want to get involved with UCSC's Center for Innovation & Entrepreneurial Development?
Attend the Tech Innovators Speaker Series kickoff: Ravi Jain, UCSC Genomics Institute's new managing director, will deliver a talk titled "Transitioning from Academia to Entrepreneurship: Hurdles and Opportunities" 2-3 p.m. Friday, Oct. 23 at UCSC's Merrill Cultural Center. Entry is free.
 Employ a CIED intern: The center is looking for local companies with which to match undergraduate and graduate interns. Students are screened and supported by faculty.
 Mentor a team or become an entrepreneur-in-residence: CIED's new entrepreneurship academy is seeking volunteers to mentor student teams a few hours per week. Mentors will help students hone their startup ideas. The center also plans to employ an entrepreneur-in-residence to work with students eight hours per week for a small stipend.
Host a workshop: Join UCSC alumni and local business owners in delivering talks on topics such as grant writing, legal resources for startups and how to deal with stocks.
Sponsor or judge an event: The center seeks sponsors and judges for events such as UCSC's pitch slam, in which students are given three minutes to pitch a business idea, with cash prizes on the line.
If you're interested in any of these opportunities, email Sue Carter at sacarter@ucsc.edu.
###
Kara Guzman is a freelance science and technology writer. Email her at kguzman@gmail.com.
###
If you wish to republish this article, please follow our Terms of Use.
###
Tagged CIED, Sue Carter, UC Santa Cruz