Featured
Grad student developing computer software to help blind people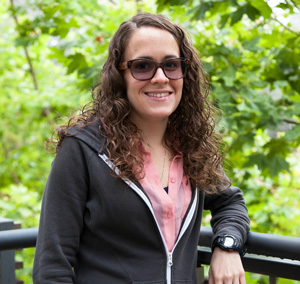 by Melissae Fellet
UC Santa Cruz
Lourdes Morales, undaunted by her own impaired vision, unites personal passion and programming skills to help others
After examining her eyes when she was a child, doctors predicted that Lourdes Morales would not be able to go to school because her vision was so compromised. Nevertheless, her parents had their daughter fitted for glasses and encouraged her to join her peers in the classroom in their hometown in Puerto Rico.
Morales's vision deteriorated as she grew up, and she was legally blind by her mid-teens. She found it hard to keep up in class, and she almost dropped out of school. But she stuck with it, using electronic magnifiers to display enlarged text on a television screen. Her mother and her high school would enlarge reading material by photocopying it. Screen magnifier software helped her use a computer. Determined to complete her schoolwork, Morales graduated ninth in her high school class. She continued to work hard in college at the University of Puerto Rico, Río Piedras, and traveled to the continental United States three times for summer research projects.
Now, as a graduate student in computer science at UC Santa Cruz, Morales is working to fulfill her goal of helping others with disabilities use technology to advance socially, academically, and professionally. It's a goal she began to pursue as an undergraduate, choosing computer science as a major so she could work on electronic assistive technology like the magnifiers she used during high school.
Continue reading full article here: http://www.soe.ucsc.edu/news/article/2304
###
Tagged UC Santa Cruz