Companies
Professional Drone Demo Day flies into La Selva Beach on Oct 5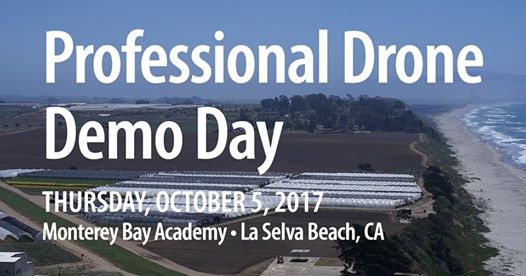 By Violet Smith
Professional Drone Demo Day
September 27, 2017 — La Selva Beach, CA
Live, In-Person, Drone-Flying Demonstrations by World-Renowned Industry Leaders
Professional Drone Demo Day (PD3)
Thursday, October 5, 2017, 10am-4pm
783 San Andreas Road, La Selva Beach, CA 95076
More info and purchase tickets here.
Professional Drone Demo Day (PD3) is a unique, one-day event offering participants first-hand exposure to world-class drone innovations. Top leaders in drone technology will be gathered along a single grass airstrip to fly their crafts along the majestic California Coast. Participants can engage with demonstrators in the event lounge and watch live demonstrations in the dedicated vendor-flying zones. Instead of watching videos, attendees can see the technology LIVE.
Professional Drone Demonstration Day is Different
PD3 allows participants to experience professional drones first hand. Unlike any other event, operators from industry-renowned drone manufacturers will be flying their platforms live to demonstrate ease of use, technology and workflow. Dedicated fly times and lounge areas provide attendees direct contact with manufacturers to gain insight into specific drone operational requirements, visualize the collected data and ask questions of vendor's representatives.
Schedule
9am: Gates Open
10am: Event Kickoff
10:30am: Drone Demonstrations and Data Displays Begin
3:45pm: Event Wrap up
4:30pm: Official offsite afterparty
Demonstrators Include:
DJI
AeroVironment
aerobotX
Transition Robotics
Fruity Chutes
InspecTools
Additional demonstrators to be announced
For more information, go to https://www.prodronedemo.com
###
Tagged Drones