Featured
Watch: What is the Treehouse Childhood Cancer Initiative?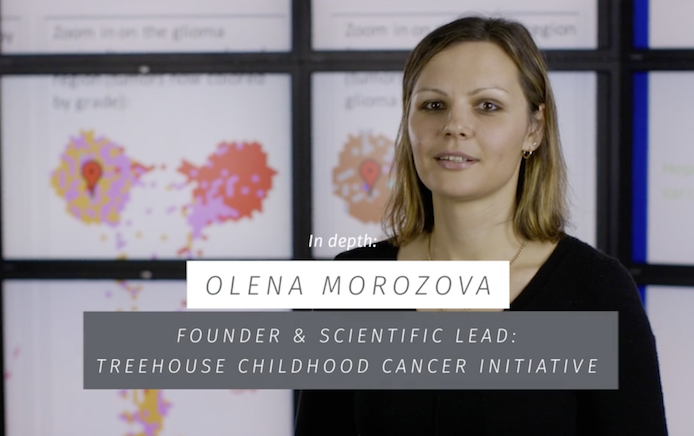 By Amanda Rotella
City of Santa Cruz Economic Development Department
August 16, 2017 — Santa Cruz, CA
In depth: Olena Morozova, Founder and Scientific Lead, Tree house Childhood Cancer Initiative
Living in Santa Cruz, it can be easy to forget that we have a world class research institution right in our backyard. If you don't interact with the University on a regular basis, you may not realize that there are BIG (we are taking gigantically important) things happening up at the University of California, Santa Cruz (UCSC). For instance, you may not know that UCSC is currently ranked 4th in the world for research influence, as measured by the number of times UCSC faculty's published work is cited by scholars around the world. You may also not know that there is a team up at UCSC who is taking on pediatric cancer. We sat down with Olena Morozova and David Haussler to learn more about their big thing: the Treehouse Childhood Cancer Initiative, which is working to better understand and better treat cancer in children.
AR: Please introduce yourself and describe what you do.
My name is Olena Morozova and I am the Founder & Scientific Lead at the Treehouse Childhood Cancer Initiative.
I'm David Haussler, I'm Director of the UC Santa Cruz Genomics Institute and have been a professor at UCSC for many, many years.
AR: What is the Treehouse Childhood Cancer Initiative?
Olena: The Goal of the initiative is to bring new hope to children with difficult to treat tumors through genomic analysis.
Continue reading article here: https://choosesantacruz.com/journal/2017/in-depth-genomics
###
Tagged City of Santa Cruz Economic Development Department, Genomics Institute, UC Santa Cruz