Featured
Alum gifts $3M for Open Source Research at UCSC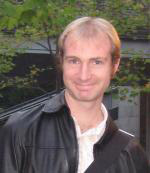 By Tim Stephans
UC Santa Cruz
May 22, 2015 — Santa Cruz, CA
(Photo above: Sage Weil earned his Ph.D. in computer science at UC Santa Cruz in 2007.)
Sage Weil, a UCSC alum who developed the Ceph data storage system, has established an endowed chair and provided an additional $2 million for research in open source software
UC Santa Cruz alumnus, Sage Weil, who developed his computer science Ph.D. thesis project into a highly successful open-source software product (the data storage system Ceph), has made major gifts to UC Santa Cruz providing a total of $3 million to support research in open-source software.
A $500,000 gift, plus matching funds from the UC Presidential Match for Endowed Chairs, will establish a $1 million endowment at UC Santa Cruz for the Sage Weil Presidential Chair for Open Source Software. Additional gifts totaling $2 million will support research in open-source software led by professor of computer science Carlos Maltzahn, who directs the Center for Research in Open Source Software (CROSS) at UC Santa Cruz.
The purpose of CROSS, Maltzahn said, is to enable more UC Santa Cruz students to do what Weil did and develop their graduate thesis projects or undergraduate senior projects into successful open-source software projects with vibrant user and developer communities.
"CROSS is bridging the gap between student research and open-source software projects," Maltzahn said. "A lot of students build a significant amount of software infrastructure during their thesis research, and these contributions are often lost because there are no resources for students to continue working on their projects after they graduate. The Sage Weil funds allow us to now incubate the most promising prototypes so that all these great student research projects don't get thrown away."
Continue reading article here: http://news.ucsc.edu/2015/05/sage-weil-gifts.html
###
Tagged UC Santa Cruz