Featured
UCSC receives $2.2 million for innovation and entrepreneurship program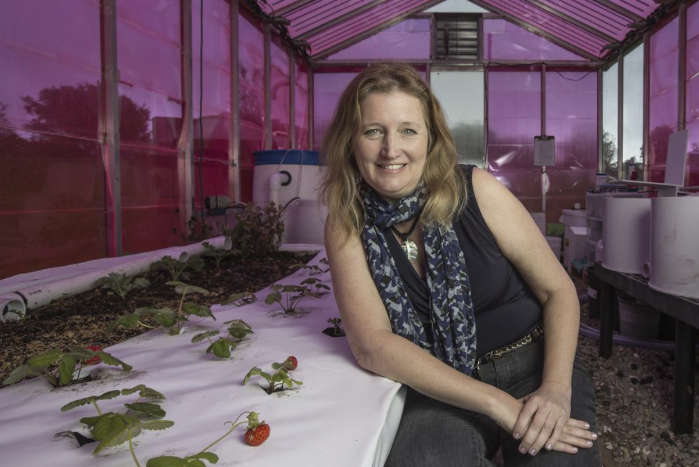 By Tim Stephens
UC Santa Cruz
January 18, 2017 — Santa Cruz, CA
(Photo above: Sue Carter, director of UC Santa Cruz Center for Innovation and Entrepreneurial Development, with a UCSC greenhouse made of solar panels by Soliculture, a company she founded. Credit: Vicki Thompson, SVBJ)
AB-2664 funds support a UC-wide effort to broaden the university's infrastructure and programs for bringing research innovations to the marketplace
With $2.2 million in state funding to expand its innovation and entrepreneurship efforts, UC Santa Cruz will launch a multi-faceted support program to help bring research innovations to the marketplace and spur economic development in the Santa Cruz area.
The Support Program for Long-term Innovation, Commercialization & Entrepreneurship (SPLICE) will include an incubator and an accelerator for start-up companies in Santa Cruz, a Silicon Valley incubator, an entrepreneurial training program for students, an internship program for arts students, and commercialization grants.
"We pulled together expertise from across the campus and the surrounding community to create a program that will provide experiential learning for students and support for entrepreneurs at different stages in the innovation cycle," said Mohamed Abousalem, assistant vice chancellor for research, industry alliances and technology commercialization. "The diversity of the activities in our program is unique. This is not a standard innovation and entrepreneurship program."
Several major components of SPLICE are focused on getting startup companies off the ground. The Startup Sandbox Incubator will provide wet-lab and office space, as well as training and mentoring, with a focus on the areas of biotechnology, health science, and agricultural technology. Ann Pace, senior director of research development for the UCSC Genomics Institute and co-leader of the incubator, said it will fill an unmet need of campus researchers for space where they can start companies.
"We get requests for this type of thing regularly," she said. "There are incubators in the Bay Area that are oversubscribed, with wait lists. We know people want to live and work in Santa Cruz, so it seems like a great fit."
Pace said the campus is looking at available spaces on the West Side of Santa Cruz to house the incubator. Also to be located on the West Side is Santa Cruz Accelerates, an accelerator led by local nonprofit Santa Cruz Works. Heather Putnam, executive director of Santa Cruz Works, explained that, while the incubator will serve companies in the early stages of product development, the accelerator will serve those that have a product and need help building their company and securing more funding.
"We have so much talent coming out of the university and already here in Santa Cruz, but if they don't get the support they need in terms of mentoring and funding, they leave, and that means we lose opportunities for job creation," Putnam said. "There are a lot of opportunities here, and the funding for this program came along at just the right time."
Each of UC's 10 campuses is receiving $2.2 million in one-time state funding to further innovation and entrepreneurship efforts as a result of Assembly Bill 2664, signed last fall by Gov. Brown. Each campus must provide matching funds from private sources. According to Abousalem, UC Santa Cruz has already secured interest and commitments from outside sources for more than $2.5 million to support SPLICE activities.
"For us as a smaller campus, this funding will enable us to have a significant impact, bringing more innovations from the research lab to the marketplace and supporting new ventures that will create jobs and promote economic growth in the community," Abousalem said.
With a focus on inclusion, SPLICE aims to increase the participation of students and entrepreneurs from underprivileged and underserved communities. In addition, parts of the program are specifically designed to encourage the involvement of students in the arts and humanities, such as an internship and training program led by arts dean Susan Solt (the Internship for Creative Entrepreneurship) and a broad-based IDEA Hub led by UCSC's Center for Innovation and Entrepreneurial Development (CIED).
"Innovation and entrepreneurship programs have typically focused on engineering students, but the problems they address and the solutions they come up with tend to be narrowly focused," said CIED director Sue Carter. "We want to also engage students in the social sciences, arts, and humanities who have different experiences to work with engineers and communities to bring a new set of ideas for problems we should be solving."
SPLICE also includes a Silicon Valley Startup Incubator (SVLink) based at the UCSC Silicon Valley Campus. Led by Tedd Siegel, assistant vice chancellor for research, strategic initiatives, SVLink will partner with multi-campus organizations such as CITRIS and QB3 to offer selected startups office space and related infrastructure, networking opportunities, mentoring, and other services.
The Launchpad component of SPLICE, led by the Office of Research, will offer competitive grants of $5,000 to $15,000 to UCSC entrepreneurs with innovative technology product ideas. This will be overseen by a new position in the Office of Research for a commercialization officer, who will serve as the primary contact for members of the campus community who want to take advantage of the new opportunities and services available through SPLICE.
Additional information about the SPLICE program will be made available on the Office of Research web site at officeofresearch.ucsc.edu.
###
Tagged CIED, UC Santa Cruz