Companies
So what the hell is Magic Leap doing?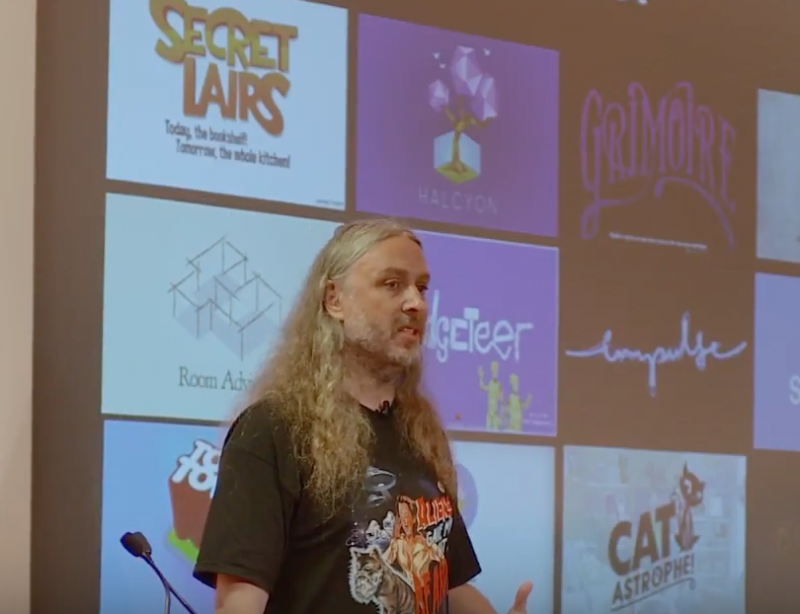 By Matthew Handrahan
GamesIndustry.biz
July 13, 2017 — Brighton, England
(Photo above: Magic Leap's Graeme Devine gives the opening keynote of Develop 2017 on July 11, 2017. Source: YouTube.)
[Editor's note: Magic Leap used to have a development office in Santa Cruz, so this might be of interest to Santa Cruz Tech Beat readers.]
Graeme Devine describes the pitching process that helped Magic Leap discover the true nature of mixed reality content
Magic Leap's Graeme Devine opened his talk at the Develop conference in Brighton this morning (7/11/17) with the one thing that nobody in the audience wanted to hear.
"I'm not going to talk about Magic Leap hardware, Magic Leap products, Magic Leap whatever else," he said, to a small but audible sigh of disappointment.
However, Magic Leap's "chief games wizard" didn't lift the veil on exactly what the secretive company is working on, he did offer an insight into the process by which it came to understand what "mixed reality" actually means, and discovered new creative leaders within its ranks. Midway through his talk, Devine posed a question that many in the world of tech and games has no doubt pondered in the last few years: "So what the hell is Magic Leap doing?"
"At Magic Leap, we believe that mixed reality is the platform that will define the world for generations to come," Devine said. "That it will change humanity, and make humanity better."
First, though, it had to define what Mixed Reality content would actually look like; a process, Devine pointed out, that took media like television and radio decades to refine and perfect. Mixed Reality will go through a similarly protracted evolution, and the evidence that we are in the very early days could even be found within the walls of a bleeding edge company like Magic Leap.
"A lot of people today confuse mixed reality with augmented reality, but mixed reality is completely different," Devine said. Yet that difficulty in drawing a line between MR and AR existed at Magic Leap even three years ago, according to Devine's account, bringing it into line with the company's $542 million series B funding round.
Watch a clip from the opening keynote of Develop 2017 in which Magic Leap's Graeme Devine talks about some of the prototypes they've been developing.
Continue reading article here: http://www.gamesindustry.biz/articles/2017-07-11-so-what-the-hell-is-magic-leap-doing
###
Tagged Graeme Devine, Magic Leap