Companies
Google rumored to lead in $500M investment in Magic Leap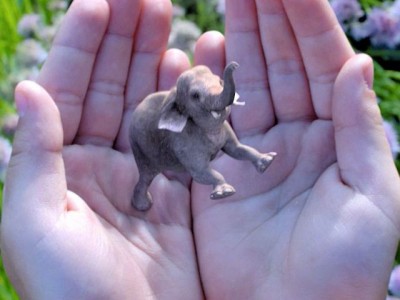 [Editor's note: Although the news about Google investing heavily in Magic Leap has been spread widely in the past week, the only source of the information at press time appears to be this Recode article. All other lips are sealed. For more background, read Business Insider's Here's Everything We Know About Magic Leap, The Crazy-Sounding Startup Google Might Invest Hundreds Of Millions In]
by Liz Gannes and Peter Kafka
Recode
Google and other investors are planning a huge investment in Magic Leap, a secretive but boastful company building hardware and software it says will deliver "cinematic reality."
Sources say Google is leading what could be a $500 million funding round for the Florida-based company; Andreessen Horowitz may be one of the other investors in the consortium. Magic Leap already announced $50 million in funding earlier this year.
Google, Andreessen Horowitz and Magic Leap reps declined to comment.
Aside from a few cryptic interviews and press releases, Magic Leap has kept a low profile until recently, but it has drawn increasing interest from Hollywood and Silicon Valley. CEO Rony Abovitz, who previously co-founded a surgical robotics company that sold for $1.65 billion, has said the company is working on "what we believe will be the most natural and human-friendly wearable computing interface in the world," but has kept it mostly behind wraps.
Abovitz and Magic Leap have given some hints about what they're working on, though: They say they can deliver a more realistic 3-D experience than the kind offered by current technologies, including Oculus Rift, the 3-D headset; Facebook bought Oculus VR for $2 billion earlier this year.
On Oculus Rift and pretty much every other virtual and augmented reality experience, what the viewer sees is flat and floating in space at a set distance. What Magic Leap purports to do is make you think you're seeing a real 3-D object on top of the real world.
"Those are old terms — virtual reality, augmented reality. They have legacy behind them. They are associated with things that didn't necessarily deliver on a promise or live up to expectations," Abovitz told the South Florida Business Journal earlier this year. "We have the term 'cinematic reality' because we are disassociated with those things. … When you see this, you will see that this is computing for the next 30 or 40 years. To go farther and deeper than we're going, you would be changing what it means to be human."
Talking to industry sources and parsing what's been said publicly, here's what we think we know: Magic Leap will show you super-high-resolution images right in front of your face, probably by projecting them onto your eye from some sort of glasses. There will be different angles and depths that you can see when you adjust your focus — kind of like a Lytro camera.
The benefits of this approach seem to be that Magic Leap could combine virtual objects with the real world so they are more immersive, possibly less sickness-inducing, and maybe even possible to be shared with other people.
Magic Leap calls this "a 3-D light sculpture" and "a rocketship for the mind."
Continue reading full article here: http://recode.net/2014/10/13/google-is-set-to-lead-a-huge-investment-in-magic-leap-a-company-that-says-it-can-deliver-cinematic-reality/
Tagged Magic Leap, magicleap