Companies
AgTech From Above: Fields and Drones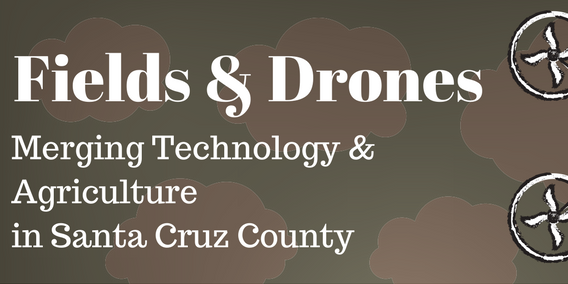 By Chris Bley
CEO, InspecTools
Special to Santa Cruz Tech Beat
May 1, 2017 — Santa Cruz, CA
Fields & Drones: Merging Technology & Agriculture in Santa Cruz County

Sunday, May 7, 2017, 2-4:30pm

Monterey Bay Academy, 783 San Andreas Road, Watsonville, California 95076

Purchase tickets here.
One segment of AgTech is from above
California is recognized throughout the world as one of the richest agriculture locations. Due to its proximity to Silicon Valley, the Central Coast of California will be a leader in combining agriculture and technology, otherwise known as Ag-Tech. One segment of AgTech is from above. Due to new aerial data collection, sensor and software innovations, growers now have new tool and the ability to gain a bird's eye perspective. The use of manned aircraft and drones will play a major role in observations and/or applications of fertilizers, herbicides, pesticides or natural products to crops. We have all seen fixed wing planes or helicopters crop dusting large areas with agriculture substances. Yet, in certain circumstances, there are more efficient strategies. Few people know that the Japanese have been using drones for several decades to perform these tasks effectively. Smaller plots combined with strategic applications have enabled the drone industry to develop and thrive in Japan. In China, there is no history of using manned-aircraft for crop dusting, thus they are now increasing the use of drones instead manual applications. In addition to drones applying substances on fields, visual images with specialized sensors are being used to capture crop's condition. These strategies vary from satellites to small drones, providing various types and resolutions of insights.
Are all drones created equal and who will operate them?
There are generally two varied types of drones, toys and military. All commercial applications require a drone type that is more robust and effective than toy drones, yet less than the what is used by the military. In addition to the drone hardware, skilled and trained individuals are required for the successful operations of drones in the National Air Space (NAS). Concerns of this burgeoning industry include: sharing airspace with other manned aircraft, protecting personal property, safety of people on the ground and privacy. Other needed skills include drone maintenance, data processing, analysis, gleaned insights and actions to be taken. In all segments of AgTech, the introduction of technologies will require a shift in skillsets required by field workers. A similar transition has already taken place in vehicle manufacturing, what was once a manual process is now primarily automated. With California's AgTech focus, new technologies and the workers needed to support them will play a significant role in many aspects of our food production.
During Fields and Drones, we will explore the intersection of drones, agriculture and skilled workers to accomplish these tasks at the Monterey Bay Academy on May 7, 2017. There will be an expert panel discussion and there will be drone demonstrations. I hope you can join us.
###
If you wish to republish this article, please follow our Terms of Use.
###
Tagged agtech, Drones, InspecTools