Companies
Speaker lineup announced for 4th annual Forbes AgTech Summit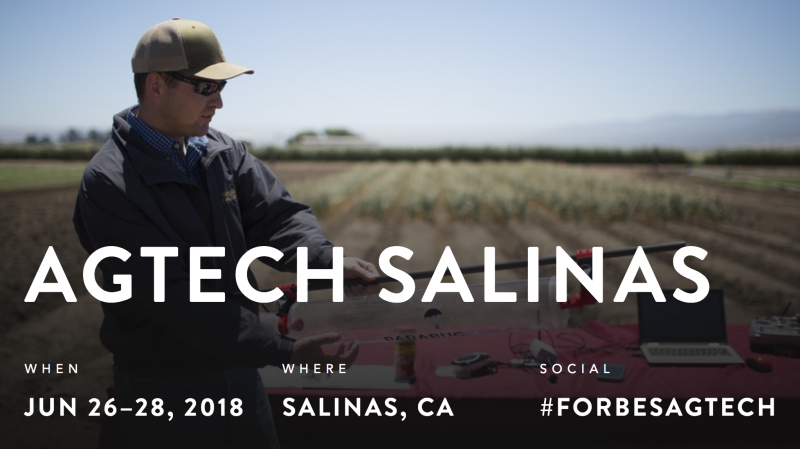 (Contributed)
June 12, 2018 — Salinas, CA
Speakers include The Honorable Stephen Censky, US Deputy Secretary of Agriculture; Steve Forbes, Chairman & Editor-In-Chief of Forbes Media; Bruce Taylor, Founder & Chief Executive Officer, Taylor Farms; Dr. John P. Purcell, Global Vegetables R&D Lead, Monsanto; Neal Gutterson, Ph.D., Chief Technology Officer, Corteva Agriscience; Dan Harburg, Venture Associate, Anterra Capital; Katie Forrest, Co-Founder, Epic  Provisions; Mark Young, Chief Technology Officer, The Climate Corporation, among many others
Forbes today announced the speaker lineup for the 2018 Forbes AgTech Summit, June 26-28, Salinas
The Summit has grown into the premier industry gathering focused on AgTech innovation and will again bring together over 600 global agriculture leaders and entrepreneurs to tackle some of the world's most critical challenges by focusing on solutions that growers and processors can put to work in their fields and plants.
Held once again under the big tents on historic Main Street Salinas — where the Silicon and Salinas Valleys meet — the Summit will foster lively debate and generate rich networking opportunities while challenging minds to think bigger and bolder. This event will thoroughly explore the most important issues in AgTech including AI, big data, blockchain, crop protection, labor, microbiome, robotics, sustainability, vertical farming, water and a host of other topics. In addition, participants will have the opportunity to visit fields and processing plants where they'll experience first-hand the technology innovations that are revolutionizing the global agricultural ecosystem.
The Forbes AgTech Summit will kick off the evening of June 26, 2018, with the invitation-only Western Growers Innovation Showcase Opening Dinner. The next morning, Wednesday, June 27, Summit participants who have pre-registered can enjoy exclusive tours of Taylor Farms, Monterey Materials Reclamation Facility, Mantis Ag Technology, Scheid Vineyards or Driscoll's. The tours will conclude with an afternoon of field demos at Hartnell College's Alisal Campus. The Innovation Showcase and the Plenary Sessions will follow under the summit's signature white tents on Main Street Salinas, where The Honorable Stephen Censky, United States Deputy Secretary of Agriculture, will participate in the opening conversation with Steve Forbes.
The Innovation Showcase continues to expand and will feature 75 of the most exciting agtech startups offering a wide variety of solutions to the challenges of achieving higher crop yields and less food waste. Showcase presenters include AGERPoint, Crop X, Farmers Business Network, moAsis, Produce Pay, Sample6, SWIIM and Trace Genomics.
Speakers include:
·         Charlie Andersen, CEO, Augean Robotics
·         Matt Barnard, Co-Founder & CEO, Plenty
·         Todd Berg, Director, Product Management & Customer Success, HarvestMark Division of Trimble
·         Sarah Bloch, Senior Scientist, Pivot Bio
·         Kyle Bridgeforth, Fifth Generation Farmer
·         Anna Caballero, Assembly Representative, State of California
·         The Honorable Stephen Censky, United States Deputy Secretary of Agriculture
·         Irving Fain, Co-Founder & CEO, Bowery Farming
·         Steve Forbes, Chairman & Editor-in-Chief, Forbes Media
·         Katie Forrest, Co-Founder, Epic Provisions
·         Pål Johan From, Head, Robotics & Control Group, Norwegian University of Life Sciences
·         Curtis Garner, Senior Farm Analyst, Bowles Farming Company
·         Hank Giclas, SVP, Western Growers
·         The Honorable Joe Gunter, Mayor, City of Salinas
·         Neal Gutterson, Ph.D., Chief Technology Officer, Corteva Agriscience
·         Dan Harburg, Venture Associate, Anterra Capital
·         John Hartnett, Founder & CEO, SVG Partners
·         C. Wayne Honeycutt, Ph.D., President & CEO, Soil Health Institute
·         Scott Komar, SVP, Research & Development, Driscoll's
·         Willard Lewallen, Ph.D., Superintendent & President, Hartnell Community College District
·         Paul Lightfoot, CEO, BrightFarms
·         Suzanne Livingston, Food TrustTM Offering Director, IBM
·         Vivek Nayak, Co-Founder, TerraClear
·         Paul Noglows, Creator and Executive Producer, Forbes AgTech Summit
·         Megan Nunes, Founder & CEO, Vinsight
·         Mark Oshima, Co-Founder & Chief Marketing Officer, AeroFarms
·         Poornima Parameswaran, Co-Founder & President, Trace Genomics
·         Shami Patel, CEO, LumiGro
·         John Purcell, Global Vegetables R&D Lead, Hawaii Business Lead, VP and Distinguished Science Fellow, Monsanto Company
·         Josh Ruiz, VP of Ag Operations, Church Brothers
·         Daniella Dimitrova Russo, Founder & CEO, Think Beyond Plastic
·         Leo Sanchez, CEO, Lazy Millennial Farms
·         Steve Saunders, Founder, Owner & Managing Director, Plus Group
·         Tyler Scheid, Project Manager, Scheid Vineyards
·         Bruce Taylor, Founder & CEO, Taylor Farms
·         Kip Tom, CEO, Tom Farms
·         Rob Trice, Founder, The Mixing Bowl
·         Carl Vause, CEO, Soft Robotics
·         Matt Watson, Director of Technical Development, Mantis Ag Technology
·         Mark Young, Chief Technology Officer, The Climate Corporation
The City of Salinas is the Host Partner. Western Growers is the Innovation Showcase Sponsor. Monsanto is the Presenting Sponsor. Corteva Agriscience, and Indiana Economic Development Corporation (IEDC) are Partner Sponsors. Salinas Business Leaders include Driscoll's, Hartnell College, HarvestMark – Trimble, Intel Corporation, Mantis Ag Technology, Motivo, Rabobank, N.A, Taylor Farms, Wells Fargo and Yamaha Motor Ventures. Scheid Family Wines is the Official Wine Partner. Monterey County Convention & Visitors Bureau is the Official Travel Partner. Better Food Ventures and The Mixing Bowl are Program Partners. The Founding Partner of the Forbes AgTech Summit is SVG Partners and its Thrive Accelerator.
The Forbes AgTech franchise continues to grow and will be bringing the Forbes AgTech Summit to Indianapolis September 26 and 27, 2018. Indiana Economic Development Corporation and AgriNovus Indiana will be Host Partners for the event.
For more information, please visit https://www.forbes.com/forbes-live/event/agtech-summit-2018/. Follow the conversation on Twitter via #ForbesAgTech.
###
Tagged agtech, Forbes, Salinas, Western Growers