Companies
Salinas hopes to turn farm workers' children into computer scientists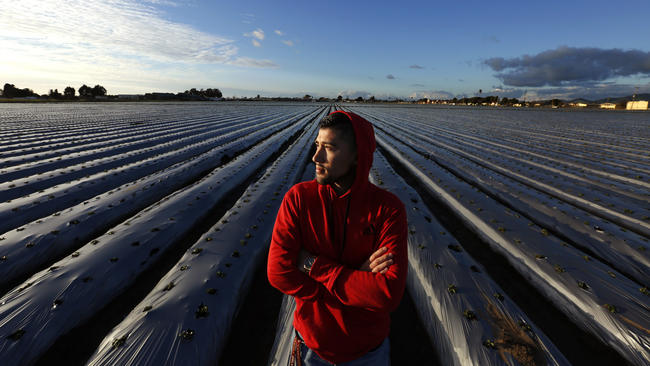 By Geoffrey Mohan
LA Times
February 11, 2016 — Salinas, CA
(Photo above: Now a college student, Dario Molina, 22, stands among the fields of Salinas where he used to work as a day laborer. Source: LA Times)
Salinas is trying to reboot itself as the agricultural technology center of California
Dario Molina's alternative life scrolls by on both sides of Highway 101 north: acre upon acre of lettuce, spinach, heartbreak.
Not me, he thinks. Not anymore.
"Sometimes I reminisce," Molina says. "Damn, I remember working in that field. I remember that heat … that song. Now I'm just thinking, I just want to get over this."
He tucks a water bottle between his back and the driver's seat of his 1996 Civic to keep his lumbar muscles from stiffening as towns drift by: Greenfield, Soledad, Gonzalez, Chualar. Each as poor as the next. He turns east on an old farm road, then north, until the fields wash up against the east side of Salinas.
There, at Hartnell College's Alisal campus, Molina settles behind his laptop, deft fingers furiously typing code like they were still plucking chiles, feeding bucket after bucket onto a packing machine that advances steadily on his heels.
He's there by 8:30 a.m., 15 minutes early for his first class. He'll stay until 10 p.m., later if they didn't kick him out. Weekends when he can. Holidays.
Dario Molina, 22, is in a hurry to outrun his past.
So, too, is Salinas.
With one foot in its fields and another edged toward Silicon Valley, Salinas is trying to reboot itself as the agricultural technology center of California. It hopes to turn the sons and daughters of farmworkers, like Molina, into coders for the next generation of data-driven, automated farming in a valley known as the salad bowl of the world.
Continue reading article here: http://www.latimes.com/business/la-fi-salinas-ag-tech-20160207-story.html
###
Tagged agtech, Hartnell College, Salinas