Companies
This Is Neat: Billionaire Vinod Khosla Is Betting On A Handheld Diagnostic Test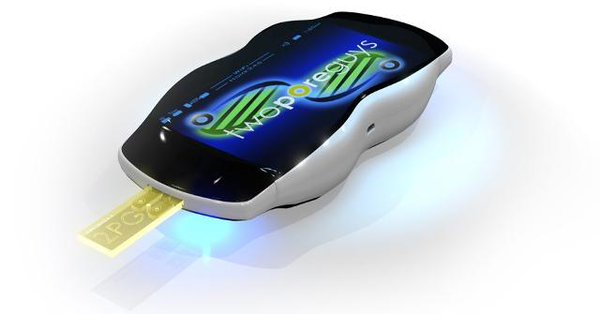 By Matthew Herper
Forbes
April 25, 2017 — Santa Cruz, CA
(Above: Photo of diagnostic device. Source: Two Pore Guys)
Vinod Khosla, the billionaire Sun Microsystems founder and venture capitalist, is today leading a $24.5 million financing of a whimsically named diagnostic company, Two Pore Guys, that he says could fulfill a long-held goal: making the blood test business more like the software industry.
Wait, didn't we just hear this story? The field of diagnostics just had one of its most dramatic scandals in Theranos, which was valued at $9 billion by its investors, who then saw that evaluation evaporate in a cloud of vaporware and scandal. Part of the problem, many VCs have said, is that diagnostics is just a tough business. But Khosla, the founder of Khosla Ventures, insists Two Pore Guys, which utilizes a technology called a nanopore to detect chemicals with high sensitivity, is the real deal.
"What Silicon Valley is good at is taking an old idea and doing it so much better with new breakthrough science that it becomes an attractive platform just when everybody thought it's not interesting," says Khosla, "If lots of people have ways to do the same technology, then it's going to be a crappy business. If you have a proprietary way of doing it, then it's going to be a great business. This is proprietary and dramatically changes the economics of testing for almost anything, and not just DNA: DNA, RNA, proteins, small molecules, it could test any of those things."
Here's the outline of the Two Pore Guys story, according to chief executive and cofounder Daniel Heller: William Dunbar, a UC Santa Cruz professor, had codeveloped a biological nanopore that was licensed to Oxford Nanopore, a company valued at $1 billion that is using nanopores to sequence DNA. Dunbar had hatched a cheap nanopore that could be made entirely out of silicon. Instead of working on DNA sequencing, which looked like a saturated market, Dunbar and Heller chose to focus on using the nanopore to detect small bits of DNA, or other substances like antibodies.
Continue reading here: https://www.forbes.com/sites/matthewherper/2017/04/25/this-is-neat-billionaire-vinod-khosla-is-betting-on-a-handheld-diagnostic-test/#124a7b69449a
###
Tagged genomics, Genomics Institute, Two Pore Guys, UC Santa Cruz