Companies
Pore Strength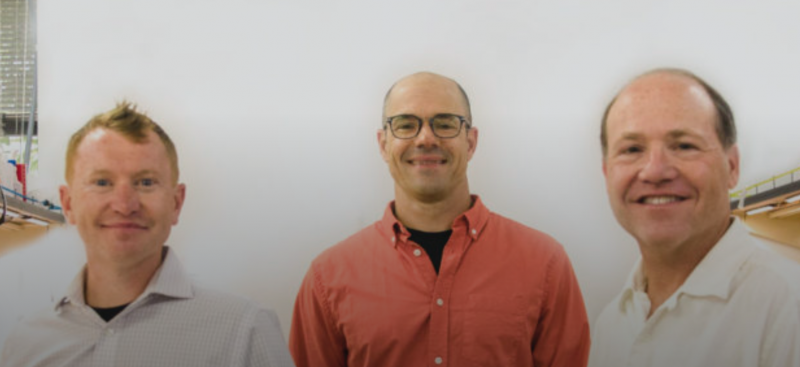 By Peggy Townsend
UC Santa Cruz
October 24, 2017 — Santa Cruz, CA
(Photo above: Left to right: Trevor Morin, chief scientific officer, biochemistry; William Dunbar, chief technology officer, nanopores and analytics; and Dan Heller, president and CEO. Credit: C. Lagatutta)
A company with UC Santa Cruz roots called Two Pore Guys has created a biosensing device that may revolutionize the way we do medicine and live in our environment
It was early 2010 and Bill Dunbar paced the hallway between his office and his lab in UC Santa Cruz's Engineering 2 building.
A lanky surfer and a drummer with a Ph.D. in feedback control theory, a backbone technology of self-driving cars, Dunbar had come to UC Santa Cruz in 2004 to help bolster the university's robotics degree program.
But a year after he arrived on the wooded campus, Dunbar met David Deamer and Mark Akeson, two UC Santa Cruz professors who were pioneering a way to sequence DNA strands faster and less expensively by using electronic voltage to pull each molecule through a microscopic hole called a nanopore. They had a problem they thought Dunbar might be able to solve.
The quandary Dunbar faced as he stalked that fluorescent-lit hall was that DNA molecules zipped through the nanometer-scale hole like bullets through a gun barrel, making them hard to read. Was there a way to slow them down and maybe even move them back and forth so you could decipher them with real accuracy?
That's when an idea hit.
Self-driving cars needed two separate functions to get someone safely from Point A to B. There were the sensors that gathered information like your location, your speed, and the moment the idiot driver in front of you suddenly hit the brakes. Then there were the actuators: the steering, the accelerator, and the braking.
Why not use two nanopores, one as a kind of actuator and the other as a sensor, to slow down and control the molecules in order to read them, Dunbar thought.
It was a great idea, but it needed time to develop. Deamer and Akeson's team ended up using another method that was licensed by DNA sequencing company Oxford Nanopore Technologies, which created a series of genome sequencing systems. But the two-pore notion stuck with Dunbar.
Fast forward seven years, and Dunbar's idea became the seed of a company that has created a biosensing device that may revolutionize the way we do medicine and live in our environment.
Continue reading article here: http://magazine.ucsc.edu/2017/10/pore-strength/
###
Tagged genomics, Two Pore Guys