Companies
HANSNAP is close to closing investment round ("the market conditions are perfect")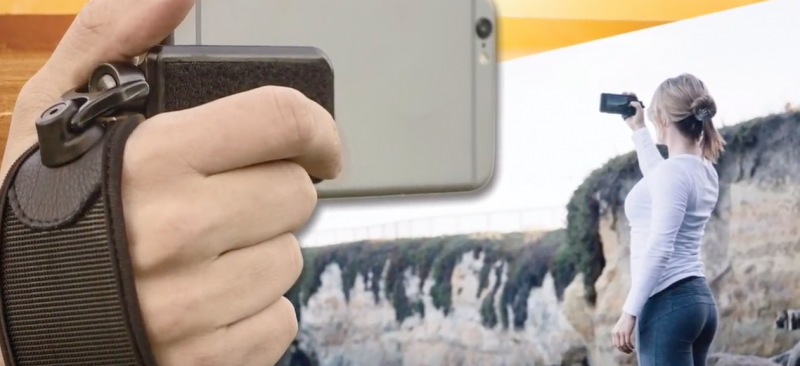 By Sara Isenberg
Founder, Publisher, Editor-in-Chief, Santa Cruz Tech Beat
April 20, 2017 — Santa Cruz, CA
"We are working to be perfectly positioned to snag a chunk of the ~$30 Billion going into accessories between September – December 2017"
Justis Earle, CEO of Santa Cruz-based HANSNAP, Inc. reports that HANSNAP is close to closing an investment round, and according to Earle, "the market conditions are perfect!"
HANSNAP is "the world's first hand-mounted smartphone filming system." It folds onto the back of your hand for quick access and allows for hands free filming.
Here are some additional highlights from Earle:
HANSNAP now has an official partnership with OtterBox, the #1 selling phone case in North America. (OtterBox also took HANSNAP to CES Las Vegas in January 2017).
HANSNAP now has a team that includes several members from top tier phone accessory companies. Two are executive level advisors from the top tier phone case company, Speck Products.
HANSNAP's seven-SKU product line includes a "simple but sexy"  blue tooth wearable! (When asked, Earle replied that he was intentionally obscure because these products are not ready to be released to the public yet.)
"The iPhone 8 coming out in September is rumored to be a DSLR camera-killer. We are working to be perfectly positioned to snag a chunk of the ~$30 Billion going into accessories between September – December 2017!!!" Earle says. He adds, "We have several written commitments to fulfill our current round of funding, however, we are still fielding investment inquiries (min. $10K) until the round is officially closed."
Want the background? Santa Cruz Tech Beat published a pre-kickstarter article, Doesn't This Already Exist? (11/12/15) and Mosh Pit Entrepreneur Invents Smartphone Device While Crowd-Surfing (12/17/14).
Here is their 2015 Kickstarter video from 2015:
Interested in investing? Contact Justis Earle at Justis@HANSNAP.com or call 831.332.1631.
###
If you wish to republish this article, please follow our Terms of Use.
###
Tagged Hansnap