Companies
Santa Cruz Owns Its Brand at Titans of Tech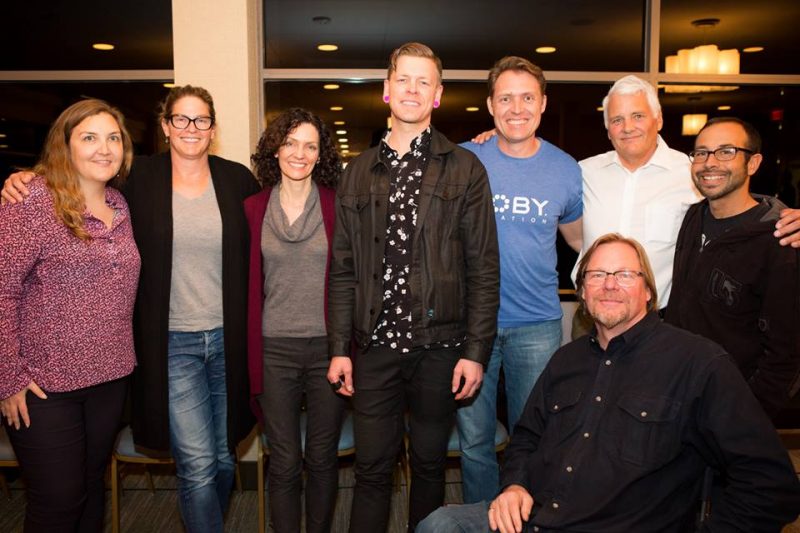 By Tatum Whitehead
Student, Pacific Collegiate School
Special to Santa Cruz Tech Beat
January 29, 2018 — Santa Cruz, CA
(Photo above: Speakers at Titans of Tech held on January 25, 2018. Left to right, back: Keri Waters, Heidi Schriefer, Bonnie Lipscomb, Justis Earle, JoeBen Bievert, Doug Erickson, Jeremy Almond. Front: Darrin Caddes. Source: Santa Cruz Works)
A hotbed of creativity and ingenuity
Those of us lucky enough to live in Santa Cruz know the town is much more than just pretty beaches. It's a hotbed of creativity and ingenuity. As Ted Holladay puts it, "Santa Cruz owns its brand."
Our unique brand is a result, partly, of our close proximity to Silicon Valley. We're surrounded by famous tech giants, titans so to speak, and it's no surprise Santa Cruz has accrued some titans of its very own. As a high school student trying to figure out what college I want to attend, and what I want my major to be, I thought I would ask a few of our titans if they knew what career they wanted to pursue when they were in my shoes. Plus, Keri Waters of Buoy Labs, accepted into Massachusetts Institute of Technology (MIT) by the age of 16, was making me feel like a slacker.
I caught up with a few of these titans at the Second Annual Titans of Tech event held last week to find out. The event was hosted in celebration of the flourishing tech environment here in Santa Cruz.
There wasn't a free chair in the Dream Inn the and room was alive with conversation. "These are my people and I miss them," said Jeremy Neuner, one of the co-founders of NextSpace who now works at Google, when I asked why he attended the event.
After the initial social hour, each speaker had four minutes to present the inspiration behind their innovations. What inspires them to do what they do and create what they create?
Jeremy Almond, Co-founder of Paystand; Ted Holladay, Founder of Studio Holladay; Darrin Caddes, VP of Corporate Design at Plantronics; Justis Earl, Founder of HANSAP; Bonnie Lipscomb from the City of Santa Cruz Economic Development; Doug Erikson, Founder of the Santa Cruz New Tech MeetUp; and Heidi Schriefer, VP of People and Places at Looker, along with JoeBen Bevirt the inventor behind Joby Aviation — all put forward their personal anecdotes of inventiveness.
"Santa Cruz is THE BEST place on the planet to build a company," said Keri Waters.
I asked Darrin Caddes if he knew he would go into audio technology when he was my age. Like many others, he didn't, "But I knew I wanted to express myself creatively in my work."
Bonnie Lipscomb explained that getting to where she is now was not a clear-cut path. "It was the little steps along the way that connected my initial interest in cultural anthropology to building communities."
As we enter the new year and my peers and I decide what the next chapter of our lives will entail, it was inspiring to hear the success stories of our local entrepreneurs, and after witnessing the emcee, Matthew Swinnerton, do the worm across the floor of the Dream Inn — a self-induced penalty because the event went beyond his scheduled end time — I realized these titans were human.
###
Tagged Buoy, City of Santa Cruz Economic Development Department, Hansnap, Joby Aviation, Looker, PayStand, Plantronics, Santa Cruz New Tech Meetup