Companies
Looker named one of SVBJ's "Best Places to Work in the Bay Area 2017"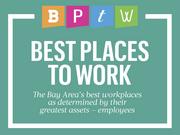 By Cromwell Schubarth
Silicon Valley Business Journal
April 19, 2017 — Santa Cruz, CA
[Editor's note: SVBJ's newly announced list of Best Place to Work in the Bay Area 2017 includes Santa Cruz-based Looker.]
Surf's up: Looker makes the most of beach location to draw employees from both sides of the mountains
Surf-loving techies looking to catch a break may find what they are looking for at big data analytics startup Looker in Santa Cruz.
The five-year-old company offers a variety of clubs for its employees, including one that heads to the ocean a couple miles away when the surf is good.
"All of a sudden at 3 o'clock you'll see a bunch of people leave for the beach," said Heidi Schriefer, Looker's vice president of people and places. "Our reaction is, 'Great, hurry up before the surf is gone.'"
Between 30 and 40 of the company's 300 workers are in the club, which Looker subsidizes by helping to pay for boards and wetsuits. It also pays for rentals of mountain bikes for a bigger group that likes to go for a ride once a week.
"We find the things that our employees like to do that are group-related and we'll support those so that people can continue to have interaction outside of work," Schriefer said, adding that another one just likes to play board games. "Those build the relationships of trust that carry over into the work and make this place so special."
Every employee, regardless of where they work around the world, comes to Santa Cruz for a two-week orientation.
"It's a lot of fun when people come in from London or Dublin or other places, where they don't have a lot of experience with surfing, and see them suddenly running out of here with a wetsuit and a surf board tucked under their arm," Schriefer said.
Being on the west side of the Santa Cruz Mountains isn't all fun and games, however, as hours and days of road closures due to mudslides showed.
But Looker has established an office in San Francisco where people from the "other side of the hill" can work when they need to or want to. In general, all Bay Area employees are expected to work in Santa Cruz at least two or three days each week.
Continue reading article here: http://www.bizjournals.com/sanjose/news/2017/04/18/best-places-to-work-looker-mid-size.html
###
Tagged Looker