Companies
Salinas AgTech summit nets record crowd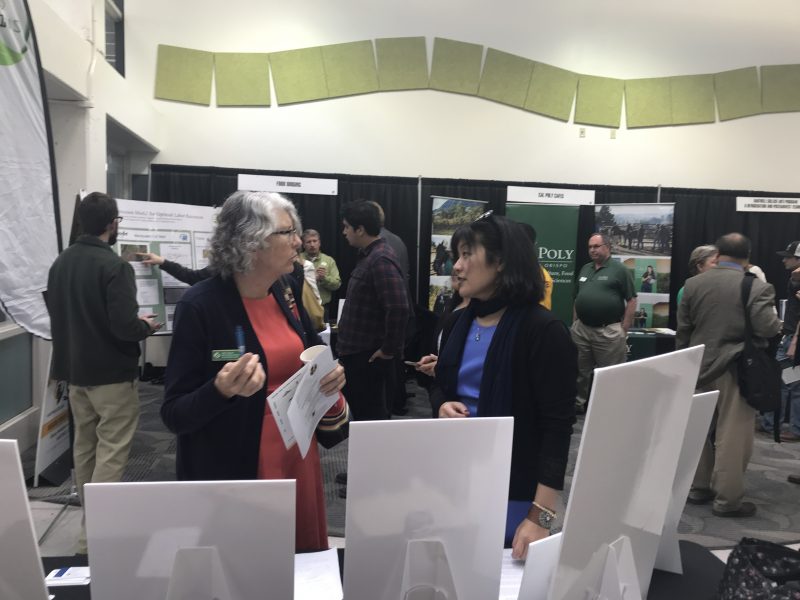 By Amy Wu
The Californian
March 29, 2018 — Salinas, CA
(Photo above: A scene from the 5th Salinas Valley Ag Tech Summit at Hartnell College. Credit: Amy Wu)
Salinas Valley Ag Tech Summit drew nearly 750 attendees, many of them members of the agriculture industry or farming students keen to learn about the latest technologies and trends in the industry. The daylong event was held at Hartnell College's Alisal Campus, where the majority of Hartnell's agriculture programs are based.  In 2016 there were roughly 425 attendees.
Participation also saw a spike this year with 61 vendors compared to 44 in 2016.
"I truly believe we have reached a point where opportunity in agtech has reached a tipping point.  It is real and it's here to stay," said Steve McShane, a lead organizer for the summit since it launched in 2013. "The most impressive part to the event today was the focus on farmers. By offering continuing education credit to growers and pest control advisors, we truly have organized a conference where the rubber hits the road in Salinas Valley agriculture."
McShane represents District 3 on Salinas City Council; his business, McShane's Nursery, is a major event sponsor.
Panel topics this year ranged from how data from agtech can be used, to trends in automation, robotics, and ergonomics, to how agtech entrepreneurs and the agriculture industry can work more closely together. The event was free and open to the public.
For many, it was an educational opportunity since it did offer continuing education credits to growers and pest control advisors.
Continue reading article here: https://www.thecalifornian.com/story/news/2017/04/12/agtech-summit-salinas-draws-record-crowds/100405896/
Infobox
AgTech season is here in Salinas and it comes with a growing number of conferences. Here are some conferences or recent conferences where there has been a Salinas connection.
###
Tagged agtech, Hartnell College, Salinas Valley