Companies
Lots of Looker at March 1 Tech Meetup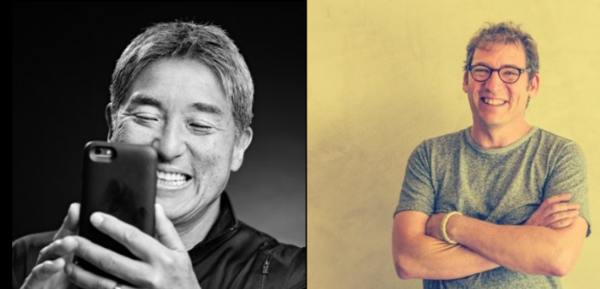 By Sara Isenberg
Publisher, Founder, Editor-in-Chief, Santa Cruz Tech Beat
February 17, 2017 — Santa Cruz, CA
(Photo above: Guy Kawasaki, left, will moderate a Fireside Chat and Q&A discussion with Looker Founder, Lloyd Tabb. Source: SCNTM)
Learn about Looker, their solutions, their customers, their culture, their explosive growth and plans to hire 50+ more employees in Santa Cruz (and 100+ more globally) in 2017. Guy Kawasaki will moderate a panel discussion.
Santa Cruz New Tech Meetup
Wed March 1, 2017
Doors open at 5:30pm, presentation starts at 7pm
Hotel Paradox
RSVP here.
$15 (pay at the door, cash or credit card). $5 for students (UCSC, Cabrillo, CSUMB, high schools, etc) with valid IDs.

Doors open at 5:30 for food, beverage, networking, and live music by Cruz Control + special guest vocal artist Kelly Payne.
Organizers Doug and Amanda kick off the event at 7pm with special announcements and a game. (TIp: Answers to the game/quiz questions frequently come from Santa Cruz Tech Beat so read up if you want to win!). Winner will get gift certificates from Current eBikes.
Here's the lineup:
Looker CEO, Frank Bien, will share his thoughts on Looker today as we enter the era of the data platform.
Looker CMO, Jen Grant, will demo (via video) LookVR.
Customer demos on how Looker is used:

Community Technology Alliance – Learn how they use Looker to develop data-driven solutions to help end homelessness and poverty in Santa Cruz County and beyond.
Strava – Find out how data has become the food of serious athletes.
Asana – Alison Harmon will discuss how social advertising benefits from Looker insights.

Fireside Chat & Q&A: Guy Kawasaki will moderate a discussion with Looker Founder, Lloyd Tabb.
As always, mingle with 400+ fellow entrepreneurs, investors, bloggers, and tech enthusiasts. Entry fee includes appetizers and LIVE MUSIC.
###
Tagged Looker, Santa Cruz New Tech Meetup