Companies
Slack Your Data: Looker Releases Slack Integration

(Contributed)
March 17, 2016 — Santa Cruz, CA
Lookerbot is first analytics bot for Slack that makes every conversation in Slack data-driven in real-time
Looker, the company that is powering data-driven businesses, today announced Lookerbot, the first enterprise data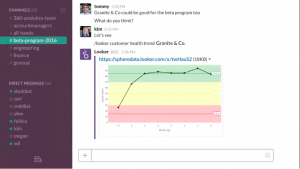 platform to integrate with Slack. Lookerbot makes enterprise collaboration more efficient by bringing real-time insights into any conversation in Slack, eliminating the need to shuffle through applications looking for information. Lookerbot is available immediately.
"Data has been something people do out-of-cycle. Data needs to be part of the conversation, no matter where it's happening," said Frank Bien, CEO of Looker. "The world is moving on from the current swath of business intelligence tools that simply report a view of the past in a kludgy user interface. Accessing current data in collaboration tools like Slack helps everyone make better business decisions, faster. Looker's data platform makes these conversations possible."
The bot for Decision-Makers
Users and groups can now have more meaningful conversations and collaborations in Slack with all the relevant data they need to make business decisions at their fingertips. It's now streamlined into one powerful collaboration solution, helping to redefine where and how work is done.
To find data in Slack, type a simple command and Lookerbot  returns the answer directly in the Slack conversation. The data is displayed in Slack as it appears in Looker with a complete array of visualization types (charts, maps, and tables), including custom visualizations and colors.
"At The Orchard, our distribution business is global, multi-faceted and dynamic," said Rick Saporta, Director, Data Science at The Orchard. "A growing number of teams are starting to rely on Looker to analyze our data and on Slack for collaboration, so combining these business-essential technologies will make our lives much easier. Now, if a manager is in a Slack room discussing an artist, song or film, she can ask Looker on the spot to find out how things are going or where they're trending. This immediate operationalization of data allows us to be more efficient, productive and decisive."
"Buffer is a distributed company so Slack is basically our office. The majority of our work lives in Slack," said Michael Erasmus, Data Analytics Lead at Buffer. "Having Looker, one of our most critical tools, integrate into every conversation in Slack is incredibly powerful. It means that when decisions are being made at every stage of our process, we have data at our fingertips, improving transparency and collaboration."
Lookerbot is built using Looker's API and SDK and is one of the many integrations built on the data platform by customers, partners, and the company.
More about Lookerbot and Slack Your Data
###
Tagged Looker