Companies
Looker rallies data pros to New York for its first multi-day event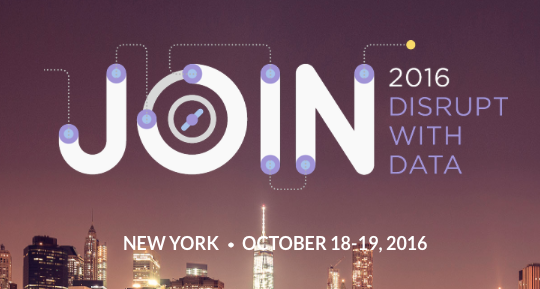 (Contributed)
September 29, 2016 — Santa Cruz, CA
Looker continues its rapid growth and prepared for Join 2016 in New York
[Editor's note: This article also showcases some of Looker's milestones in 2016 — a banner year for the company.]
Looker is gathering the most innovative minds in data and analytics at its first multi-day event – Join 2016 – in New York City on October 18-19. This event is the culmination of a banner year for Looker in which the company drove significant revenue and customer growth, opened offices in New York and London, and received widespread recognition, including being named a Breakout Vendor by Forrester.
Join 2016 brings together smart, innovative data professionals disrupting industries by using data to power their companies' growth. The conference is focused on the real-world problems–technical and cultural–that data-driven companies tackle every day. Featuring deep-dive tech talks, hands-on workshops, and real-world stories about how data is shaping the future, Join 2016 offers something for everyone: data experts, business analysts, and business leaders.
Join 2016 features talks and sessions on data innovation from companies like Amazon, Kickstarter, Etsy, Buzzfeed, Spotify, iHeartRadio, Heroku, Casper, Yahoo! and many more. Keynote speakers taking center stage at Join are Netflix co-founder and founding CEO Marc Randolph; Looker CEO, Frank Bien and co-founder, Lloyd Tabb; and, Redpoint Ventures partner, Tomasz Tunguz.
"There's a huge gap today between companies that leverage data effectively and those that have the data, but can't figure out how to operationalize it," said Frank Bien, CEO of Looker. "And while it's clear this is an important focus area for businesses, there isn't a good forum for data analysts to learn from and share with their peers. Join 2016 is all about bringing together the people who do the hard, important, unglamorous work that makes data valuable."
Looker Trending
It's been a busy year for Looker, one of the fastest growing SaaS companies. In addition to securing an additional $48 million in funding, Looker revenue grew nearly 3X year-over-year, while its customer base more than doubled to over 750 during the same period.
Along with releasing monthly updates to the Looker Data Platform, the company also released a number of significant product features, including:
Looker Blocks – Expertly built metrics for fast implementation and best-in-class analytics.
Data Apps – Tailored analytics applications for every business function and industry.
Lookerbot – The first analytics bot for Slack that makes every conversation data-driven in real-time.
Spark SQL and Presto support – Gives the entire enterprise a way to easily explore data in Hadoop.
Powered by Looker – Easily embed Looker into any business application.
Rich Data Exploration – Hierarchical drill-down, dashboard cross-linking, fast drill menus, and seamless web linking to tools like Salesforce, Twitter, or Facebook.
Powerful Modeling – Easy formatting and data cleansing, custom time controls, post-processing calculations, and user-specific data connections.
Zoomable, pannable maps – All the power of interactive maps, including custom region layering
The company also expanded its partner ecosystem to include Amazon Redshift, Google Cloud Platform, IBM Cloud Data Services and Microsoft Azure.
What They Are Saying
Looker customers and independent researchers took notice:
Looker was named an Overall Leader in the 7th annual Wisdom of Crowds® Business Intelligence Market Study by Dresner Advisory Services.
In its follow up report, Looker also ranked an Overall Industry Leader for small and mid-sized companies in the Wisdom of Crowds® Small and Mid-Sized Enterprise Business Intelligence Market Study.
The company was named a Breakout Vendor by Forrester and listed in its Vendor Landscape: Insight Platform report.
Looker was named #1 in G2 Crowd's Business Intelligence Implementation Index.
Looker was named one of the 11 hottest companies in the country.
Looker CMO Jen Grant was named one of the most influential B2B marketers in North America.
Mary Meeker of Kleiner Perkins highlights Looker in her annual Internet Trends report.
CRN named Looker on the 10 coolest big data products of 2015 and named Looker one of the 10 Big Data/Business Intelligence vendors you need to know about.
Forbes published the best big data and analytics companies to work for in 2016.
###
Tagged Big Data, Data Science, Looker