Companies
Apps for Ag Students Create Tech Solutions to Grower Issues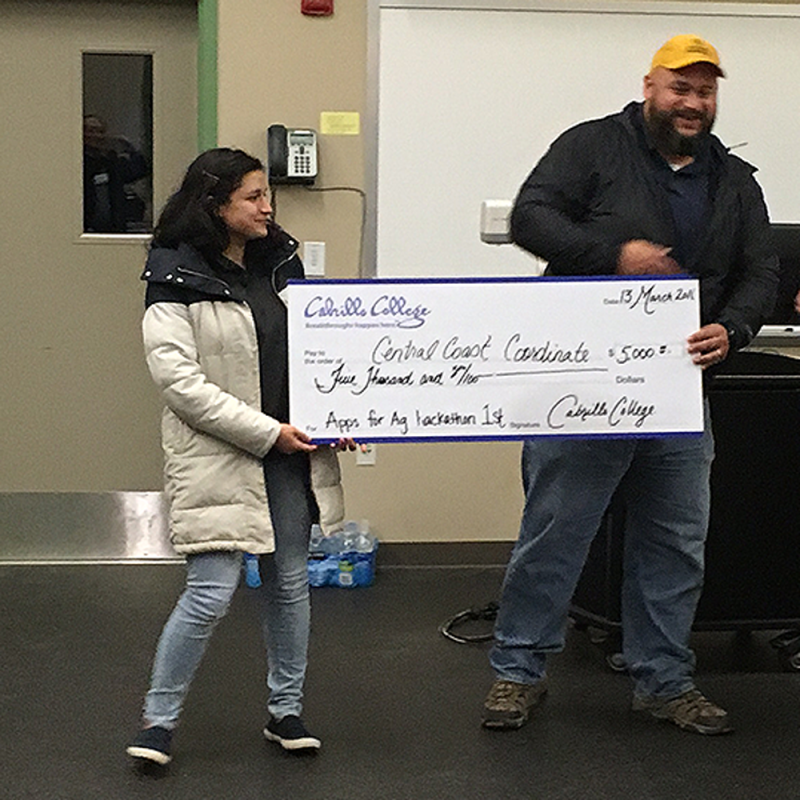 By Jan Janes
Special to Santa Cruz Tech Beat
March 14, 2016 — Aptos, CA
(Photo above: First place winners Jessica Gonzalez and Patrick Zelaya. Gonzalez is a full-stack developer at Salinas-based Heavy Connect, which Zelaya co-founded after 12 years with John Deere. (Contributed/Cabrillo)
Students and ag reps applied technology to agricultural issues during Apps for Ag, a hackathon at the Cabrillo College Solari Green Technology Center in Watsonville this past weekend.
Local growers and ag representatives pitched a range of ideas, issues and problems to 15 students from area colleges and diverse backgrounds at this new event. Training, language challenges, traceability and ag tourism were just a few of the concepts presented, but intellectual privacy and compliance issues topped the list. Competing for prize money and working overnight, five teams developed a range of solutions.
Apps for Ag, the brainchild of co-founder Patrick Dosier, connects two disparate groups to apply technology to agriculture.
"I saw the gulf between the tech industry and agriculture, got interested in ways to bridge the two, get both groups together in the same room, collaborate and have a little fun," Dosier said.
Dosier's background includes a degree in agronomy and more than a decade working in technology. He saw the opportunity to combine a love of STEM, solve real world problems and his desire to work outdoors.
Challenges to Collaboration
According to Dosier, developers have a lot of hackathons to choose from and agriculture may not be top of mind when creating a new product. For the ag community, 'hack' may have a negative connotation, and he works to overcome that perception.
Another obstacle is the lack of a shared language. Entrepreneurs in the hotbed of Silicon Valley would have a more difficult time finding potential customers to vet their ideas. Apps for Ag places an ag person on each team whenever possible. They do not need to know the tech language, but share grower knowledge and experience.
Growers have adopted technology in some areas — GPS, remote sensing, aerial imagery–but not in others. Ross Hunt CFO of Cainthus, a precision data company, served as both a mentor and a judge during the weekend. He pointed to a recent McKinsey Global Institute report Digital America: A Tale of the Haves and Have-Mores. Agriculture placed last in overall digital adoption.
Hunt views the merging of the youth in tech with the seasoned growers as the future. "Digital natives are looking at an analog industry, locally and worldwide, to solve ag and food problems," he said.
Compliance and Regulatory Issues
Kirk F Schmidt, Executive Director of Central Coast Water Quality Preservation, presented a slide deck of the issues that growers face. The students learned about water, fertilization and yield uses, databases currently available and how growers view their information.
"Growers who can outproduce others really don't want to tell anyone how they fertilized, irrigated, and what the yield was. It is considered proprietary information," said Schmidt.
Yet Central Valley regulators are proposing now that every grower has to report yield for every crop.
30 Hours, Real Innovation
Students developed an array of solutions to the ideas pitched the morning before.
First Place. $5000 – Central Coast Coordinate. An app to manage the multitude of tasks growers must address, using a calendar and map technology for scheduling. Team – Jessica Gonzalez, Patrick Zelaya.
Second Place $3000 – Turbo Compliance. A website growers can use to enter information about irrigation, fertilizer, other detail to help with annual compliance paperwork. Team – Jim Turner, Angel Martinez, William Ritson.
Third Place $1000 – Agripedia. An app linking wiki software and SMS service enabling growers in developing countries access to retrieve and share information. Team – Paul Connolly, Ji Baik, Brendan Dugan
###
Jan Janes, Communications Director, Web Publisher, Television & Radio Producer, Photojournalist, Social Media Architect, can be reached on LinkedIn.
###
If you wish to republish this article, please follow our Terms of Use.
###
Tagged agtech, Apps for Ag, Cabrillo College