Companies
Interning at Fullpower: Run-Sleep-Code-Repeat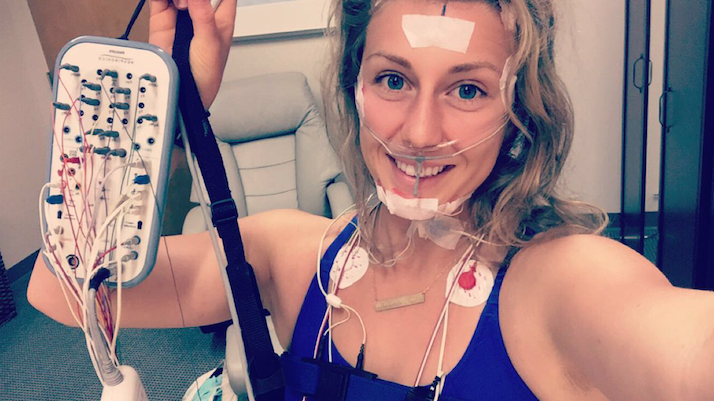 By Cassie Hamilton
Fullpower Intern
September 8, 2016 — Santa Cruz, CA
(Photo above: The author is all wired up for the polysomnography, widely recognized by the medical community as the gold standard for measuring sleep objectively. Fullpower performs nightly clinical-grade sleep studies of volunteers to refine Sleeptracker® accuracy. Sign up at https://www.fullpower.com/studies/sleep. Contributed.)
Paid to run on West Cliff? It's all part of the job.
For the past two summers, I have interned at Fullpower in Santa Cruz. Compared to classmates who are interning at

Amazon, Stryker, Medtronic, or Hulu, it seems my experience has been pretty unique, even in tech. For example, how many people get paid to run on West Cliff in Santa Cruz while checking for bugs and measuring accuracy of a new Nike+ Run app?
Last year, I applied to several biomedical startups in the valley. The resulting interviews entailed hours of sweating in traffic in my "Interview Outfit," driving over the hill during the heat wave of my Spring Break. While in Mountain View, I got to poke pig hearts while learning about a new catheter ablation technique to treat atrial fibrillation. The next day at another interview, I tried on the stealthiest hearing aid soon to be on the market, then ate chipotle with the CEO while he gave me life advice based on decades of starting and selling companies in the biotech space. One thing he said stuck with me — to work in Biomedical Engineering I had to live in Boston, Minnesota, or the Valley. But that night in Santa Cruz, I heard of Fullpower from a friend at Crossfit West. After several casual phone interviews, I found out I got the job! On my first day at Fullpower, I arrived in the dreaded "Interview Outfit" only to see everyone wearing Nikes and running shorts. I was ecstatic with the dress code and knew I would fit in well.
During my first summer at Fullpower (2015), their Sleeptracker® Technology Platform was in early development. This meant as interns we recorded tons of data to compare design iterations and algorithm versions. At times, we made changes to the prototype or made recommendations based on patterns we saw in the data. On other days, we moved around the $4,000 mattresses. The MotionX Activity Tracking Technology Platform (used by Jawbone, Nike+ Run Club, Movado Swiss smartwatches, and others) also needed data collection and accuracy comparisons. This meant almost daily runs along West Cliff carrying multiple phones to measure the distance, steps, and speed accuracy (among other run metrics) reported by different code engine versions and phone models. Working on both of these products, I learned about the process that converts meaningless sensor data into accurate conclusions about running speed and step count or heart rate and sleep cycle.
It's been an amazing experience to learn what is required to be successful at Fullpower. The most important aspect is simply finding ways to be useful. There is always a deadline to meet, and managers do not always have time to delegate the micro tasks for the day. It's up to me to find projects by talking to other employees about what they are working on to see how to contribute, or by picking up a piece no one else is handling
After seeing how much more helpful I could be with solid coding skills, after my first summer at Fullpower, I elected to pursue a Computer Science minor when I returned to Cal Poly last fall.
Another key lesson is that sometimes you can save a lot of time by asking for help. That is the largest lesson from my second summer (2016). Often at larger companies, interns are paired with a mentor who helps point the student in the right direction to work through a difficult problem. This summer, I worked on an internal full-stack web app and I did not feel I had someone to go to when struggling. I spent many hours searching for answers, and because I was excited about being given this project, the work often carried over to my evenings and weekends. Granted, I was doing a web project at a company that mainly makes mobile apps, and maybe the "go figure it out" culture is common at startups. A little more direction, and encouragement would have made a better product — with less frustrated tears and wasted time. More guidance is something I will look for in future opportunities because I think interns can learn a lot from senior developers. I experienced this type of collaboration and teaching at Hackathons this summer and am extremely grateful for that.
Through MotionX Activity Tracking and Sleeptracker® Technology Platforms, Fullpower is working on quantifying important health metrics. Movement and sleep are key to preventative medicine and will change the need for products traditionally created by biomedical engineers. There is a movement in healthcare looking at how to maximize the health of an individual by looking at the cumulative effect of small daily actions. I'm so excited about this area that in my spare time I try to keep abreast of the latest research in health and performance about how high intensity exercise increases production of cancer fighting T-killer cells, exercise-induced adult hippocampal neurogenesism, the positive effects of ingesting leafy greens on gut microbe populations, how during sleep the space between neurons increases to allow cerebrospinal fluid to flush out metabolic waste in the brain, etc. I practice "citizen science" on myself and and my friends, challenging them to see how high they can get their heart rate during interval training and routinely checking the effects of various diets on our gut microbe populations.
At Fullpower, I was able to work on products that combine my obsessive passion for health and tech, as well as apply what I learned at Cal Poly. Because of this summer, I am now looking forward to learning about algorithm optimization, digital signal processing, bioinformatics and other difficult upper division courses.
Fullpower is just one company, but could have a critical role in empowering people to take control of their health. The data being gathered here can help users make healthier, more informed decisions and could someday influence the research on human health and performance that I love reading. I am really excited about how they are going to advance these technologies in the future, and am so grateful for the opportunity to contribute in a small way.
###
If you wish to republish this article, please follow our Terms of Use.
###