Companies
Fullpower makes the tech inside Beautyrest's new standalone sleep tracking device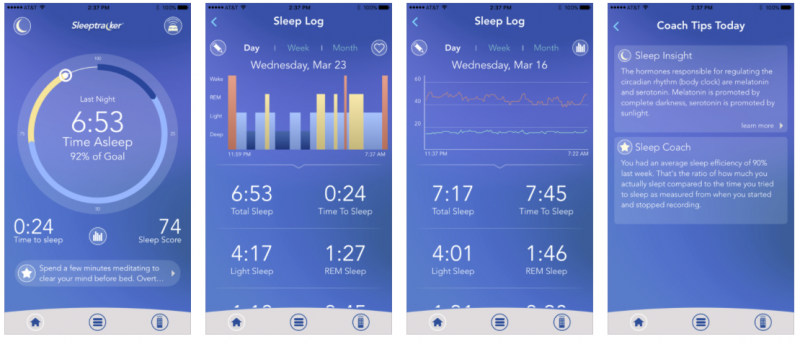 (Contributed)
August 18, 2016 — Atlanta, GA
Beautyrest debuts Sleeptracker for their mattresses and foundations.
On the heels of its breakthrough introduction of the SmartMotion™ Base, the Beautyrest® brand debuts Sleeptracker® by Beautyrest, the bedding industry's first standalone sleep tracking device compatible with each of our mattresses and foundations.
"Sleeptracker by Beautyrest brings our years of sleep expertise to the consumer tech category, providing a highly accurate, totally non-invasive, robust and easy-to-use solution designed to help consumers sleep better and smarter," said Michael DeFranks, Vice President, Advanced Technology at Serta Simmons Bedding.
 The device is comprised of a processor and two sensors that slip between the mattress and foundation to track sleep like the SmartMotion Base. Sleeptracker by Beautyrest uses the Sleeptracker smartphone app to monitor elements of motion, heart rate and breathing rate to assess sleep patterns for up to two sleepers – including REM sleep. The Sleeptracker app is available for download on the App Store and Google Play.
"Sleeptracker is the most advanced cloud-based Internet of Things data science platform for sleep, and we are delighted to partner with Beautyrest for continued success in the market," said Arthur Kinsolving, Chief Technology Officer at Fullpower, the company behind Sleeptracker technology.
 Sleeptracker by Beautyrest will be available in Q4 of 2016 and packaged as a standalone product to be sold at mattress and furniture retailers, as well as anywhere "Smart Home" consumer electronics are sold.
"We're excited to be the first bedding manufacturer to offer a standalone sleep technology that creates an opportunity for a step-up across any sale – any of our mattresses or foundations or independent of a mattress purchase altogether," said DeFranks. "We see this as a great value-add for our valued industry retail partners and beyond."
Sleeptracker by Beautyrest is the latest offering in products from Beautyrest designed to help consumers sleep better and smarter. In January 2016, Beautyrest introduced the SmartMotion Base powered by Sleeptracker, which monitors real-time vitals and sleep patterns to generate custom tips to help optimize sleep, which customers can also track through the Sleeptracker app.
###
Tagged Fullpower