Companies
Calliope gains momentum with their new Buoy product
By Sara Isenberg
Founder, Publisher, Editor-in-Chief, Santa Cruz Tech Beat
June 9, 2016 — Santa Cruz, CA
(Photo above: Caliope Waterworks' CMO Hilary Bryant shows off the company's Buoy product. Source: Silicon Valley Business Journal)
Calliope Waterworks has gained momentum in recent months with their Buoy product and in recent weeks they've also garnered some well-deserved visibility and kudos.
Hat Trick
Here's Calliope's hat trick: (1) On the heels of their return from a four-month intensive at Highway1, a hardware startup accelerator in San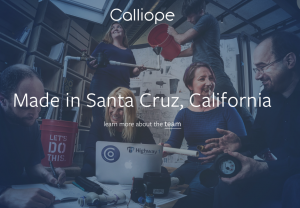 Francisco, the Silicon Valley Business Journal (2) published an article about the company, and Calliope was (3) selected as one of the top 100 sustainable solutions by Sustainia100.
Highway1
Highway1 is "a four-month tailored program for design and development of your product, engineering for scale and fundraising." The program culminates with Demo Day when the participating startups show off their work.
Watch the video of Calliope's Highway1 demo:
Silicon Valley takes notice
In late May, the Silicon Valley Business Journal published "Calliope Waterworks offers a smarter way to keep track of your water use."
Calliope Waterworks Inc. has developed a connected device that gives
homeowners real-time, detailed information about water use. It notifies
them when leaks or other water waste occurs and provides a remote water
shutoff via an app. The device is installed next to a house¹s water
shutoff valve and integrates with other smart home devices like Nest and
Amazon Echo, to provide information about how to improve water use and
make smart water-budgeting decisions.

How it makes money

The initial production run of the Buoy device by Calliope is expected to
be available for sale this summer direct to consumers. The basic data
service will be free for the life of the device. Next year, Calliope plans
to roll out a premium service offering.

Business it could disrupt

Santa Cruz-based Calliope said giving homeowners complete information
about water use may relieve utilities of some of the burden of educating
consumers on conservation.

Management team

Calliope was co-founded by CEO Keri Waters, Joel Boutros, Carroll
Wainwright and Hilary Bryant. Waters was previously chief operating
officer of Vivo Technologies after it acquired Arqetype, a real-time
messaging, gamification, recommendations and analytics platform where she
was CEO. Boutros was systems architect for SpecificMedia. Wainwright is a
data scientist who was a Templeton Postdoctoral Fellow studying cosmology
at U.C. Santa Cruz, and marketing chief Bryant is a former Santa Cruz
mayor.

Advisers

Jay Adelson, a serial entrepreneur who built companies such as Equinix,
Digg and Revision3 and is now general partner of Center Electric, a
venture firm he co-founded; Mark Mitchell of Sand Hill Angels; Toby Corey,
CEO and co-founder of Tuul.

Money sought

$1.1M on a convertible note.

Partnerships, affiliations

Calliope says it is currently partnered with a regional solar installer to
be its first distributor. It is also finalizing a trial agreement with one
of the top 10 homeowners insurance companies. It just finished its program
in San Francisco¹s Highway1 accelerator.

Potential market

Calliope is targeting 10 million homeowners in ³water-conscious states²
who it believes are already smart-home adopters and represent a $3 billion
total addressable market.

Likely competitors

A number of startups pursuing this space that haven¹t come to market
yet.There are indirect competitors focused on leak detection like
LeakSmart or FloLogic, and others focused on water use, like Fluid.
Additional indirect competition exists from companies that are focused
entirely on SaaS analytics for water utilities like WaterSmart and
AquaHawk, or utility installed smart meters such as Sensus or Badger
Beacon.
Sustainia 100: "This is the year of 'Systemic Opportunity'"
Calliope was selected as one of the top 100 sustainable solutions from around the world.
"Now in its fifth year, the Sustainia100 has tracked more than 4,500 solutions to date from all over the world. This year's edition features solutions deployed in 188 countries, and more than half come from small and mid-sized enterprises. Showcasing everything from health solutions that tackle climate change, to renewable energy products that alleviate gender inequality, this year's publication presents 100 solutions that respond to interconnected global challenges and help achieve the Sustainable Development Goals." –Sustainia
You can find Calliope on page 85 of the 2016 Sustainia100.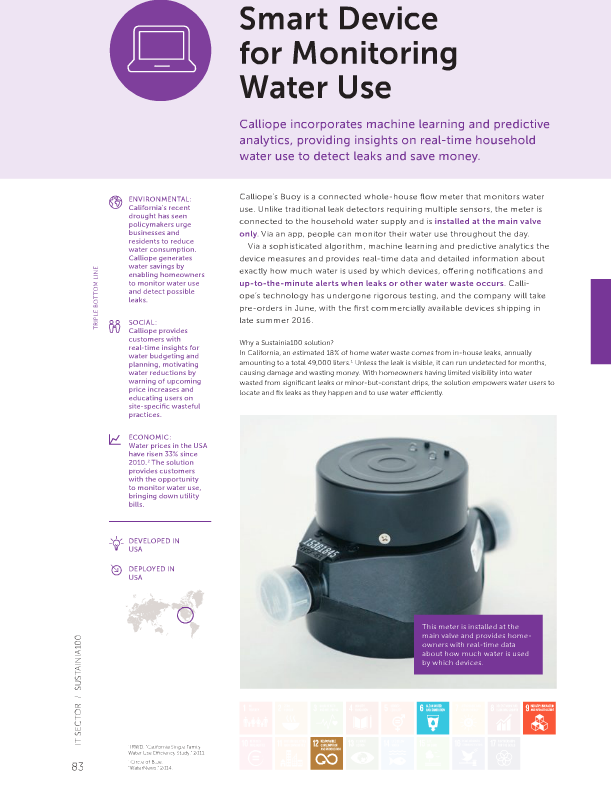 ###
If you wish to republish this article, please follow our Terms of Use.
###
Tagged Calliope Waterworks