Companies
Drones Data X Conference Flys High in San Francisco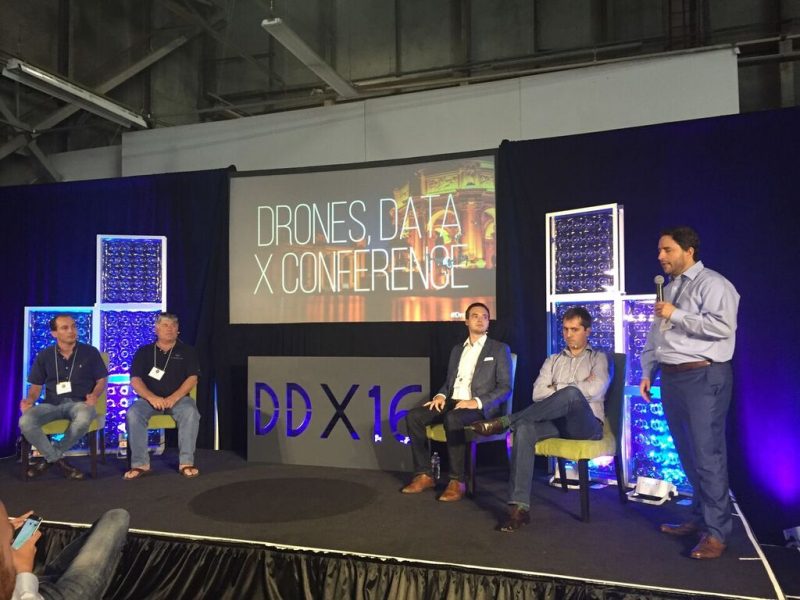 By Karen Kefauver
Special to Santa Cruz Tech Beat
June 3, 2016 — San Francisco, CA
(Photo above: Dozens of drone industry insiders spoke June 3 at the Drones, Data X conference at the Palace of Fine Arts in San Francisco. The conference was founded by Santa Cruz resident Philip McNamara. The event was headquartered in Santa Cruz in 2015. Pictured here, the session on "Drones and Big Data.")
(All photo credits: Karen Kefauver)
SF event concludes with 55 executives in Santa Cruz during VIP Weekend
The biggest buzz at the Drones, Data X conference June 3 in San Francisco was not the drone flying demo area. Instead, it was the enthusiasm of more than 500 visitors talking about UAVs, unmanned aerial vehicles piloted by remote control or onboard computers. The daylong conference included speakers from 3D Robotics, DroneDeploy, Qualcomm, Google X and DJI and an expo with more than 30 companies.
Drone industry insiders, investors, start-ups and well-established companies mixed, mingled and admired the rapidly evolving technology required to power drones and robots.
Participants flew in from more than 15 countries, said Philip McNamara, the Drones Data X conference founder and Santa Cruz resident. Last year, the conference was held in Santa Cruz at the Kaiser Permanente Arena.
The new location, in the Palace of Fine Arts hangar, provided easier access for international visitors, plus another bonus.
"We are closer to the investors and the Silicon Valley community," noted McNamara, a native of Ireland who married a longtime Santa Cruz woman. Plus, "Last year, we had more drone racing participants; this year we had a bigger turnout of businesses and companies."
Best of Santa Cruz
One thing that hasn't changed: Directly after the conference, there is a VIP weekend held in Santa Cruz, where a select group gets to experience the best of Santa Cruz, including guided mountain biking, hiking and kite surfing excursions, followed by wining and dining.
"We have 55 people here in Santa Cruz and they are all a mix of investors, founders of companies, and CEOs," said McNamara. "Many of the companies here would never visit Santa Cruz. They are able to experience the beauty and amazing location that you have in Santa Cruz, which may result in future investments in the city."
What are his plans for Drones, Data X for next year? McNamara concluded: "We want to keep going to the conference then bring the VIP weekend back to Santa Cruz every year. We love it here."
Speaker and Expo Highlights
DJI's Director of Education Romeo Durscher presented "Drones for Good," detailing how drones can be effectively used in emergencies. "DJI formed a partnership with first responder entities in Europe to determine their needs and how they can learn and integrate aerial technology to protect people, search and rescue and saving buildings. For example, fire chiefs don't want to send in their people if it's too dangerous. With a drone, you have an aerial view and can determine if it is safe," he said.
Hivemapper: This 3D map of the earth is built from scratch to help drones, not cars, navigate. Founded in 2015, based in the Bay Area, the company helps flyers obtain the data they need to achieve better shots and fly safer. The app is used on the ground and during the flight to aid spatial awareness that's needed to confidently execute your shots.
DroneSeed: While many people think of drones flying over farmland, fewer think of drones in forest management. Droneseed, based in the Pacific Northwest, offers seed planting (tress), spraying (target invasive species) and monitoring (yield metrics and plant health surveys). From planting to harvesting, a fleet of drones reduces reliance on manual labor.
OpenRov: This open-source robot is specialized for underwater exploration and education. The OpenROV Trident, billed as an "underwater drone for everyone," on their Kickstarter page, was a favorite at the expo. The company's demo included a pool of water where visitors could get a hands-on experience with OpenRov, using the controller to easily moving it up, down, sideways, tilting and turning on its lights. This week, the company will take its underwater drone to Lake Tahoe to explore a sunken ship that is too deep for divers to access.
ASL: Aerial Sports League: One telling example of how popular drone racing is becoming is that one million dollars of prize money was up for grabs at Dubai's World Drone Prix, the first global racing event, held in March. (A 15-year old from the U.K. was the overall champion.) ASL recommends using a drone simulator (no drone, just a computer screen and a controller) before racing a drone or doing combat games (in which drones strike one another).
Sally French, aka the Drone Girl, has been tracking drone technology for years, writing about it for MarketWatch and her website (thedronegirl.com). She summed up the changes she has seen in the growth of drones by noting, "When people saw me flying a drone, they used to ask, 'Who are you spying on?' Now they ask, how much does that cost?'"
###
Karen Kefauver is a freelance journalist who writes about tech, business, sports and travel. Visit: http://www.karenkefauver.com
###
If you wish to republish this article, please follow our Terms of Use.
###
Tagged Drones