Companies
Six Californias initiative makes a roaring comeback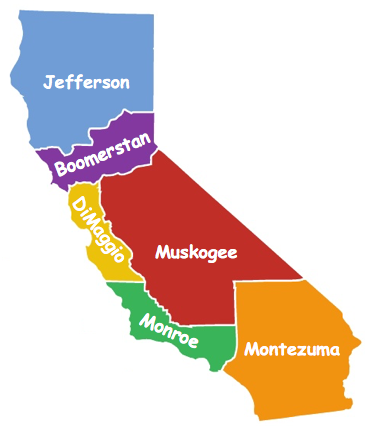 By Steve Blum
Tellus Venture Associates
Special to Santa Cruz Tech Beat
May 26, 2016 — Monterey, CA
We're giving the Six Californias initiative a boost. Kicking it in the pants and getting it moving again. Tim Draper's original plan to break up California had one fatal flaw: stupid names for the new states. I've fixed that…
Jefferson – the one name of the original six that made any sense. It channels the head rush of the budding secession movement in the north, respects the fragrant history from which it stems and seeds the hopes of a mellower mañana. Only change needed is an option to roll in the southern Oregon counties of historical Jefferson.
Boomerstan – as you drive east from Point Reyes through the Napa Valley and on up to Lake Tahoe, you'll see laagers of Volvos ferociously guarding drought resistant and organically maintained gardens. United by the screeching battle cry of I've got mine!, these thin (but preternaturally smooth) skinned warriors of social security will defeat any attempt to encroach upon their tranquility or prune their forests of entitlements. No problem paying for it. They'll contract out tax collection to Whole Foods; that's where their pay checks go anyway.
Muskogee – the Bakersfield Sound, California's only significant contribution to musicology, laid the foundation for the anti-establishment movements of the Seventies: punk rock, outlaw country and artisanal meth labs. Championed by Buck Owens and nurtured by Leonard Sipes, the genre's apotheosis came with Merle Haggard's Okie from Muskogee. The song's adoption as a redneck anthem still has the locals pissing themselves laughing.
Montezuma – in our southernmost reaches, you'll find deep and abiding affection for both our motherland of Mexico and the conquering Marines who took California away from her. Let the politically correct stew in their own menudo. As a 20th century immigrant to California said, the test of a first-rate intelligence is the ability to hold two opposing ideas in mind at the same time and still retain the ability to function.
Monroe – those who remain devoted to the tongue of the English queen may reckon the name to be a tribute to their fifth president but, as with gentlemen, Californians prefer blondes. We bow to our own royalty and there's none more noble or iconic than native daughter Marilyn. Any state that includes Hollywood needs a stage name.
DiMaggio – Our Californian love story wouldn't be complete without a loyal and loving spouse alongside. Although born across the bay in Martinez – also the birthplace of the martini – Joe personified San Francisco's self image of grace and humility. You can tell true San Franciscans by our ability to hold three opposing ideas in mind: Willie Mays was the greatest in history, Lefty O'Doul was the greatest of our Pacific Coast League Seals, but Joe DiMaggio was the greatest baseball player ever to wear the San Francisco uniform.
We have until the end of June to put it on the November ballot. We're counting on you – yes, you – to do it. The rest of us are going to the beach.
###
If you wish to republish this article, please follow our Terms of Use.
###
Tagged Steve Blum, Tellus Venture Associates