Santa Cruz Tech Ecosystem
CPUC president wants to put $11 million into Salinas Valley to Santa Cruz fiber
by Steve Blum
Tellus Venture Associates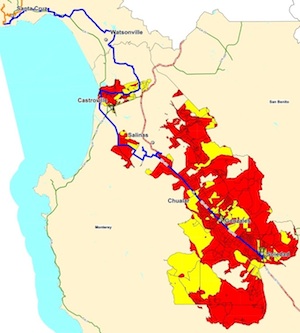 The route is in blue, red and yellow indicate areas where broadband service is poor and non-existent, respectively.
The Salinas Valley is one huge step closer to getting a 91-mile fiber optic spine. California Public Utilities Commission president Michael Peevey wants to pop the current cap on broadband infrastructure subsidy limits and pump $11 million into a plan by Sunesys LLC to connect Santa Cruz to Soledad, by way of Moss Landing, Castroville, Chualar and Gonzales.
Using current rules, commission staff earlier recommended paying 55% of the $13.3 million total, but tacitly invited commissioners to up that to 83% by including a considerable amount of supporting information. Peevey accepted the invitation and published his proposed alternative text on Friday…
The Commission recognizes that a higher level of…funding may be needed for Sunesys to undertake the project. The Commission therefore approves 83% CASF funding of the project costs of $13,300,000…because at this higher percentage funding, Sunesys will be able to charge a lower price for its fiber strand which in turn will keep prices to the last mile customers at reasonable rates. Moreover, Sunesys will offer this price for a period of five years rather than the required two years.
That price is $8.50 per fiber mile per month, which works out to $1,550 for a pair of strands from one end of the network to the other. That is quite cheap for middle mile fiber – Sunesys typically charges $60 to $65 per mile per month, according to Peevey's draft.
The CPUC's vote on the project has been pushed back a couple of weeks, to 27 March 2014, to allow time for comments on the new alternative. The Central Coast Broadband Consortium is coordinating letters of support and many are expected: the economic and social benefits of bringing inexpensive fiber and Internet connectivity to the Salinas Valley could be huge in a county where 16% of the population lives below the poverty line and unemployment rates can top 20%.
###
Sara Isenberg curates and publishes Santa Cruz Tech Beat for the benefit of the extended business and technology community. When she is not volunteering her time for the tech scene, Sara makes her living by managing software projects, web strategy planning, and providing development team services (including account management, vendor management, strategic partner management, beta project management, referrals to qualified technical team members, and more). Please visit her website: Sara Isenberg Web Consulting & Project Management, or contact Sara by email if you have any project management, account management, or Development Team leadership or service needs.
Tagged Fiber, Salinas Valley, Steve Blum, Tellus Venture Associates