Companies
Watch: A look-back conversation with Doug Michels, co-founder of SCO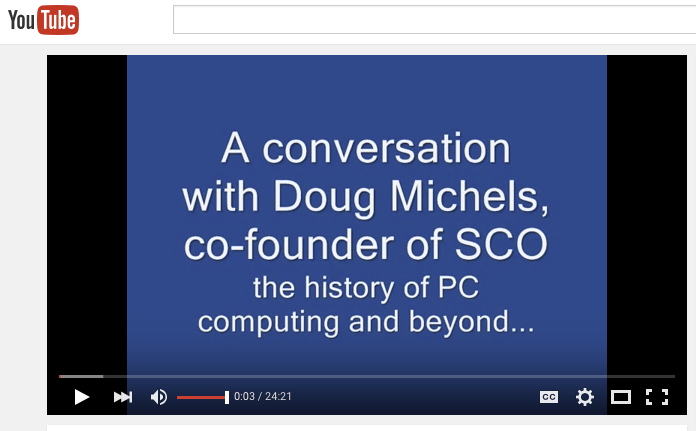 By Sara Isenberg
Founder, Publisher, Editor-in-Chief
April 21, 2016 — Santa Cruz, CA
If you've been following Santa Cruz Tech Beat, you probably know that I used to work at SCO, Santa Cruz Operation. I worked in the Engineering Services department from 1989 to 2002. Many folks who are currently active in the local tech scene, or live here and commute the hill, or live here and are retired, were at SCO at one point or another. Chris, Peggy, David (several), Doug, Mary, Bart, Bela, Richelle, Jon, Susan, Faith, Curtis, Cynthia, Michael (several), Paul, Robert, Rayne, Donna, Jay, Pat… the list goes on… you know who you are.
At one time, SCO was one of the largest private employers in Santa Cruz. Last year, I outed myself as an old-timer in Don't let anyone tell you tech is new in Santa Cruz, a  personal essay that was published in Good Times for their 40th Anniversary issue, one year ago (4/22/15).
I recently found a very interesting — cool and informative — video interview with Doug Michael, co-founder of SCO.
For a big chunk of tech history — not just Santa Cruz tech history — watch this and find out what one significant tech company in Santa Cruz was doing "back in the day."
Priceless!
Listen to Doug dish on Microsoft, IBM, Apple, AT&T, Unix, Xenix, Intel 8086, 286, Motorola 68000, Altos, mini-computers, processors, PCs, memory management, Logica, HCR, Red Hat, Caldera, negotiations, deals, competition, and more. This history is priceless!
Read more SCO history:
###
If you wish to republish this article, please follow our Terms of Use.
###
Tagged Doug Michaels, SCO