Companies
Back when SCO & Pizza Hut made headlines with PizzaNet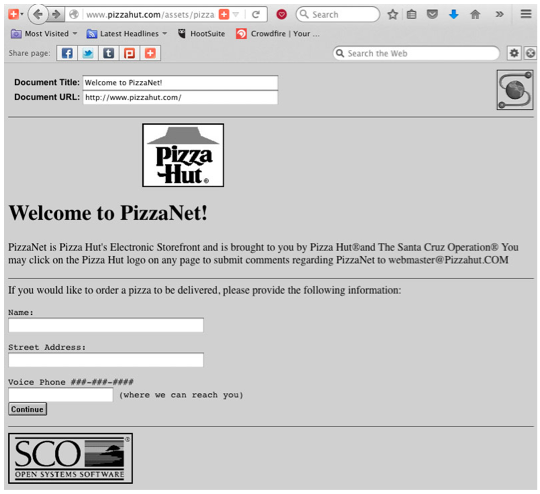 By Jonathan Cohen
Special to Santa Cruz Tech Beat
September 15, 2016 — Santa Cruz, CA
(Image above: Pizza Hut keeps the original PizzaNet user interface online to this day.)
In  a revolutionary spin on business use of  the Information Superhighway, The Santa  Cruz Operation,  Inc. (SCO) and Pizza Hut, Inc. today announced "PizzaNet," a pilot program that  enables computer users, for the first time, to electronically order pizza delivery from their local Pizza Hut restaurant via the worldwide Internet. — Press Release, August 22, 1994
I noticed some fanfare around the recent 25th anniversary of the launching of the Worldwide Web, but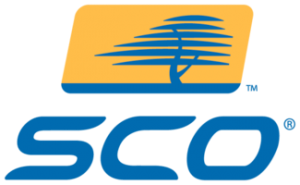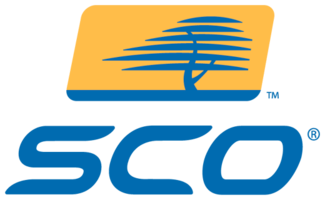 none of it, as far as I could see, made mention of the milestones achieved in 1994 by SCO in Santa Cruz. I worked for SCO in Marketing during that period, and I've believed ever since that SCO and its leaders are due more recognition for their contributions to the growth of Internet business.
I'm talking about SCO Global Access, the first commercial operating platform to be integrated with a web browser, and PizzaNet, arguably the world's first e-commerce app, which allowed computer users for the first time to order pizza delivery over the Internet.
PizzaNet was actually the joint creation of SCO, the influential but now-defunct systems software vendor that once employed hundreds of people at its headquarters on Encinal Street in Santa Cruz, and Pizza Hut, a restaurant chain better known for high-calorie innovations like "cheese-stuffed crust" than high tech.
A New Kind of Customer
SCO in those days had a robust business helping big retailers like Pizza Hut connect point-of-sale terminals at their branch outlets to small back-room servers, which linked over wide-area networks to bigger servers or mainframes back at headquarters. Pizza Hut, like SCO, saw the potential of the Internet not just to connect enterprises internally but to hook them up with consumers, who someday would peruse menus and place orders from their own offices or home.
With SCO Global Access, Pizza Hut knew they had something special that could usher-in a whole new era of business on the web. Their IT department called in SCO's Professional Services organization to their headquarters in Wichita, Kansas, and together they whipped-up PizzaNet. In addition, the companies agreed to announce PizzaNet in a live demo and press conference scheduled for the upcoming SCO Forum developer's conference at UCSC.
Preparing for the Spotlight
The sexy part of PizzaNet was its user interface based on the same NCSA Mosaic technology that would soon evolve into the Netscape Navigator browser. Give credit to SCO for being the first UNIX System vendor to license Mosaic, and the first software company of any kind to bundle it into a real-world business solution. Netscape Navigator didn't ship until the very end of 1994, several months after SCO and Pizza Hut made business headlines with PizzaNet.
At the time, however, many of us in SCO Marketing were clueless about the Internet history that was in the works. I remember being dead set against the PizzaNet demo, which I thought would bring down ridicule on SCO as a bunch of hippie flakes.
SCO, as I saw things, needed to compete with much bigger companies like Microsoft and Sun Microsystems, who were serious about making money for themselves and their customers. We should shelve all plans to unveil PizzaNet, I argued, and forget all this Internet hype that would never amount to real profits and market cap. Instead, we would be safer  announcing a new point-of-sale system at Pizza Hut restaurants that remembered their customers' birthdays.
Fortunately for SCO, my faction of Marketing know-nothings was over-ruled by Doug Michels, the company's co-founding entrepreneur, who told us that the show must go on. Years earlier, Doug had committed SCO to technologies like IP and Ethernet, which would become standards in the Internet era. Like SCO itself, Doug does not always get the recognition for envisioning and developing software environments that helped create the modern IT industry.
It's Show Time!
So SCO and Pizza Hut moved forward with the PizzaNet demo, which we conducted outdoors on a campus patio at UCSC. I went to work writing a press release about a new technology miracle, which I described as "…a revolutionary spin on business use of the Information Superhighway."
Right up to show time, I remained pessimistic about how the press, our customers and our shareholders would react. We planned the demonstration of an actual Internet pizza delivery to be as simple and foolproof as possible. Engineers at an Internet-connected computer would type in key pizza parameters such as number of pizzas, toppings, and inches of diameter. Then, just a few minutes later, a Pizza Hut delivery driver would appear on the scene with the cheesy cargo, almost as if by magic.
We decided not to show the audience our backup system, which was based on sneakers and an old-fashioned pay phone. Once the orders were placed, one of our PR folks would run to the phone, drop in a few coins, and signal the driver to load up the pizzas and start his short drive up to campus.
Not Enough to Go Around
I remember being nervous on the day of the event, not sure if the unexpectedly large turnout was a good thing or bad. More than 100 media people from print, radio and TV showed up — about ten times our usual SCO contingent of trade reporters. Many snapped photos or held TV cameras on their shoulders, jostling with each other for a closer look at PizzaNet in action.
"Does the pizza actually come out of the computer?" someone asked.
"No, the technology isn't quite there yet," we explained.
Things quieted down to a tense hush when the demo started. SCO and PizzaNet engineers made the Internet connection, configured their pizzas, and announced that lunch was on its way. Right on cue, our PR manager ran to the pay phone to confirm things with the restaurant.
But then the delivery driver, who had no GPS or cell phone in those days, got lost on his way to campus. Our increasingly restless audience waited and squirmed for 30 minutes, 45 minutes. A full hour went by before the apologetic teenager stumbled onto the scene with his arms full of pizza.
As I recall, the 20 or so pizzas we ordered didn't even begin to feed our guests. I overheard some reporters complaining about being hungry, or their pizza being cold. "I think we're cooked," I remember telling one of my coworkers.
Waking Up in a New World
And of course I was wrong. Over the next few days, as the story of this amazing new Internet phenomenon began to be told, SCO's stock price climbed and stayed higher through the end of the summer.
Media coverage reached hundreds of outlets and turned out to be largely positive, including CNN spots at airports around the world and a nationally televised segment on the ABC Evening News. Silicon Graphics, the tech hardware company, saw its stock rise nearly 10% in one hour when a KCBS radio reporter mistakenly called them "the Internet pizza company."
Later in the week, SCO's house rock band, Deth Specula, made more history by broadcasting the world's first live Internet concert from the UCSC campus. Something huge was happening, I realized, and everything I knew about high-tech business and stock values would no longer apply. The Internet Era had started, and nothing would ever be the same.
###
Jonathan Cohen is Senior Marketing Writer at VMware. He worked at SCO in Marcom and Public Relations from 1989 through 1994.
###
If you wish to republish this article, please follow our Terms of Use.
###
Tagged SCO